Automatic Medicine Dispenser by Hero
How it works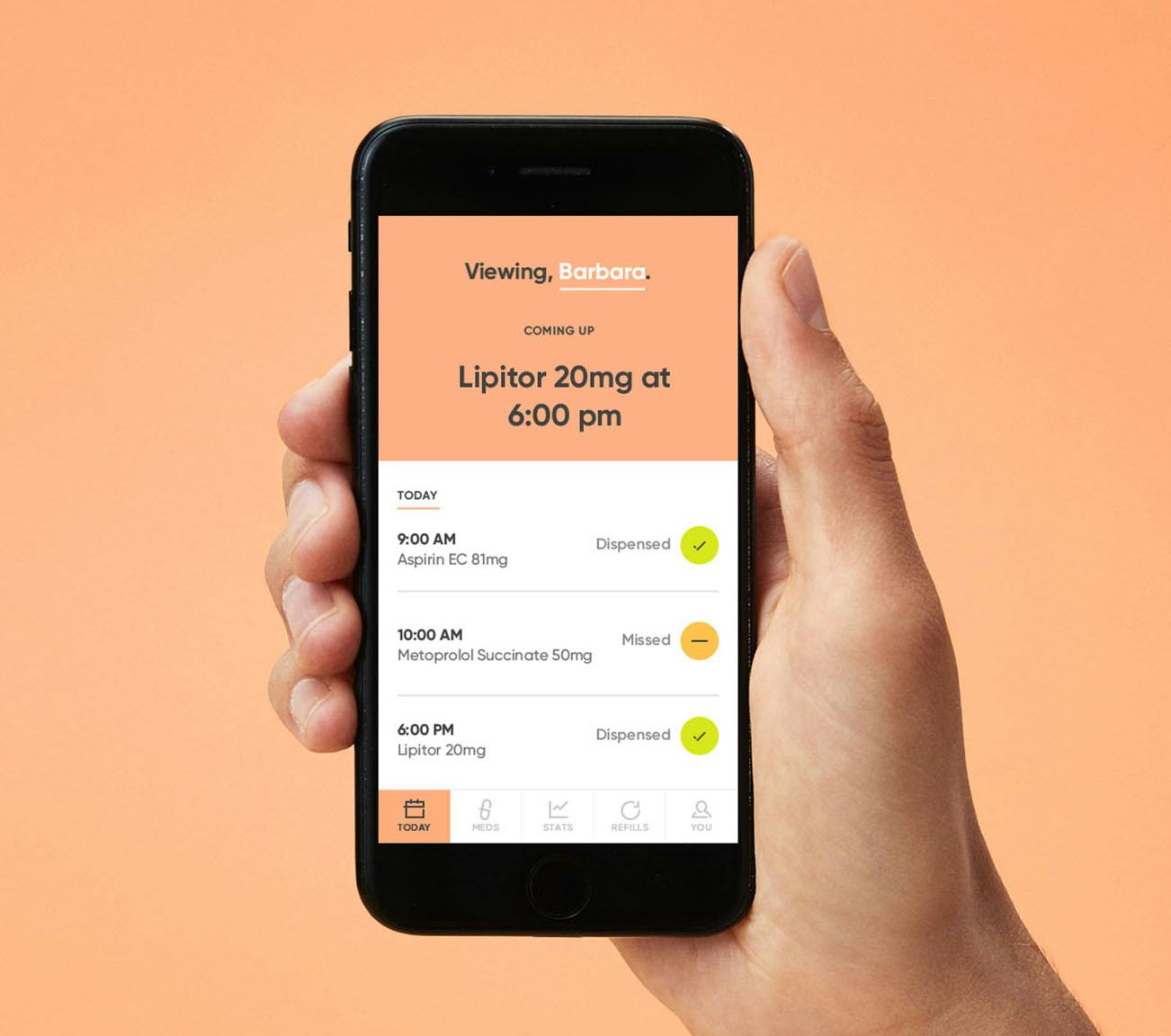 Use the Hero app to program any pill regimen, simple or complex
Hero will notify you when it's pill time as often as needed.
Hero stores, sorts and dispenses a month's supply of 10 different medications
Manage both scheduled doses and medications taken as needed.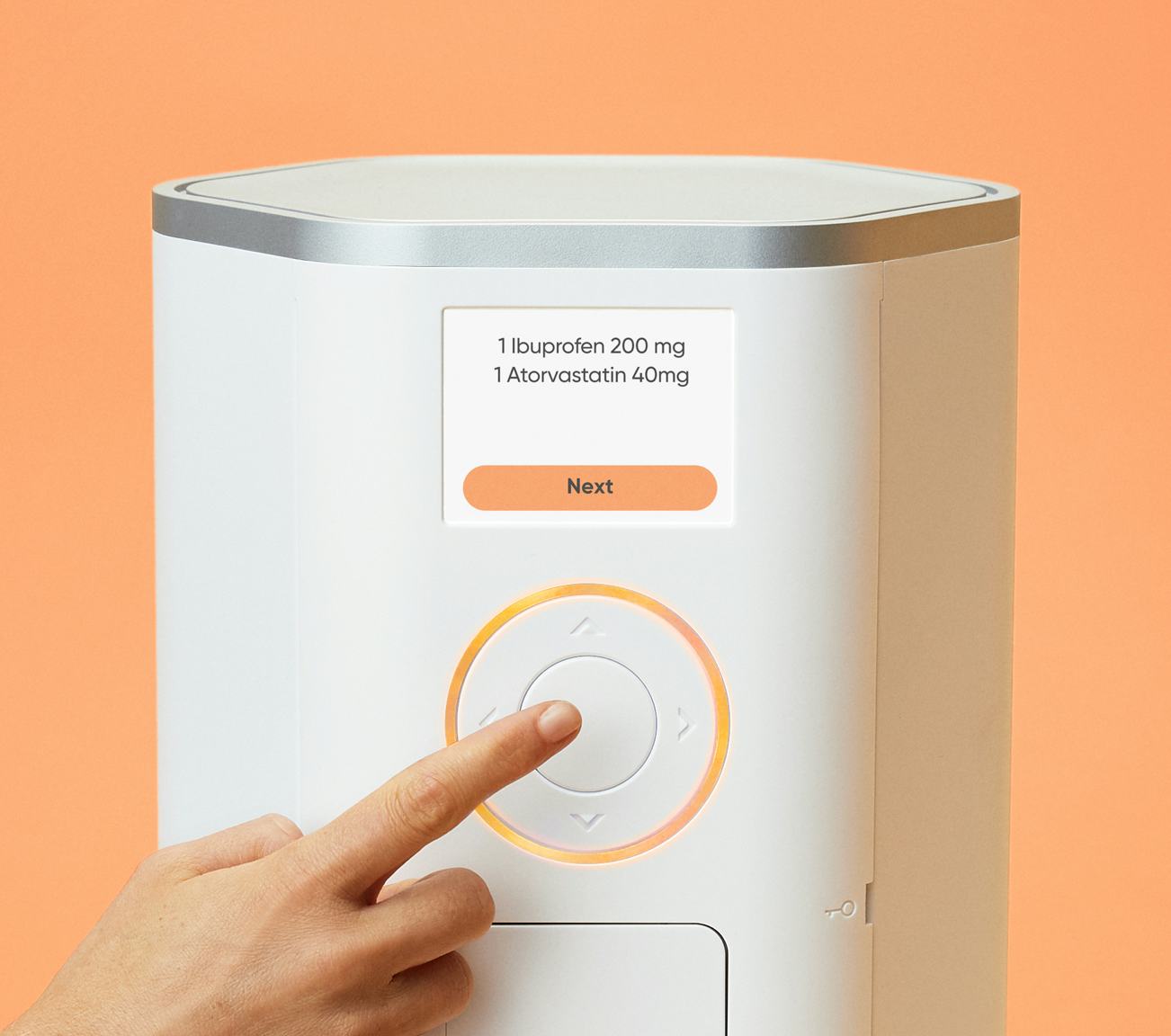 Push button for auto sort and dispense when Hero alerts you it's pill time
A clearly audible sound and blinking light does the trick.
Hear from expert, Dr. Ira Wilson, MD
Product Specs
Dimensions

9 in x 9 in x 15 in  (22.9 cm x 22.9 cm x 38.1 cm)

Pill Size

Hero supports any pill size or shape. In order to avoid contamination, Hero does not work with half pills, gummies, powdery, sticky or dissolvable pills.

User Support

1 device per person. Each device requires its own/a unique Hero App account.

Requirements

Internet access, Wi-Fi, Computer or Mobile phone (iOS or Android)
Made for caregivers and independent users

HIPAA-compliant security for all your data
60,000,000+
pills dispensed to Hero members
75,000+
'running low on pills' notifications sent
1,500+
different pills and vitamins dispensed daily

Stay connected with the Hero app
Know when loved ones took their pills

Get alerted if they are late for a dose, miss a dose or take too much

Track adherence overall or by medication, within any time period
Our top FAQs
Unlike a one-time transaction, the subscription model allows us to assist you in your medication management journey on an ongoing basis. 
The Hero pill dispenser is an extremely complicated piece of machinery that needs to work every time to ensure the health of our members (and comply with both FDA and HIPAA regulations). 
Beyond consistent firmware updates to the pill dispenser, our app provides you with one-of-a-kind software that allows you to track your adherence, get notifications when a medication is missed or running low and check for drug interactions (this third feature is coming soon!). 
On top of that, your commitment of $1/day provides for 24/7 live support and our unlimited warranty program, which guarantees free exchanges in the event of a hardware malfunction.
A Hero subscription requires an ongoing monthly fee. 
This commitment of $1/day allows for continuous use of the smart dispenser, automatic firmware updates, automatic software updates to the Hero app and 24/7 support from our live support team. In addition, the subscription comes with a 90-day money-back guarantee and unlimited warranty, which includes free exchanges in the case of any hardware malfunctions.
Hero is not currently covered by health insurance, but we are working hard to make this possible. Hero is FSA/HSA eligible, however, co you can use an FSA or HSA card for your payment!
Pill boxes or PillPack are great solutions for some. But for anyone who has trouble remembering to take their medications, or has a medication regimen that may change frequently, they're not the optimal solutions. Hero is here to support those who may need (or want) a little extra support in their medication management journey. Our members find value in joining Hero for many reasons, such as the time saved organizing pills, adherence tracking that can be shared with their doctors, peace of mind for their loved ones, audio-visual and in-app reminders to take medications and 24/7 access to our dedicated Member Experience team...just to name a few!
Scroll up to see side-by-side comparisons of Hero and some of our competitors to help you decide if Hero's right for you.
Absolutely. Hero's Future Dose feature allows you to dispense the pills you'll need ahead of schedule. For extended travel, Hero's Vacation Mode allows you to set your vacation dates, dispense the pills you'll need ahead of time, and store them in their original containers for travel. The app also reminds you to take your medication and track your adherence data no matter where you are, so you'll be sure to stick to your schedule!
Just like any other piece of technology, we always recommend double checking that the smart dispenser is functioning properly—especially if your health depends on it. That said, Hero was designed to be as accurate and secure as possible—especially relative to somewhere like a nursing home, where studies have shown there is a 16-27% error rate in medication management! In addition, the dispenser is particularly adept at noticing malfunctions in the rare event something does occur, and it will alert you if something needs adjusting right away. Our Member Experience team is also here to assist you 24/7, and can even provide free exchanges in the event of hardware malfunctions. 
Hero is designed to work for one member at a time. This is important to make sure that each person is adhering to their unique medication regimen. If there are multiple people who need Hero in a household, please reach out to us at hello@herohealth.com, and let us see what we can do. One option is ordering one smart dispenser and using our referral program to order a second, which would allow you to get 3 months off of each Hero subscription.
Definitely! While Hero allows you to load up to a 90-day supply of up to ten different medications into the smart dispenser, you can also track up to ten additional medications in the app. If you do need to store some medications outside of the smart dispenser, Hero will still remind you when it's time to take them.
The dispenser is not a lockable machine, but you have the option to add a security passcode, which can be bypassed in case of an emergency. We also provide a key to open the smart dispenser to access medications should the Hero ever lose power. Hero is not recommended as a safeguard for patients with substance abuse issues, since the passcode can be bypassed and the machine can be easily opened.
Experience Hero risk-free for 90 days
Free Shipping
Free Returns