SuperHero Session: Emily Heyward, Co-Founder and Chief Brand Officer at Red Antler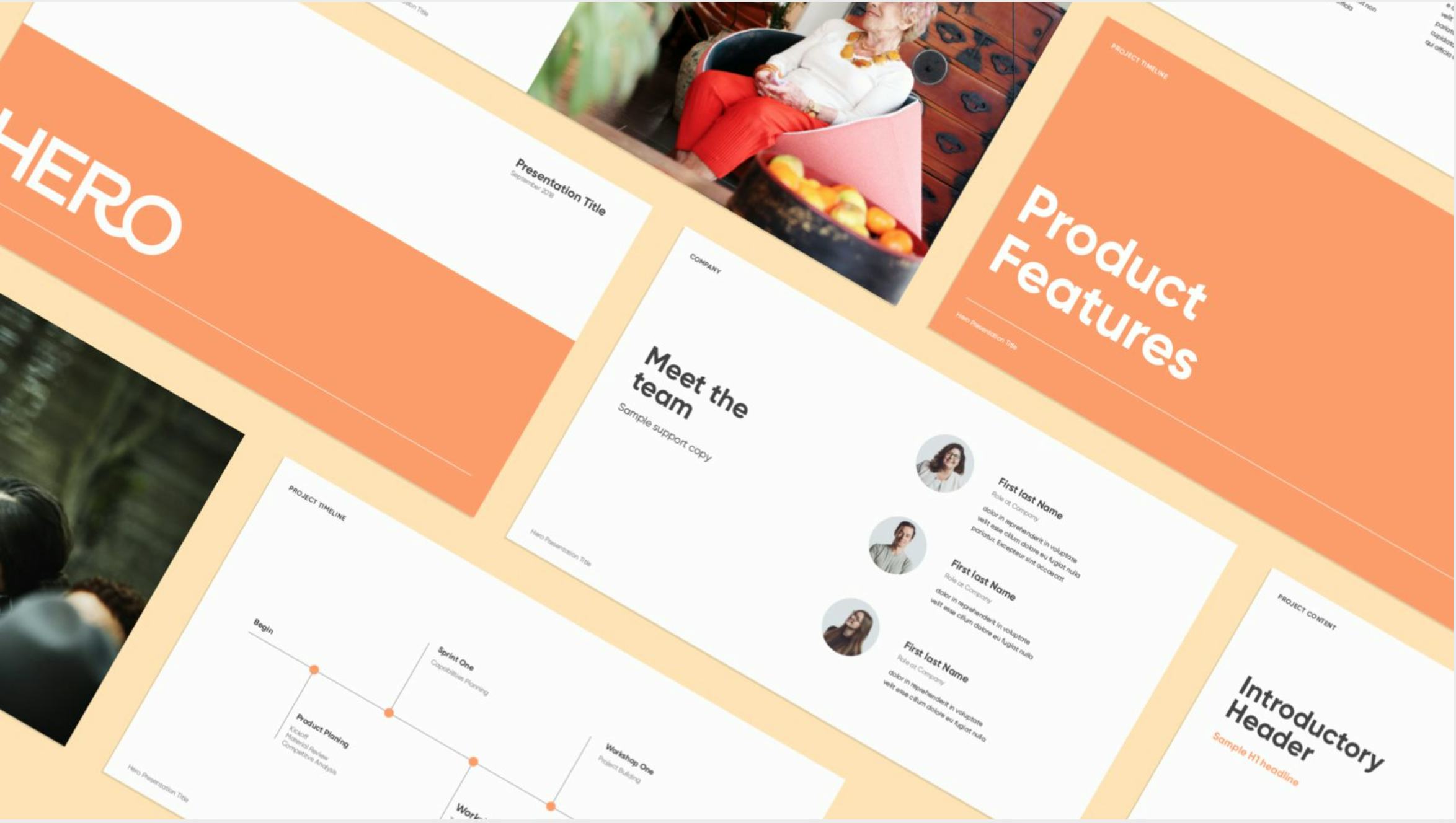 Hero CEO Kal Vepuri and Emily Heyward sit down to discuss how to build successful brands, COVID-19's effects on the consumer space, and how the Hero brand came to be. Recorded on January 15, 2021.
Kal Vepuri:
Happy Friday everybody, glad to introduce Emily, our SuperHero today. She is arguably one of the world's foremost experts on brand-building, and somebody who is deeply involved with naming Hero and developing our brand architecture and how we think about really how we message everything that we do, whether that's internally, externally to our members, to partners, et cetera. 
Just to give you a little quick background, Emily is the Co-founder and Chief Brand Officer at Red Antler, the leading brand company for startups and new ventures. Since 2007, she's worked closely with founders to develop purposeful strategic visions for their startups and has led branding efforts for leading companies such as Allbirds, Boxed and Prose.
Another exciting piece of information is that Emily is the author of "Obsessed: Building a Brand People Love from Day One," definitely a book that everybody should check out and will be added to our reading list next quarter. So for those who want to participate in that, it'll be available through the company. 
So Emily, to get us started, you are obviously a leading expert on developing narratives and storytelling for brands, how do you decide what sorts of brands and companies get you excited and you want to work with? You must get bombarded with all sorts of opportunities everyday.
Emily Heyward:
To answer that question, I need to go back in time a little bit. Before I started Red Antler, I was working in advertising with long-standing, global legacy brands. I was helping brands that had sometimes been around, literally, for a hundred years, come up with new campaigns every year. And after a while, I started to feel like my job was focusing on the wrong problems. The brands that I was working on seemed to struggle to respond to changing health trends, and were struggling to find new ways to be relevant.
So that is a long-winded way of saying that the businesses that most excite me, and the reason why I started Red Antler in the first place, are the ones that are solving real problems and really thinking about how to use innovation as a tool to add value to people's lives. So it's not just about, "Oh, we're able to invent this cool thing. Let's go make it." But instead, it's about seeing a gap in the market, seeing something people are struggling with, seeing a deep human need and coming up with a business idea that responds to that need. And I think there's no better example of that than what you guys are doing.
Kal Vepuri:
That's so great to hear. Again, just given the fact that you see so many opportunities, it must be a really exciting time, even today, I love seeing how everyone's pushing the ball forward in the consumer space. Along those lines, is there a brand that you particularly admire out in the world, and one that you look to as doing really exciting and interesting things?
Emily Heyward:
So we just recently helped this one launch, and I admire this business so much and really can only take credit for a very small piece of the puzzle. It's called FOLX, and it's a new healthcare platform targeting the queer community. And what's so interesting to me about this business is, a lot of people who are not part of the community didn't understand it. They're like, "Why do you need a specialized healthcare platform for queer people? What's wrong with the doctors that everybody uses?" But if you're a trans person or a gay man seeking a prescription for PReP, or a gay woman who's thinking about fertility, these are very specialized problems and goals, and the community has been largely overlooked or even marginalized by the existing healthcare community.
We fell in love with the mission of this business. We were actually able to staff an all-queer team to work on it, so it was just incredibly personally rewarding for me and the rest of our team who worked on that project. 
Kal Vepuri:
Amazing. Just to shift gears a little bit to everyone's favorite topic: COVID-19. We found that COVID affected our members and our team and our loved ones in very direct and impactful ways to us. Across the universe of healthcare or health-related companies that you work with, have you seen behavior shift and how permanent do you think that is? Do you think it's something that is going to transition back to complete normalcy? Do you feel like this is something that might have changed how we view our personal health and maybe some of our preferences more permanently?
Emily Heyward:
I hope that some of the shifts I'm seeing are permanent. I think that we have been on a path across many different industries now for probably a decade of just consumers expecting more in a good way. I think that we're seeing across the board more competition, more innovation, more choice. And when people talk about the consumerization of technology, the consumerization of healthcare, what that really means is that people finally have a say, right? We're finally in a position of power as consumers that we don't have to just accept the institutions as they are because that's all that's available to us. So I would say what I've seen from a brand-building perspective and in a launch perspective is that COVID sped up what was already happening, which is people recognizing the institutions that are supposed to form the backbone of society have failed us.
And that certainly includes healthcare but also things like fintech and insurance. All these things that we rely on just to live our lives and be healthy and have access to our money did not rise up to the occasion in a time of extreme crisis. And I think because of that, the businesses that are really thinking about how do we shift that dynamic? How do we deliver true value? How do we put people first and their needs first have been accelerated during this time. You want to be able to easily access your doctor through an app that's easy to use and pleasurable and well-designed. And I think that the businesses like One Medical that were already up and running in that space were a breath of relief.
Kal Vepuri:
Yeah, for sure. And everybody was doing that everyday for a while. It's an incredible thing to think about going back to where we were in early 2020 and how we think about messaging for our brand. We have to be a lot more thoughtful around some of the verbiage we use and how we support our members and the ways in which we support them because the challenges they've been facing are very different now than they have been in the past. What are some of the challenges and opportunities that you've seen brands face during this pandemic? Maybe the ones that you work with, and are there any that you think have really done an outstanding job of rising to that occasion?
Emily Heyward:
You can almost put the challenges into two buckets. One is the businesses that have no direct relevance right now, just being like what do we do? What do we say? Are we allowed to market? Then I think another bucket is more where Hero finds itself, which is that your business is more relevant than ever before, but you need to approach that with sensitivity, and empathy, not feel like you're capitalizing on a crisis. It's a fine line to walk.
One of the other businesses we work on that was in that second bucket is called Judy, which is an emergency preparedness kit and now suite of products. We launched Judy in January, so it was about a month before all of this happened. The brand was centered around being prepared. Most American households are not prepared for a crisis, or for an emergency. When COVID hit, their business took off which was amazing, but they definitely found themselves responding to a global crisis in a way that they probably were not expecting to at launch.
They did a phenomenal job of never feeling opportunistic, providing real information, real value. It wasn't always about selling something. They had masks in all their kits so they were able to repurpose those masks and get them sent to frontline workers. They were able to move in a very nimble, fast way that ultimately fulfilled their mission to help people face whatever life throws their way.
Kal Vepuri:
Amazing. Yeah, Josh and Simon are very impressive folks and you guys did an amazing job there. So maybe switching to the other side of that equation which is, Hero is now entering a different phase of our life, we're growing quite quickly, so I guess what's top of mind for us is the types of mistakes you often see companies in our phase of acceleration or growth, how should we take a step back and what should we be cognizant of as we move to the next stage of our development?
Emily Heyward:
I think there's a couple. So one is just losing focus, and it usually happens for good reasons. You're being thrown opportunities left and right. When a business is succeeding and growing, it's sort of like suddenly the whole world is open to you, but that doesn't mean that you should take on the whole world. I've seen businesses move away from their core message too quickly or launch an ancillary set of products that isn't directly tied to their mission too quickly, just try to be everything for everyone without remaining true to their purpose. So that's very common and it's hard. You're going to be approached with potential partnerships and there are going to be ideas for how to expand your offering and some of those will be great and necessary but it's about having a really clear eye towards, "does this ultimately serve us or is this a distraction?" Which is very difficult to do.
And then I think there's an equally important piece, which is related to internal culture. In the beginning, you're five people sitting around a table. It's very easy for everyone to understand the mission. But how does that translate when you are operating offices across the globe and people haven't necessarily had the opportunity to hear directly from the founder and sit with them and be in meetings with them. Scaling culture can be tough.
Kal Vepuri:
Absolutely. So since everyone here works at Hero, we'd love to hear a little bit about when we initially worked together and went through this process of developing the Hero brand. 
Emily Heyward:
I think what was so essential to the success of this project is that you, Kal, and the team came to us with such a deep understanding of your target audience and what they were struggling with. What I love is that the idea for this business was born organically out of recognizing that problem. And that's what I was speaking to before. It never felt like you were just on a whiteboard being like, "What business should we launch?" I think that you really understood these caregivers and the people who they're caring for and saw this incredibly prevalent problem that there really wasn't a great solution for.
Our process really started with just understanding that and talking about why is adherence such a struggle, and what does it look like to be aging at home and what are the challenges associated with that. And then truly, how do those challenges fall on the shoulders of these adult children who are not paid, and probably have another job and certainly have their own families. It's hard; it's like a full-time job. Talking to people who are in this position you get a sense for how complicated it is. There's a lot to untangle. 
So that's where we started - with our target audience. In addition to unpaid caregivers who really are the decision maker here, we also needed a brand that felt good for the medication takers. And then we have healthcare providers who really need to believe in the power of this system. All of that led into our insight which speaks to this idea that you want the people you care about to live their happiest, healthiest, longest lives. But the quality time you spend together is eroded. Your parents are still alive or your aunt or uncle and you're in this incredible position but instead there's all this stress and it feels like that stress enters the relationship on both sides and leads you to a place that is antithetical to why you're spending time with your loved ones in the first place.
So that led us to this notion of liberating both patients and caregivers to focus on what matters, which is living a full, healthy life and enjoying these amazing years that you've been gifted. And that led us into the main creative idea, "There's more to life", which guides our creative process. That notion felt really powerful to us because I think it worked on a number of levels. It certainly speaks to living your fullest life and extending your life and being as healthy as you can be. But it also speaks to the fact that when you get together with your family, you don't want to be talking about whether you took your pills. You want to be having fun and eating a great meal or looking at photos or whatever else you're going to do together. So the feeling we wanted the brand to give was this idea of being connected and not just connected around stress and responsibility.
Kal Vepuri:
It's incredible to hear your thought process. When we were first starting, just for the team's sake, it felt really overwhelming to us internally to try to figure this out. One of the reasons we were so excited about working with Emily and the team at Red Antler is because it was a challenge to come up with this sort of brand architecture and how we should message this really complicated problem. And the way Emily just laid it out took a lot of late nights and long meetings and a lot of really interesting conversations where I think we had some divergent ideas and they all came together to this strategy. So by the end of the process, everybody I think on both teams were totally aligned.
And that was better than anything I certainly could have imagined. Personally it's a manifestation of a lot of hard work and then ultimately really does exemplify and describe some of the opportunities and challenges that we face everyday as a company.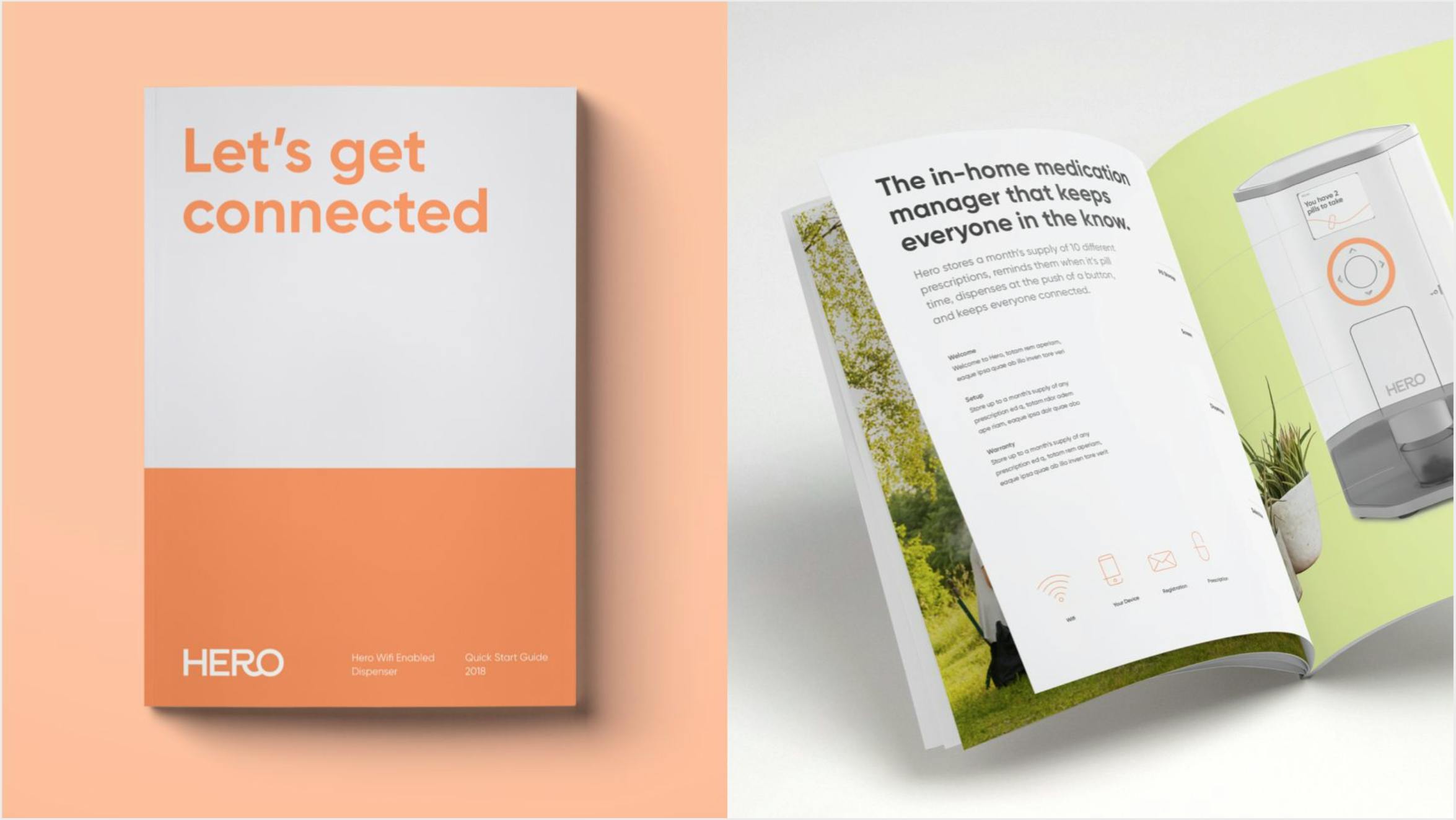 Emily Heyward:
Totally. All right. So we can look at the design work now, which I'm sure you're all intimately familiar with. So much of what we do needs to be grounded in the people we're trying to reach and the problem we're solving for them. So as much as it's easy to just focus on the brand strategy and what the business does, I always like to return to the insight and remind myself of, "what are we actually trying to solve for people?" And it is this idea that the caregivers feel the quality time they want to spend is being eroded. And then we think about a brand's personality and tone. 
"Human" was so important because the last thing we'd want is for people to feel like this is some robot that's coming into your house to take over caring for you. It really did need to feel like a facilitator of connection and not like we're trying to have a machine do this job. "Effortless," of course. It's so important for all the audiences and then "Fresh". I think this is a space where there hasn't been a lot of new news or innovation and we really wanted to signal through the brand that this is a new solution. And lastly, "Relentless." And I think that speaks to the mission of the company, just that we are steadily entirely working towards making people's lives better.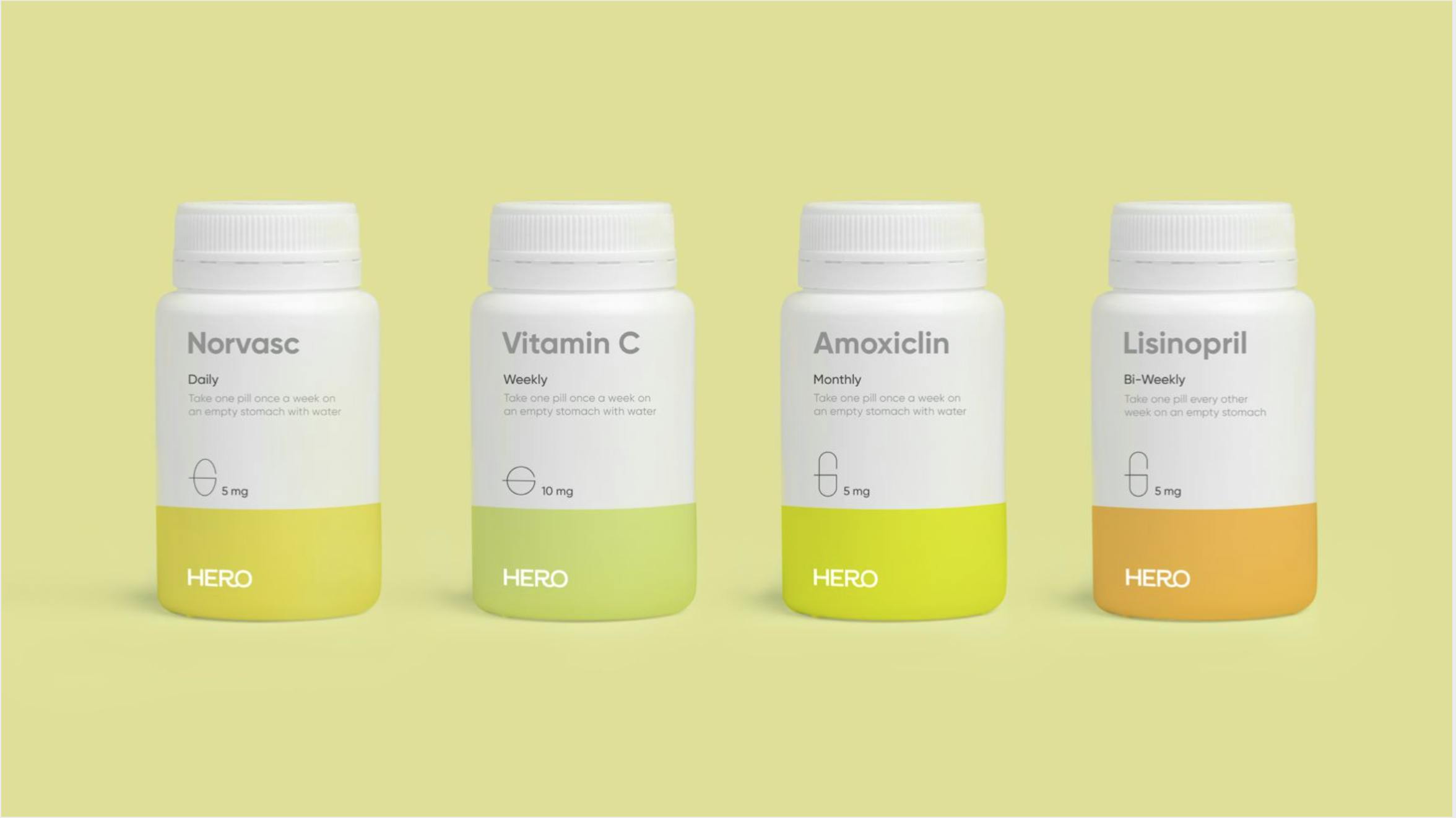 Kal Vepuri:
For sure. These by the way, just for everyone's, this part, took a while. This was a three month exercise to get to this and it was a really fun process so thank you for that.
Emily Heyward:
Of course! Now we can see how the brand starts to come to life. We just love this wordmark. It's obviously quite simple but there's so much happening in it too. The R and the O speak directly to our idea of "connected". The emotion that we want to convey. But there's also a sense of ease. It's just one thing flowing into the next and really feeling like it's all unfolding in exactly the way that you need it to, and that sense of connected lines extended to our illustration style. The topography system feels very clean, legible, direct, cutting through a lot of the clutter and the white noise that's so common in healthcare. And then thinking about packaging and how can we create something that you would want to welcome into your home? It doesn't feel like a chore, it doesn't feel like a bother but really feels positive and puts a fresh take on senior care.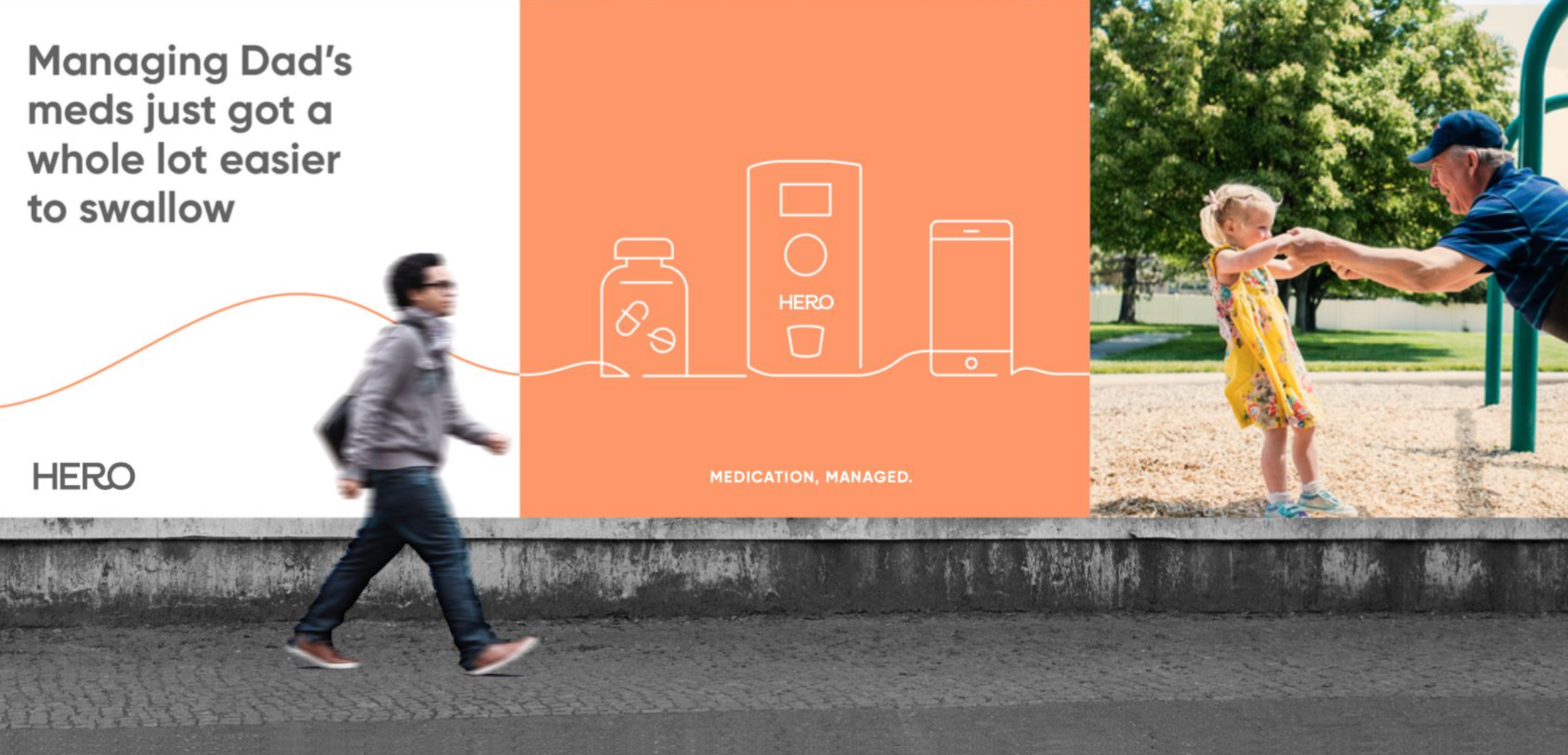 Kal Vepuri:
Awesome. Thank you so much Emily, I think that was definitely a shortened version of four or five months of very intense work so thank you for jumping through that with us. We really appreciate the time on a Friday and everybody thanks for joining. Hopefully we'll do this again soon!
Emily Heyward:
Thank you all so much and congrats on all the success and thank you for bringing this incredible brand to life in the world and I'm just so excited to see it continue to grow.
Kal Vepuri:
Thank you so much. Thanks Emily.
Emily Heyward:
Thank you.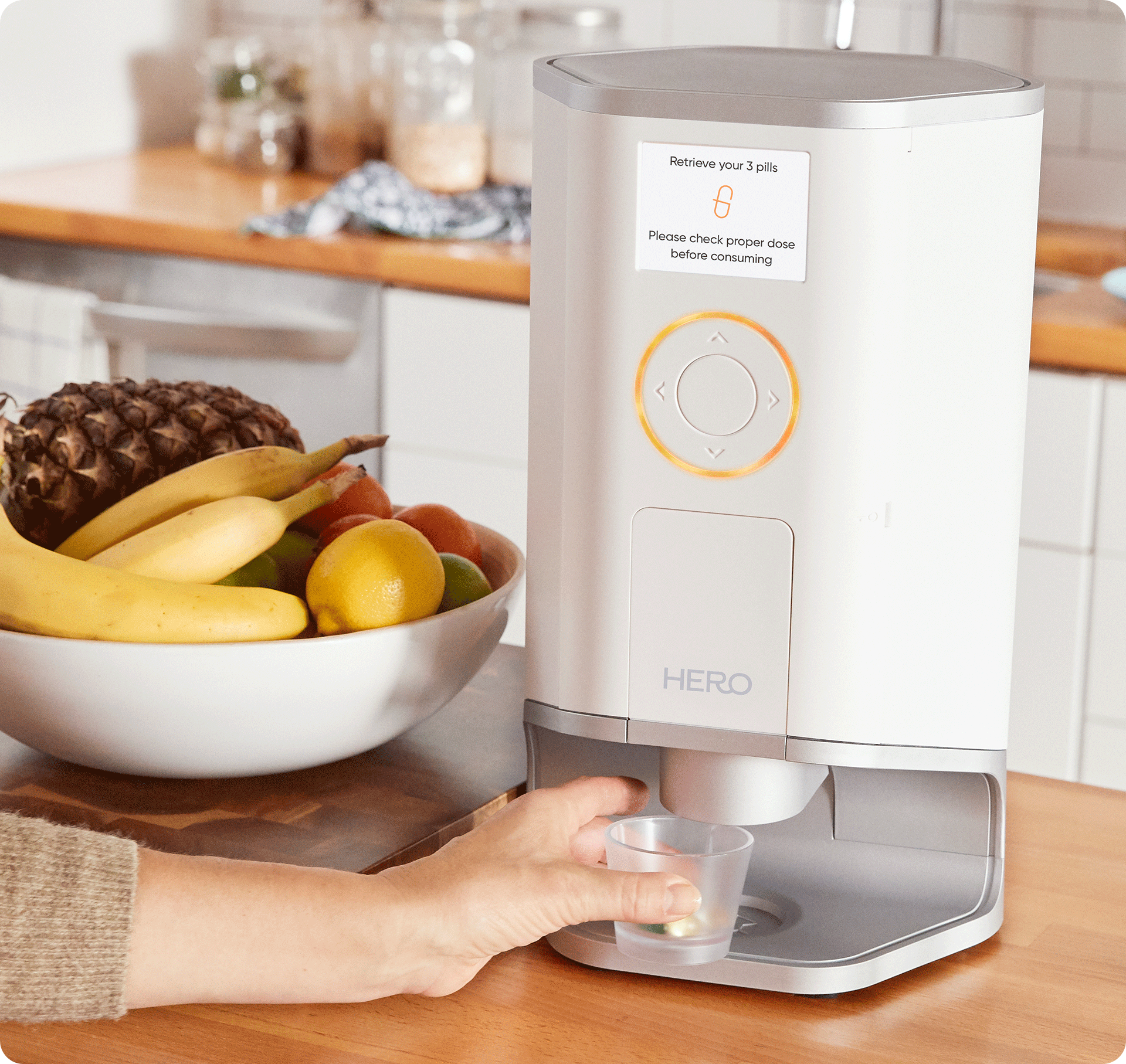 Get Your Hero
Hero gives you peace of mind with an automatic pill dispenser that makes it simple and easy for your loved ones to take the right medication at the right time, every time.

The contents of the above article are for informational and educational purposes only. The article is not intended to be a substitute for professional medical advice, diagnosis, or treatment. Always seek the advice of your physician or other qualified clinician with any questions you may have regarding a medical condition or its treatment and do not disregard professional medical advice or delay seeking it because of information published by us.