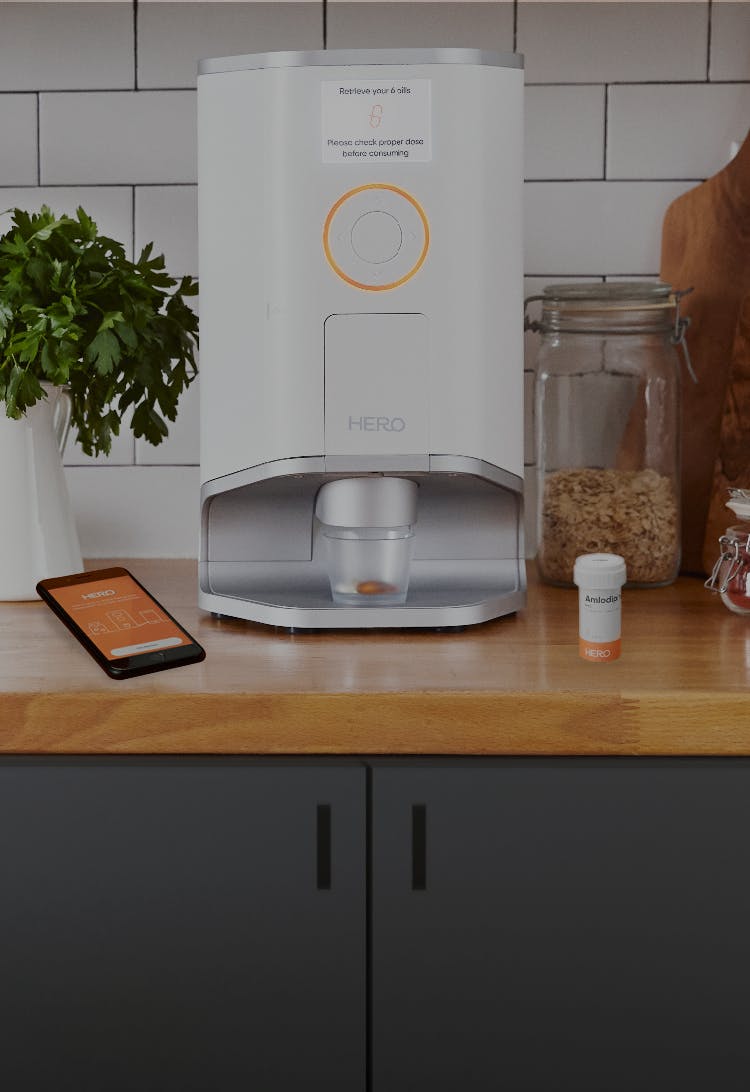 Think outside the pill box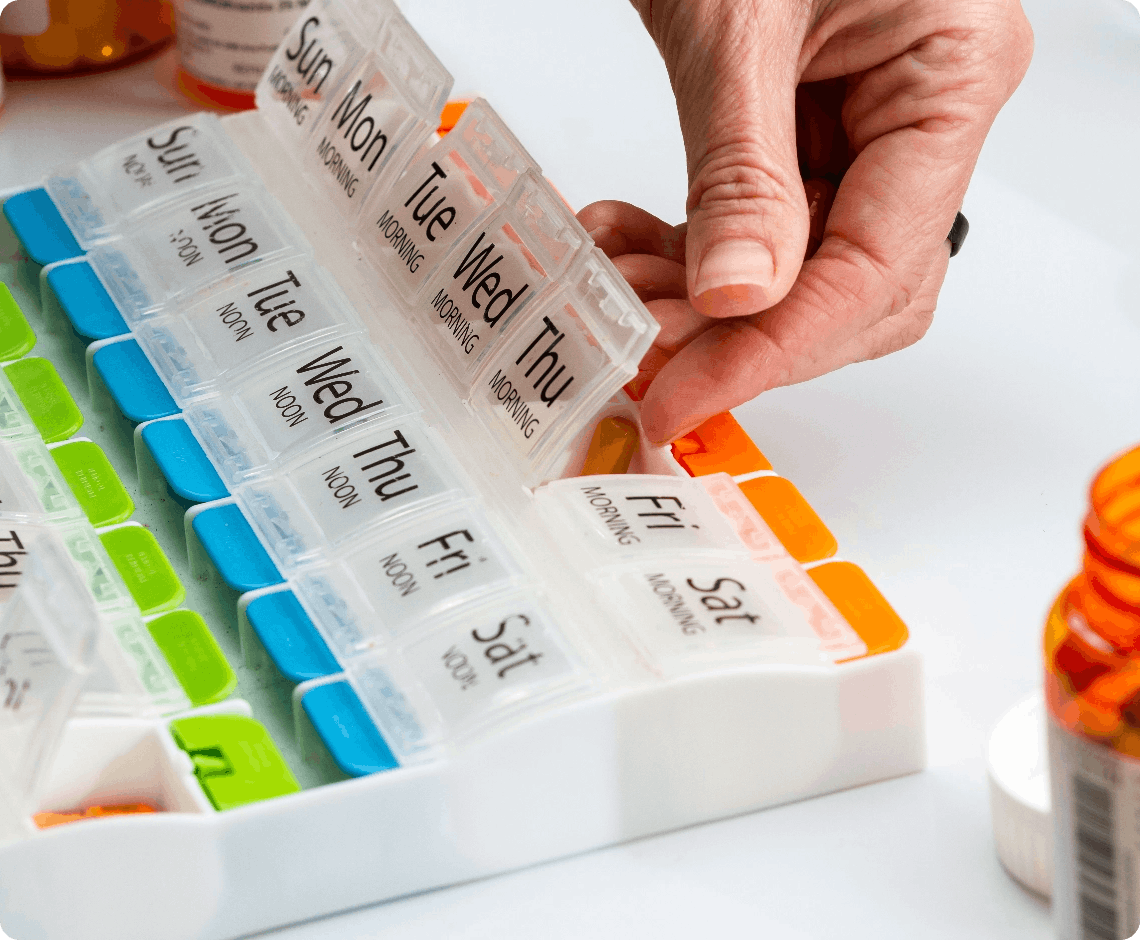 Pill boxes are a simple way to sort pills for daily, weekly, or monthly consumption
They might have one single container or contain multiple compartments to sort your meds according to your prescribed schedule.
Did you know there's a better way to manage your meds?
While a common solution for med management, pill boxes have a few problems:
If you take multiple pills or your meds change frequently, sorting, and refilling your pill box can take hours every week.

You still have to remember to take your meds

Your meds may be sorted, but will you remember to take them? How can you know if you've missed a dose?

They're not good at storing multiple meds

If you're juggling many prescriptions, taking a dose can mean dumping out the pill box each time to find what you need — a process made more difficult if your pills look alike!

They're not accessible for those with a physical illness or disability

It's common for anyone to fumble with small pills — but it's even more difficult to use a pill box if you have any impairments affecting dexterity or fine motor skills.
Goodbye pill box, hello Hero!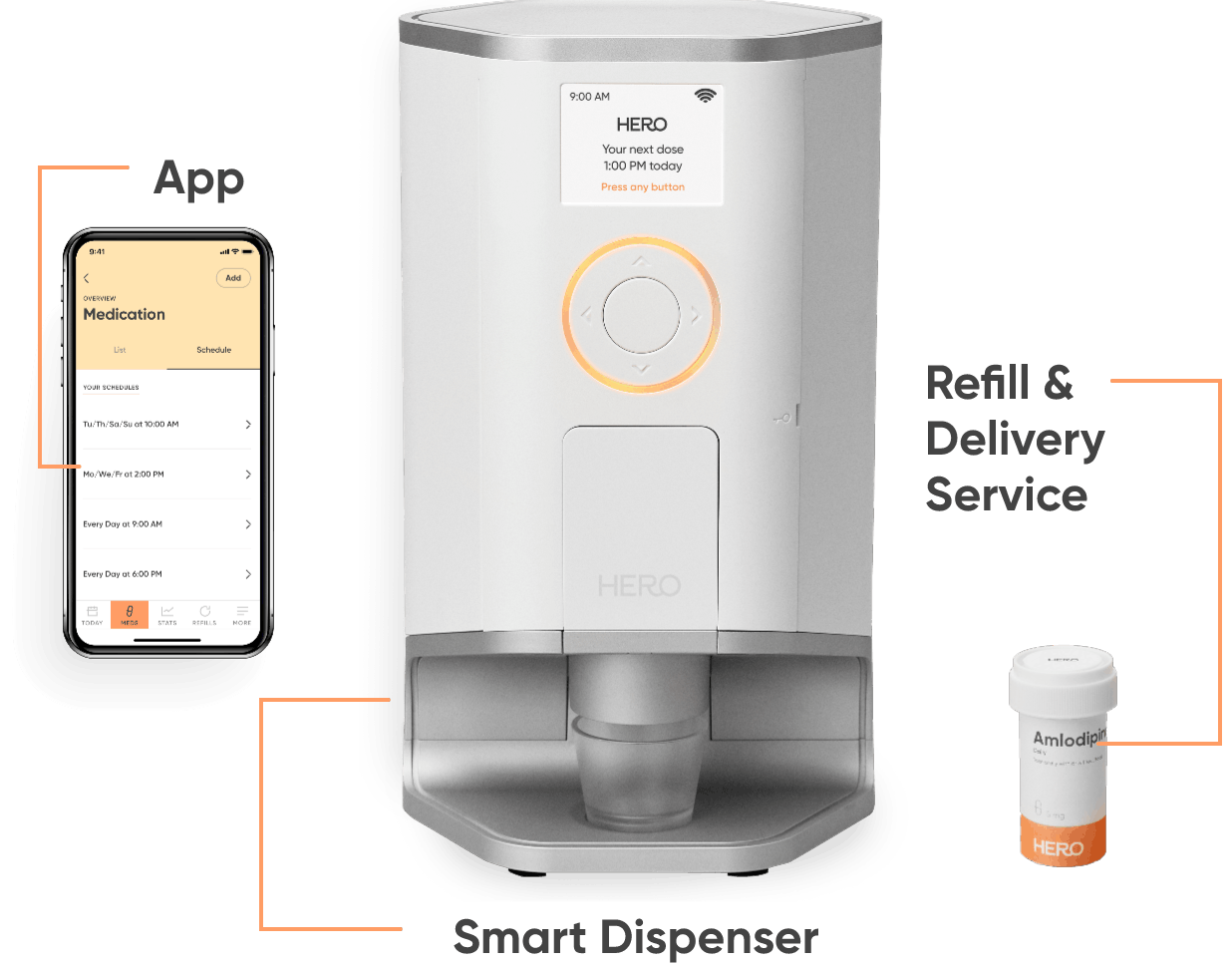 Hero is the first all-inclusive medication management service that stores, sorts, dispenses, refills, and tracks your medication regimen.
Unlike pill boxes, Hero helps you say goodbye to:
Confusing Look-Alike Pills
Try Hero for 90 days, risk-free
A Hero subscription includes:
An award-winning smart dispenser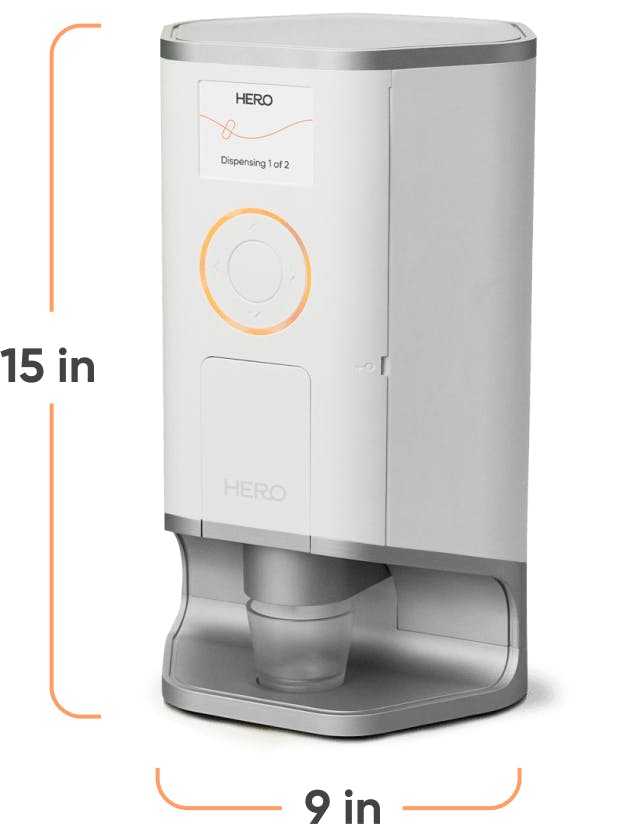 Unlike a pill box, you'll get alerts when it's pill time with a blinking light and friendly chime. Press one button to auto-sort and dispense your meds according to schedule!
Holds up to 90-day supply of 10 meds

Supports any pill size or shape

Fits all standard kitchen counters
A medication management app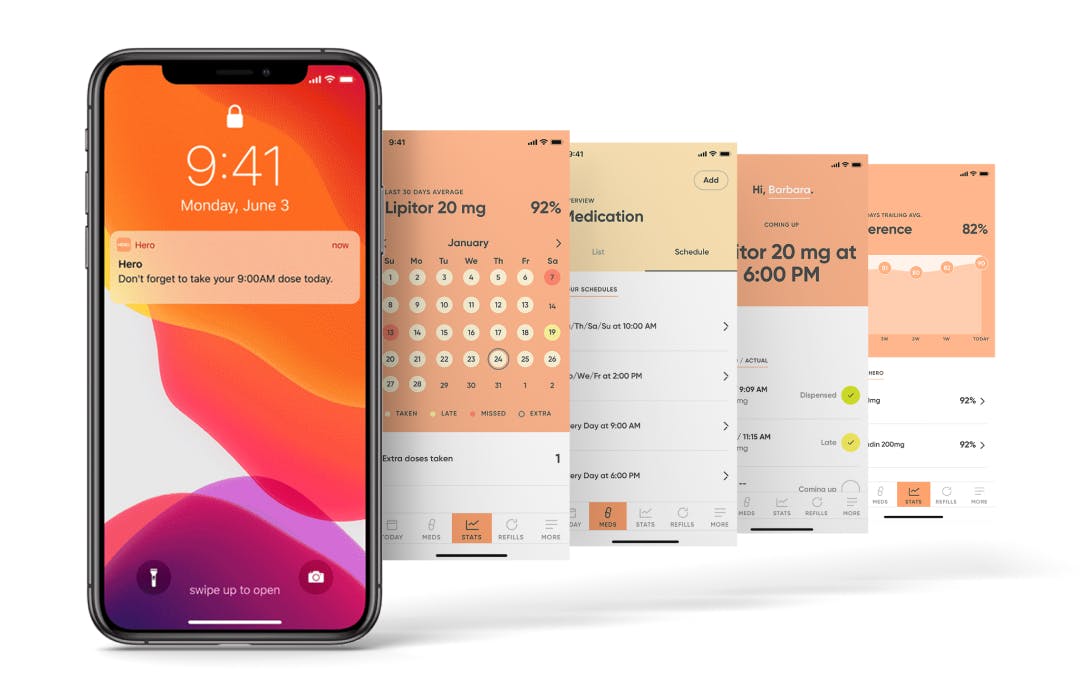 Keep your medication information all in one place! Add your meds to the app and get pill-time reminders, missed dose notifications, and alerts when it's time for a refill.
Caregivers can monitor remotely with safety settings, med schedule management, and more

HIPAA-compliant security
Automatic refills with free delivery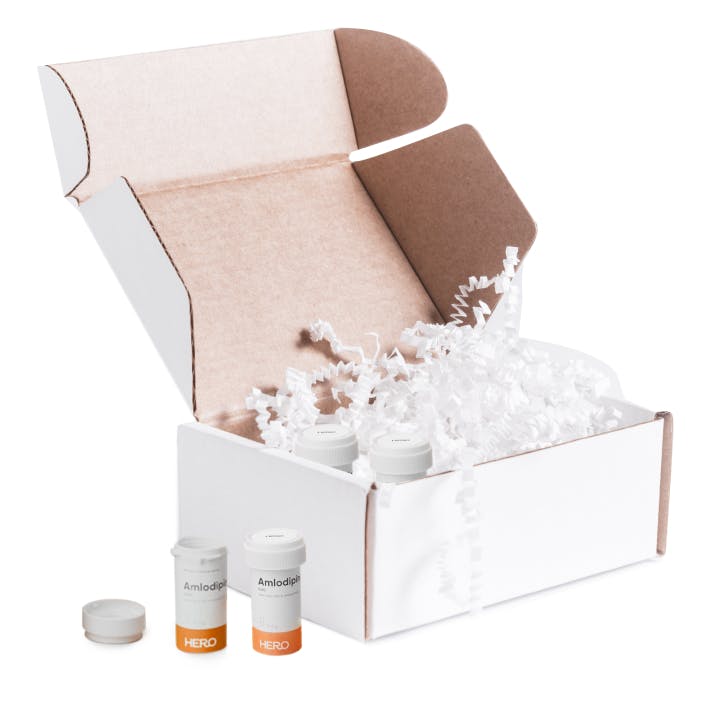 A pill box can't order your refills for you, but Hero can! Pay your same copay and we'll deliver your meds to your doorstep every month.
No-hassle prescription transfers

Monthly pharmacist check-ins included

Optional service — you can continue using your local pharmacy if you'd prefer!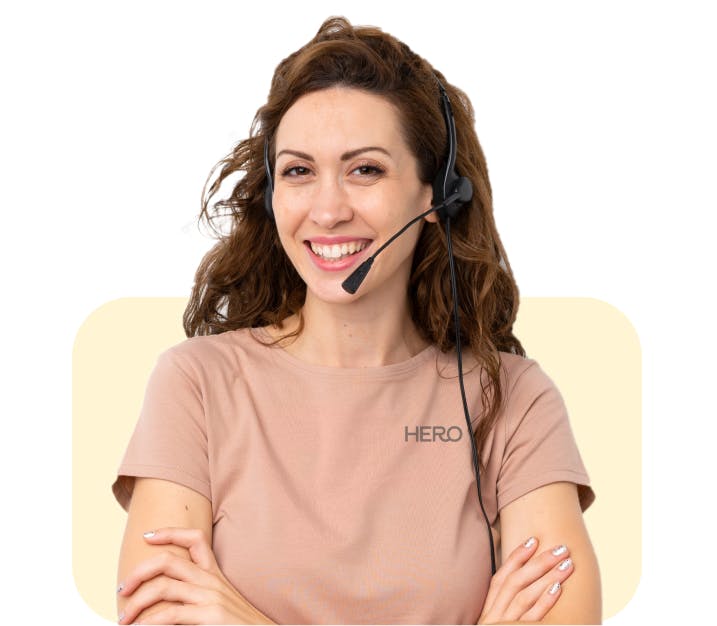 Hero is quite different from your typical pill box, but don't worry: we're here to answer any questions you may have via phone, email, or chat.
Hear why our members ditched the pill box
"I was also tired of filling pill boxes and often missing medications. Hero is easy to fill, easy to use, and keeps me taking my medications on schedule."
Hero member from Cambridge, WI
Verified member
"This was the BEST investment I have made in my health! [Hero] was easy to set up and reminds me to take my medications on time. No more pill boxes and missed doses."
Hero member from Hanover, PA
Verified member
"My husband takes approximately 10-15 pills a day. I would spend about 45 min to an hour every Sunday filling his pill box and calling in refills. Hero is such a time saver. Now I just have to call in the refills when Hero reminds me. I love it!"
Hero caregiver from Converse, TX
Verified member
"I am in the Emergency Healthcare Profession and was putting all of my dad's pills in a weekly pill box. Even I made a mistake that I caught…[Hero] has given me the emotional relief knowing he will take the correct drugs at the right time AND I don't have to fill the stupid pill box!"
Hero caregiver from Cleburn, TX
Verified member
Start your 90-day risk-free trial today!

+$99.99 one-time initiation fee
A Hero subscription is protected with a 90-day money-back guarantee.