What are the benefits of using an automatic medication dispenser?
---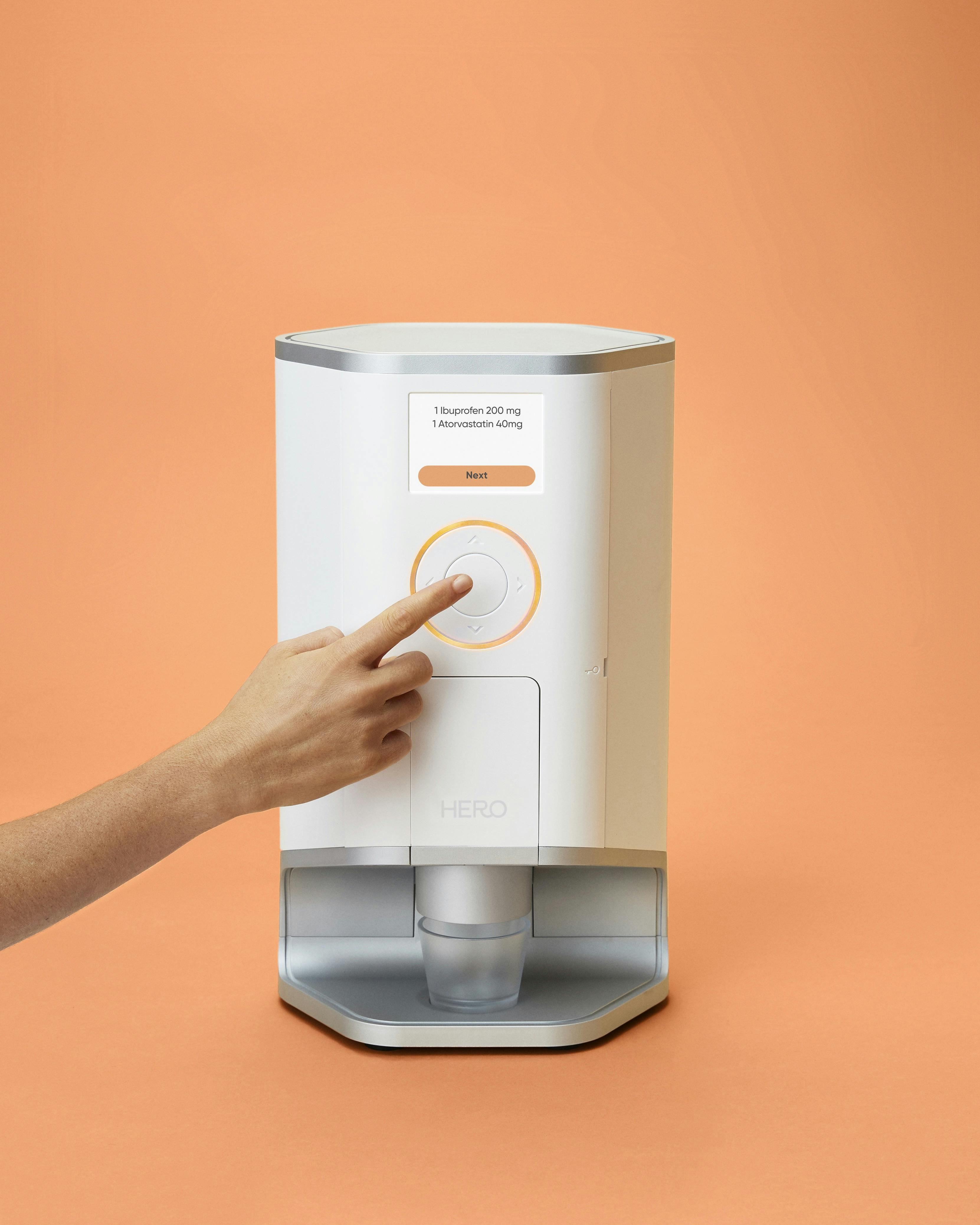 While medication has the ability to ease pain and relax a rushing mind, it comes with a great deal of responsibility. Taking the right medication at the right time is hard on its own, and adding in factors like multiple pill bottles, missed doses, and sorting a pill box according to the right schedule can all contribute to medication errors that could, at the least, result in some unpleasant effects, and at the worst, hospitalization.
While pill organizers and storage have remained a great approach towards handling medication adherence, they still fall short with a major issue: they require someone to manage the medication, whether it's yourself, a caregiver or a family member.
The solution? Automated pill dispensers.
Hero offers one of the most advanced streamlined medication management systems on the market. It combines an automatic pill dispenser with an integrated mobile app and 24/7 customer support to improve safety outcomes, make management easier than ever, and give you your life back.
Improved medication adherence
Medication adherence is extremely important when it comes to medication management. The dangers of non-adherence are no joke.
Studies have found that up to 60% of older adults have had a medication mistake, whether that's taking the wrong medication, missing a dose, or taking the pill at the wrong time. As a result, nearly 140,000 people pass away each year. Seniors who improperly take their medications are 76% more likely to experience a large decline in their health.
Helping to ensure medication adherence is one of the biggest benefits of Hero's medication management system. Hero is more than just a smart pill dispenser -- the Hero app and dispenser work together to streamline your medication management.
Accurate dosing at the right time
The main goal of automatic medication dispensers is to simplify medication management.
Automatic medication reminders and automatic medication dispensing means a significantly reduced chance of missing a dose.
Setting up Hero's automatic pill dispenser is extremely user-friendly. Simply use the app to load your medication into the storage compartments and set up your medication schedule. The device will take care of the rest, including sorting and dispensing your meds for you! When it's time to take your medication, the dispenser will inform you with a pleasant chime and a colorful display. Simply push the center button, and your pills will begin dispensing.
Does this mean I have to stay near my dispenser all the time?
Absolutely not. Get out and enjoy your day, and the Hero mobile app will send a notification directly to your pocket when it's time for a dose, letting you know it's ready to be dispensed.
Hero can also dispense medication ahead of time if you are going on a trip or won't be home. The app will still notify you when it's time to take a dose, and the dosing schedule will resume to normal when you return home without needing to be reprogrammed.
Hero's Future Dose feature allows you to dispense the pills you'll need ahead of time. The app will still remind you to take your meds and track your adherence while out of the house, so you'll be sure to stick to your schedule!
Safe storage
Safety is key when it comes to medication storage. Automatic dispensers help to keep your medication safe from being easily accessible by pets or children.
With your medication safely stored away, you will need a constant power source such as a wall outlet to dispense your prescriptions. During emergencies where you may lose power, you will still have access to your medication with a Pill Access key, allowing you to unlock the dispenser. Since scheduling and medication tracking occur over the mobile app, you can continue receiving reminders and manually tell the app you took your medication.
Easier management
Hero's automatic pill dispenser can hold up to 90 days of 10 different medications, allowing you to no longer worry about if your medication is available, especially as the dispenser tracks and assures you that you aren't running low.
The Hero App is a feature of your Hero subscription. It allows you to stay up-to-date on your health and medication status and allows your loved ones to stay well informed with real-time information.
As your medication is dispensed, the Hero app will automatically track whether your medication was taken on time, late, or not at all. If a dose is missed, the app can send automatic phone calls to inform caregivers that medication was missed.
This also creates an accurate real-time record that can be accessed from anywhere. This allows loved ones, caregivers, and medical professionals the option to review medication adherence to help understand the effectiveness of the medication regimen.
Refill reminders
With your medication out of sight, you may feel worried you may miss a needed refill. Some medications simply can't be picked up the same or even the next day, and take time for the pharmacy to receive.
Hero keeps an eye on all of your medication counts and can inform you when a medication should be refilled. This helps ensure you don't go without your prescriptions.
Integrated tools
Changes to medication can happen, but remembering to implement those changes accurately can be a challenge. With the mobile app, you can make your medication or dosing changes in real-time.. This means you could even have a medical professional assist you in making the changes while at the doctor's office. All changes will need to be confirmed on the dispenser when you return home.
Fuller life
We know how important it is to be able to live a full and happy life. Reducing the need for time-consuming pill organizing with an automated medication management system allows you to spend more time doing the things you enjoy.
Independence for loved ones
Streamlined med management helps you to regain your independence. Relying on another person to manage your meds can make you feel like you're not in control of your own life.
Having the reassurance that your medication is more under control can help you live your life to the fullest again. No matter your age or health, the need for someone to help lay out your medication or constantly check on you isn't quite the best feeling.
Hero for the win.
Not all automatic medication dispensers are made the same. There are many options available, but none quite like Hero.
Hero offers an integrated app, as well as 24/7 customer support. If you have a question about your device, a simple phone call can have you speaking with a professional any time, anywhere.
Since Hero follows a subscription model, it is affordable for the people who need it most. While high upfront costs are often out of budget, paying a low monthly fee for an active service can help save you money in the long run.
Stay safe, connected, and living life to your fullest with Hero.
Sources
https://pubmed.ncbi.nlm.nih.gov/22510235/
https://www.medscape.com/viewarticle/501879
https://www.medscape.com/viewarticle/501879#:~:text=Research%20shows%20that%20older%20adults,took%20all%20medications%20as%20prescribed.
https://www.fda.gov/drugs/resources-you-drugs/drug-interactions-what-you-should-know
https://www.aafp.org/afp/2019/0701/p32.html
https://www.cdc.gov/medicationsafety/parents_childrenadversedrugevents.html
Complex med schedule? We solved it.
Hero's smart dispenser reminds you to take your meds and dispenses the right dose, at the right time.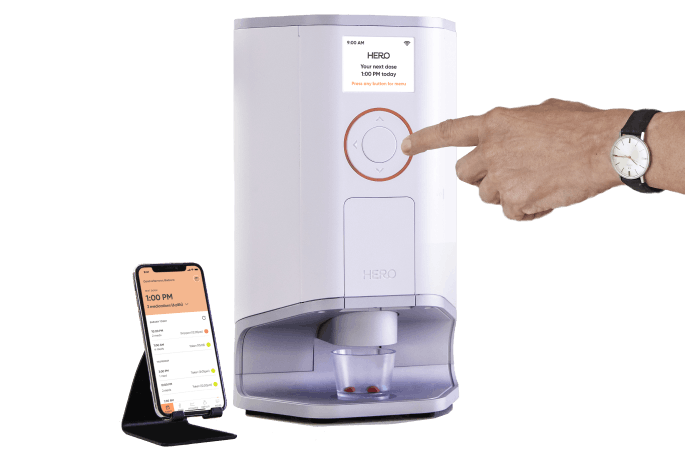 The contents of the above article are for informational and educational purposes only. The article is not intended to be a substitute for professional medical advice, diagnosis, or treatment. Always seek the advice of your physician or other qualified clinician with any questions you may have regarding a medical condition or its treatment and do not disregard professional medical advice or delay seeking it because of information published by us. Hero is indicated for medication dispensing for general use and not for patients with any specific disease or condition. Any reference to specific conditions are for informational purposes only and are not indications for use of the device.