Pill Holder, Dispenser & Manager | Hero
Product Specs
Dimensions

9 in x 9 in x 15 in  (22.9 cm x 22.9 cm x 38.1 cm)

Pill Size

Hero supports any pill size or shape. In order to avoid contamination, Hero does not work with half pills, gummies, powdery, sticky or dissolvable pills.

User Support

1 device per person. Each device requires its own/a unique Hero App account.

Requirements

Internet access, Wi-Fi, Computer or Mobile phone (iOS or Android)
Made for caregivers and independent users

HIPAA-compliant security for all your data
An Easy to Use Pill Holder
Use the Hero app to program any pill regimen, simple or complex
Hero will notify you when it's pill time as often as needed.
Hero stores, sorts and dispenses a month's supply of 10 different medications
No matter the shape or size of your medication.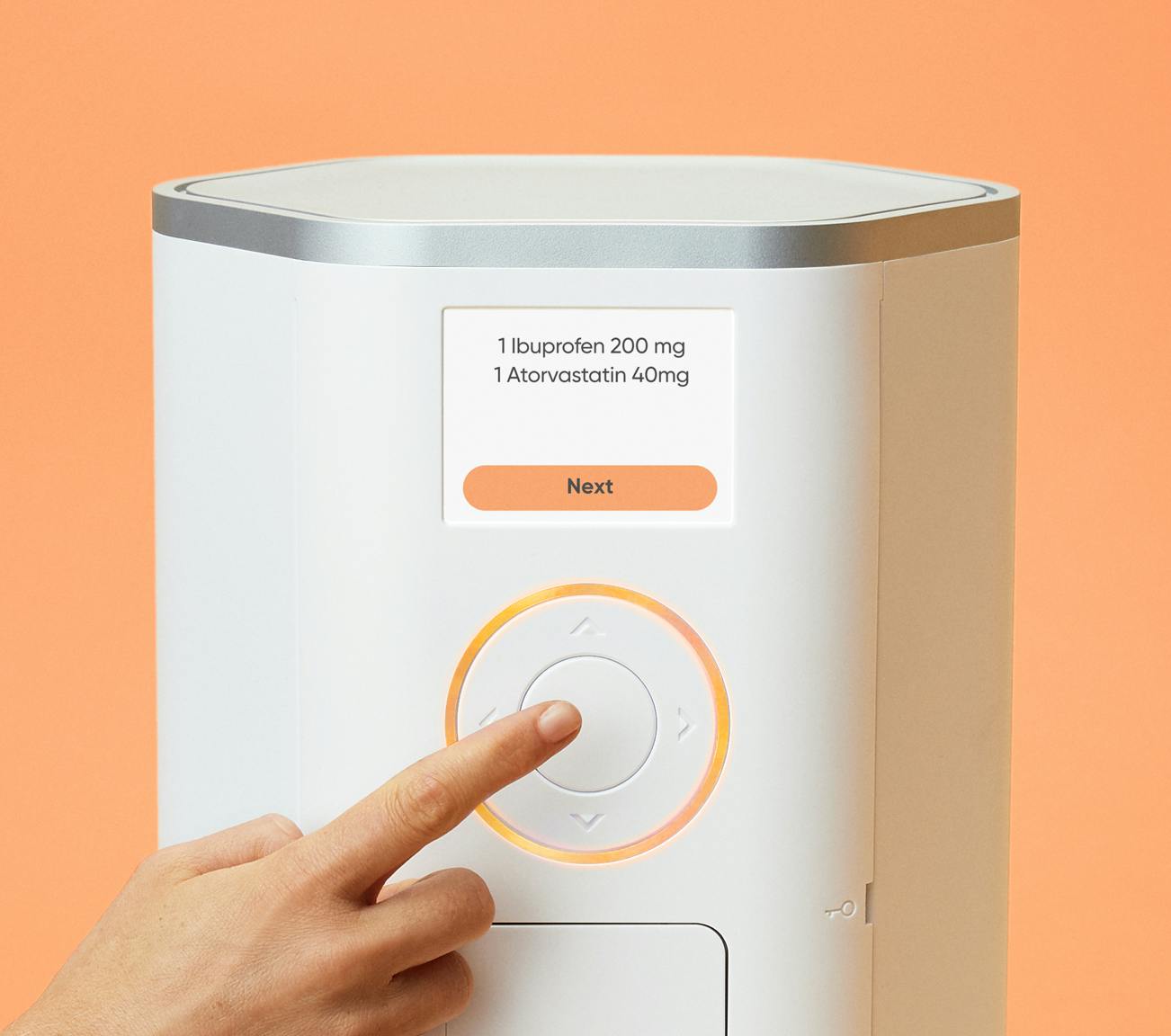 Light and sound notifications let you know when to take a pill.
We can also send notifications to a caregiver's phone if you miss a dose.

Stay connected with the Hero app
Know when loved ones took their pills

Get alerted if they are late for a dose, miss a dose or take too much

Track adherence overall or by medication, within any time period
Your Hero subscription includes: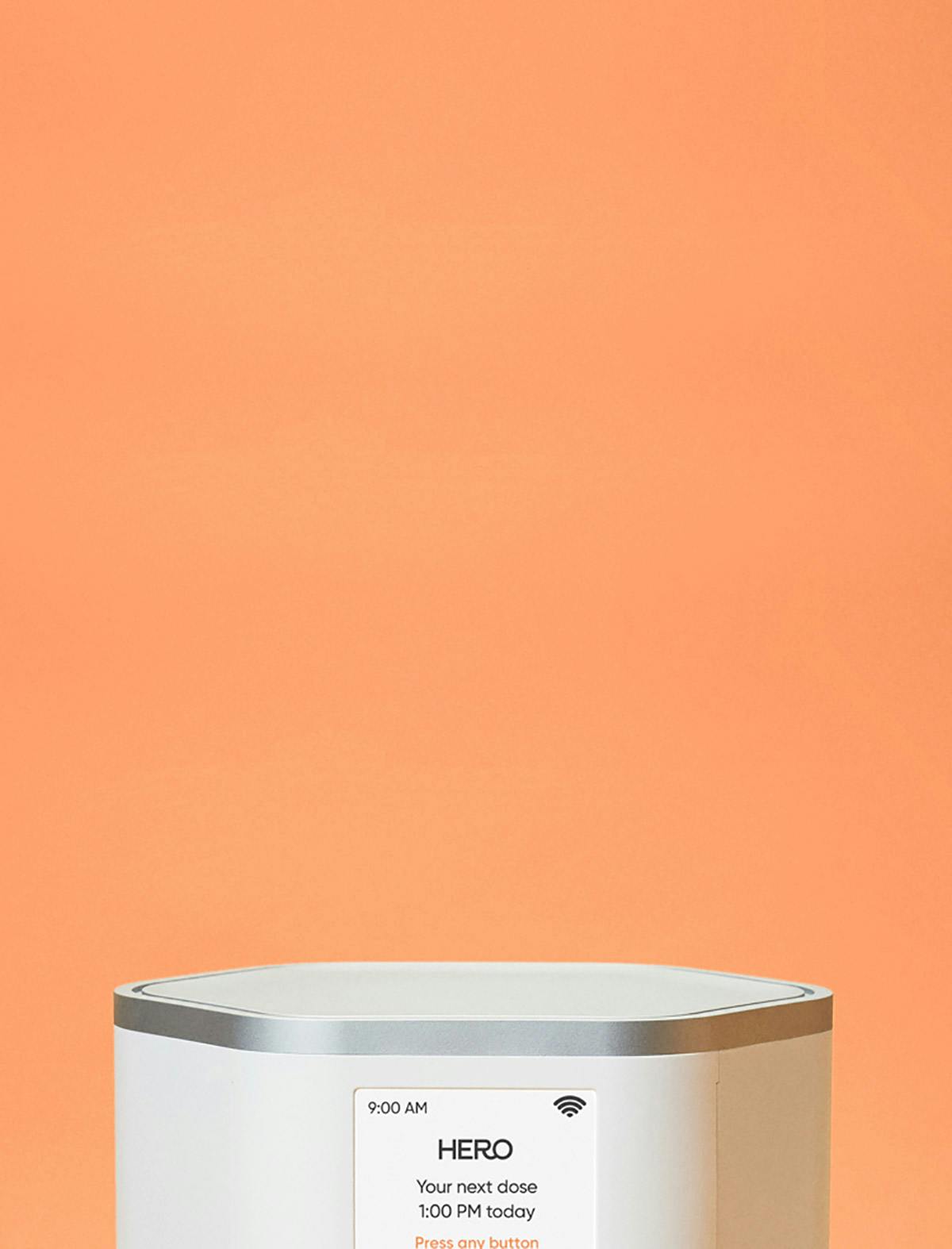 Don't have Hero yet?
Hero's membership service provides you with the tools and support you need to help ensure the right medications are taken at the right time, every time.
With the Everyday Hero membership you get unlimited access to:
Hero Automatic Pill Dispenser -

your Hero pill dispenser stores up to 10 different medications that can be dispensed multiple times per day as needed

Mobile App Functionality

- complete access to the mobile iOS and Android apps for daily usage, managing refills, notifications, alerts, reminder, monitoring

Support

- get 24/7 support via email, phone or chat to make sure you've got Hero set up properly

Low on Pills Notification

- Hero can tell when you are running low on medications in the device and will send you a notification to make sure you don't run out.

Late, Skipped or Missed Dose & Device Notifications

- you and your loved ones will get notified via the app if you miss a dose or if there is any tampering with the Hero device or if it gets disconnected

Progress Statistics & Reporting

- you and your loved ones will be able to see your progress and if you've missed any pills

Caregiver Accounts

- adding caregivers lets your loved ones access and monitor your progress
To see more details about the Hero Everyday membership as well as other membership options please visit our Memberships page.
The Hero service includes the Hero device, the Hero app, and 24/7 support. 
The Hero device is an incredibly complicated piece of hardware that needs to work every time to ensure the health of our users (as well as comply with both FDA and HIPAA regulations). Similar devices that are on a membership model like Philips ($60 a month) and MedMinder ($50 a month) are significantly more expensive and provide fewer features. Other options that are available to buy outright, like Livi ($979) and Medacube ($1299) are very expensive to purchase. None of these devices include an app that allows users to interface with the Hero either as the primary user or remotely as a caregiver.
The membership model allows us to offer Hero to as many users as possible at an affordable price while also receiving constant updates to both the app and the firmware that controls the Hero device. Your membership also includes our limited warranty for the duration of your Hero membership.
In addition, members have access to our live support 24/7 if they have any questions or need help.
Multiple caregivers can be connected to the same Hero device but Hero is designed to dispense pills to a single user. If multiple people in your household need to use Hero, they will need to buy a device for each individual user.
Hero can dispense whole pills of any shape, size, or texture. Hero cannot, however, dispense half pills, injectables, liquids, or soft gummies, like chewy children's vitamins. You can still store these types of medications outside of Hero, and use the Hero app to track your schedules, with the full support of Hero's notifications and reminders.
Unfortunately, Hero devices currently hold a maximum of 10 pills. You can buy 2 devices in order to dispense more than 10 different pills daily.
Hero may now be covered by Medicare!
If you are on Medicare, you may be able to receive Hero at little to no cost (Medicare coinsurance and copays may still apply).
Trusted providers include Hero in a new program covered by Medicare designed to help individuals better manage their medications and health conditions.
Learn more about the program and check your eligibility here.
Hero offers three subscription plans - all come with a 90-day money-back guarantee and a lifetime warranty: 
24-month

-

$29

.99

/ month

($720 upfront). BEST VALUE! Save 33% with a 24-month subscription. 🏆

Annual

-

$34

.99

/ month

($420 upfront). Save 22% with an annual subscription.

Monthly

- 

$44

.99

/ month

(12 month commitment).
In addition, a $99.99 one-time initiation fee is added when joining Hero (look out for a discount code on the site! 😉 ).
Note: Prices shown above exclude sales tax. Shipping is always FREE.
Still have questions?
Our support team is here to help.