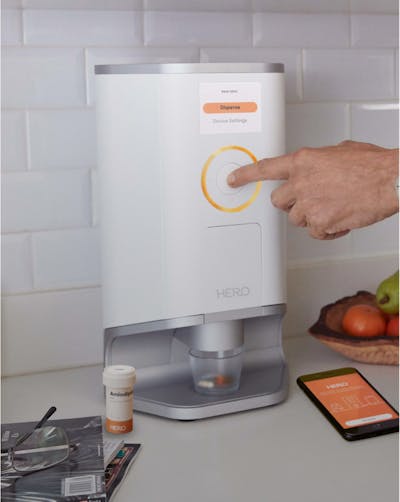 Try Hero for 90 days, risk-free
Take the time to find out if Hero is right for you
Cancel anytime within the first 90 days to get your money back, guaranteed. A Hero subscription includes:
Award-winning smart dispenser

Medication management app

24/7 live support
+$99.99 one-time initiation fee
A simple and easy way to manage medication
Stores up to a 90-day's supply of 10 different medications.
Customize any pill regimen, simple or complex.
Automatically sort and dispense when it's time for a dose.
I truly feel that I now owe my continued health, in large part, to my Hero.
- Hero Member From California
+$99.99 one-time initiation fee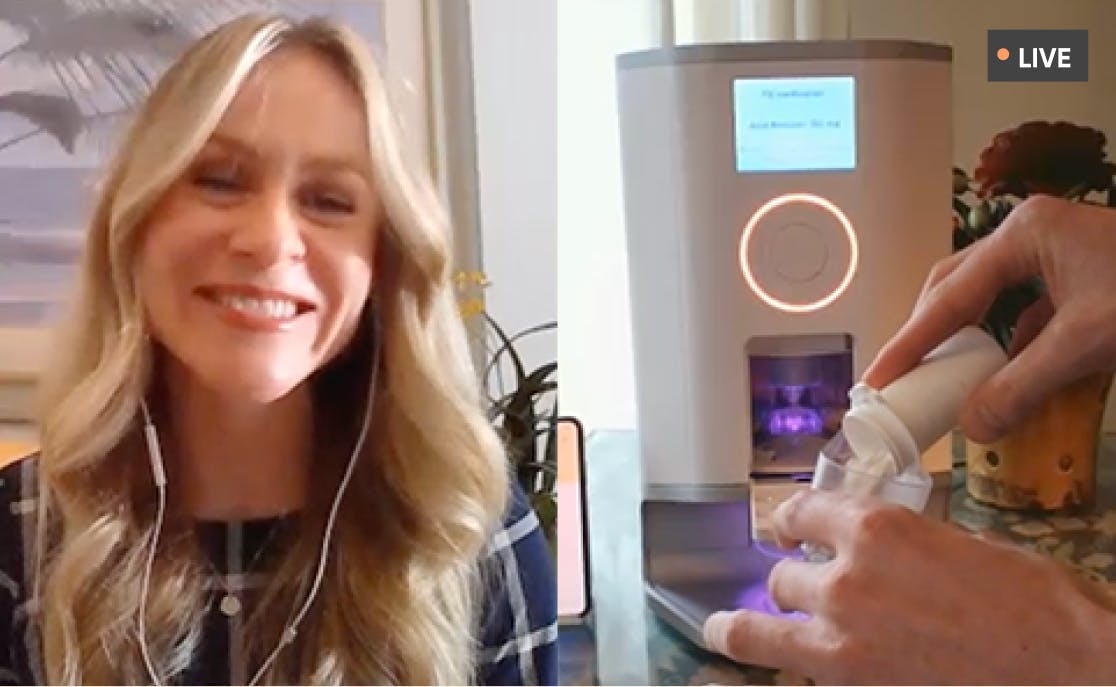 Not ready to try Hero?
Join us for a live Q&A session! We're here to answer your questions about our medication management service and help you get more familiar with Hero!
Sign up below to receive updates on our latest offers and promotions.
Hero may now be covered by Medicare!
If you are on Medicare, you may be able to receive Hero at little to no cost (Medicare coinsurance and copays may still apply).
Trusted providers include Hero in a new program covered by Medicare designed to help individuals better manage their medications and health conditions.
Learn more about the program and check your eligibility here.
Hero offers three subscription plans - all come with a 90-day money-back guarantee and a lifetime warranty: 
24-month

-

$29

.99

/ month

($720 upfront). BEST VALUE! Save 33% with a 24-month subscription. 🏆

Annual

-

$34

.99

/ month

($420 upfront). Save 22% with an annual subscription.

Monthly

- 

$44

.99

/ month

(12 month commitment).
In addition, a $99.99 one-time initiation fee is added when joining Hero (look out for a discount code on the site! 😉 ).
Note: Prices shown above exclude sales tax. Shipping is always FREE.
The Hero smart dispenser is a brilliant HIPAA-compliant piece of hardware that helps prevent users from missing doses. We've created the first end-to-end medication management service that includes the dispenser and medication management app. Similar devices with subscription models like Philips ($60 a month) and MedMinder ($50 a month) are significantly more expensive and provide fewer features. Other options available to buy outright, like Livi ($979) and Medacube ($1299), are also costly to purchase and do not include a mobile app that allows users to interface with the Hero as the primary user or remotely as a caregiver. The subscription model allows us to offer Hero to as many users as possible at an affordable monthly price. Your subscription also includes our unlimited warranty and access to 24/7 live support for the duration of your Hero subscription term! Read more...
For one monthly fee, you get access to our award-winning smart pill dispenser, med management app, and 24/7 support. Read more...
No, your Hero subscription allows you to invite medication partners to join the mobile app in order to monitor your adherence levels and receive notifications if there are any missed doses. Read more...
Hero's smart dispenser holds to a 90-day supply of up to 10 different medications. If you take more than 10 medications or have medications that cannot be stored in the dispenser like liquid medications and medications that require refrigeration, you can track and add 10 additional medications in the mobile app and Hero's smart dispenser will still remind you when it's time to take them. Read more...
You only need a mobile phone to set up the Hero smart dispenser, and you can receive notifications as a caregiver. Your loved one only needs to press one button on the device when it's time for their dose.
Your subscription purchase is protected by a 90-day money-back guarantee starting when you activate your Hero smart dispenser or within a week after delivery (the earlier of the two). If you decide to cancel your subscription after the 90-day trial and before your commitment term is complete, monthly plans will be charged the remaining balance of the 12 month commitment. Annual and 24-month plans will not be refunded. We will send you a reminder 14 days before your commitment term expires and your plan is auto-renewed. If you choose to cancel your subscription at that point, there will be no cancelation fees, and you will need to return the Hero smart dispenser. For more details, see: https://herohealth.com/returns