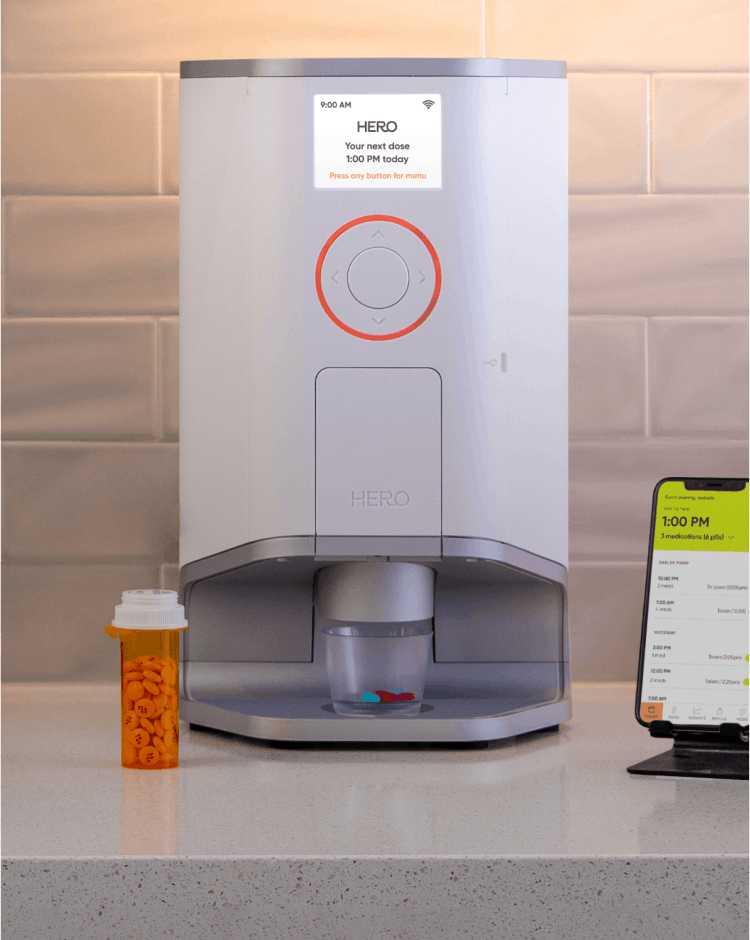 Goodbye pill box, hello Hero
One subscription fee, one all-inclusive service
A Hero subscription provides everything you need to take the right medications at the right times.
Award-winning smart dispenser

Medication management app

Refills with free delivery (optional)

24/7 live support
+$99.99 one-time initiation fee
Med management in 4 easy steps: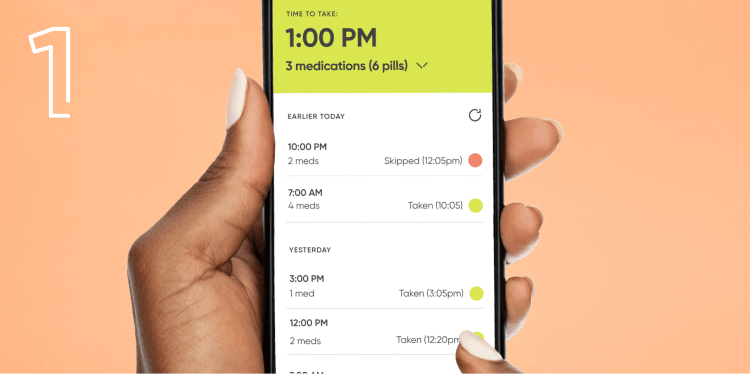 Set your medication schedule in the connected app.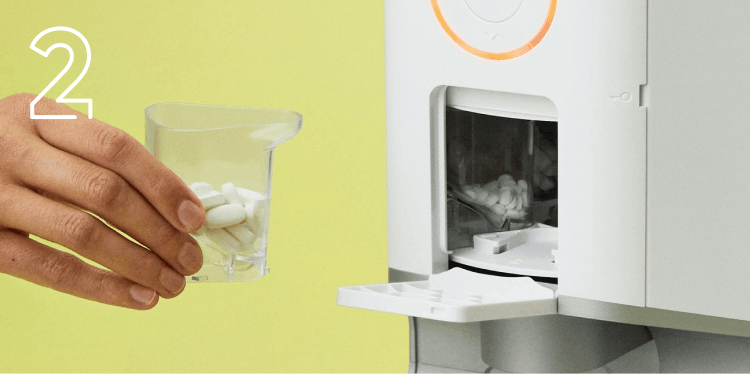 Load up to a 90-day supply of 10 different meds.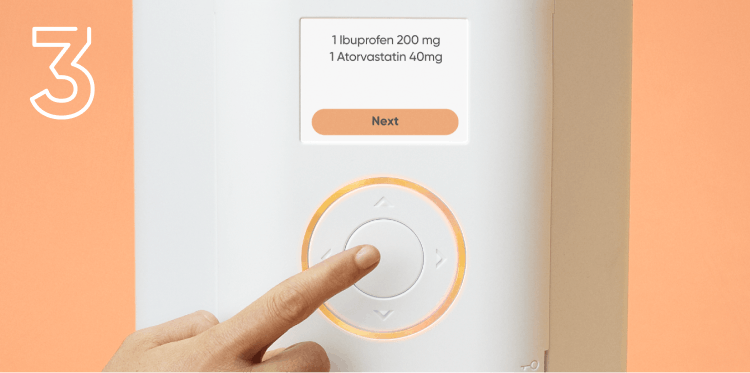 When alerted, press one button to dispense your dose.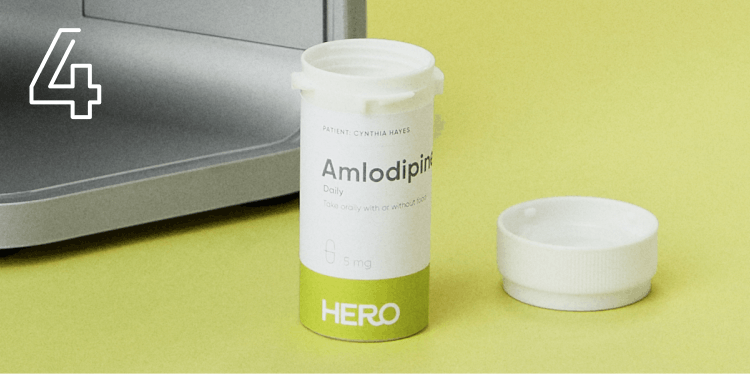 Get automatic refills with free delivery (optional).
Peace of mind with the push of a button
Remote caregiver controls
Manage their meds through the mobile app. Your loved one just presses the button.
Real-time reminders
The connected app sends missed-dose notifications and low-pill alerts.
Safety & security
Our ongoing device monitoring ensures the health and performance of the Hero pill dispenser.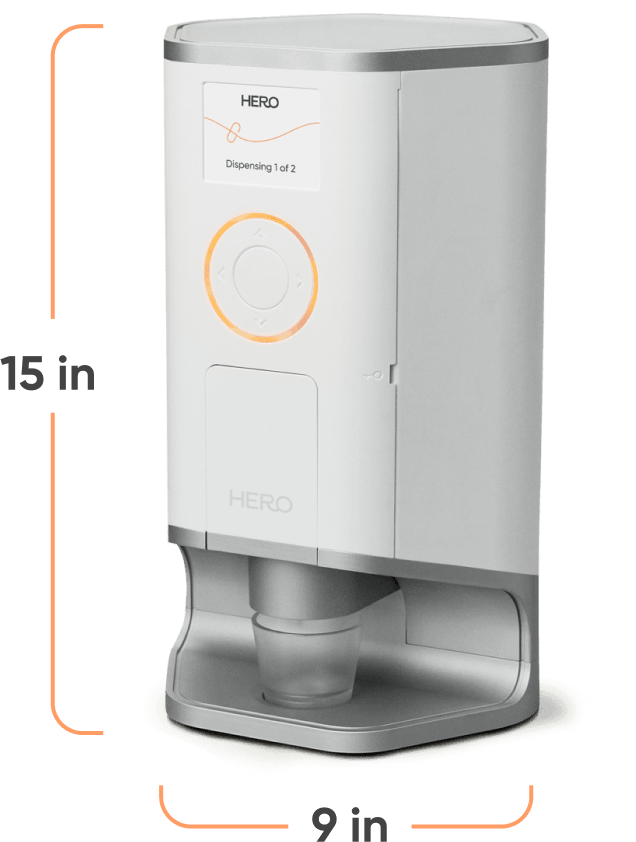 Dimensions & weight
9 in x 9 in x 15 in (22.9 cm x 22.9 cm x 38.1 cm)

10 pounds

Fits all standard kitchen counters
Wi-Fi requirements
You'll need your Wi-Fi name and password to set up your smart dispenser

Hero operates on a 2.4GHz frequency
Pill size
Supports most pill sizes and shapes

Does not work with half-pills, gummies, powdery, sticky, or dissolvable pills
Safety features
Add passcode protection

Set maximum dispense limits

HIPAA-compliant security
Start your 90-day risk-free trial today!
A Hero subscription is protected with a 90-day money-back guarantee.
+$99.99 one-time initiation fee
FAQs
Hero offers three subscription plans: A 24-month plan at $29.99 per month ($720 paid upfront), an annual plan at $34.99 per month ($420 paid upfront), and a monthly plan at $44.99 per month. All plans come with a 90-day money-back guarantee. A Hero subscription is your all-access pass to our award-winning smart dispenser, medication management app, and 24/7 live support. For more details, see this article
The Hero smart dispenser is a brilliant HIPAA-compliant piece of hardware that helps prevent users from missing doses. We've created the first end-to-end medication management service that includes the dispenser, medication management app, and access to automatic refills with free delivery. Similar devices with subscription models like Philips ($60 a month) and MedMinder ($50 a month) are significantly more expensive and provide fewer features. Other options available to buy outright, like Livi ($979) and Medacube ($1299), are also costly to purchase and do not include a mobile app that allows users to interface with the Hero as the primary user or remotely as a caregiver. The subscription model allows us to offer Hero to as many users as possible at an affordable monthly price. Your subscription also includes our unlimited warranty and access to 24/7 live support for the duration of your Hero subscription term! Read more...
Hero's service provides you with the tools and support you need to help with medication adherence. With a Hero subscription, you get unlimited access to:
Hero Automatic Pill Dispenser: Your Hero pill dispenser stores up to 10 different medications that can be dispensed multiple times per day as needed.
Mobile App Functionality: Complete access to the mobile iOS and Android apps for daily usage, managing refills, notifications, alerts, reminders, and monitoring.
Support: Get 24/7 support via email, phone, or chat to make sure you've got Hero set up properly.
Caregiver Accounts: Adding caregivers lets your loved ones access and monitor your progress.
Low-Pills Notification: Hero can tell when you are running low on medications in the device and will send you a notification to make sure you don't run out.
Late, Skipped, or Missed Dose & Device Notifications: You and your loved ones will be notified via the app if you miss a dose, if there is any tampering with the Hero device, or if it gets disconnected.
Progress Statistics & Reporting: You and your loved ones will be able to see your progress and if you've missed any pills. Read more...
No, your Hero subscription allows you to invite medication partners to join the mobile app in order to monitor your adherence levels and receive notifications if there are any missed doses. Read more...
Hero's smart dispenser holds to a 90-day supply of up to 10 different medications. If you take more than 10 medications or have medications that cannot be stored in the dispenser like liquid medications and medications that require refrigeration, you can track and add 10 additional medications in the mobile app, and Hero's smart dispenser will still remind you when it's time to take them. Read more...
You only need a mobile phone to set up the Hero smart dispenser and to receive notifications as a caregiver. Your loved one only needs to press one button on the device when it's time for their dose.