How prescription monitoring programs can improve medication adherence
---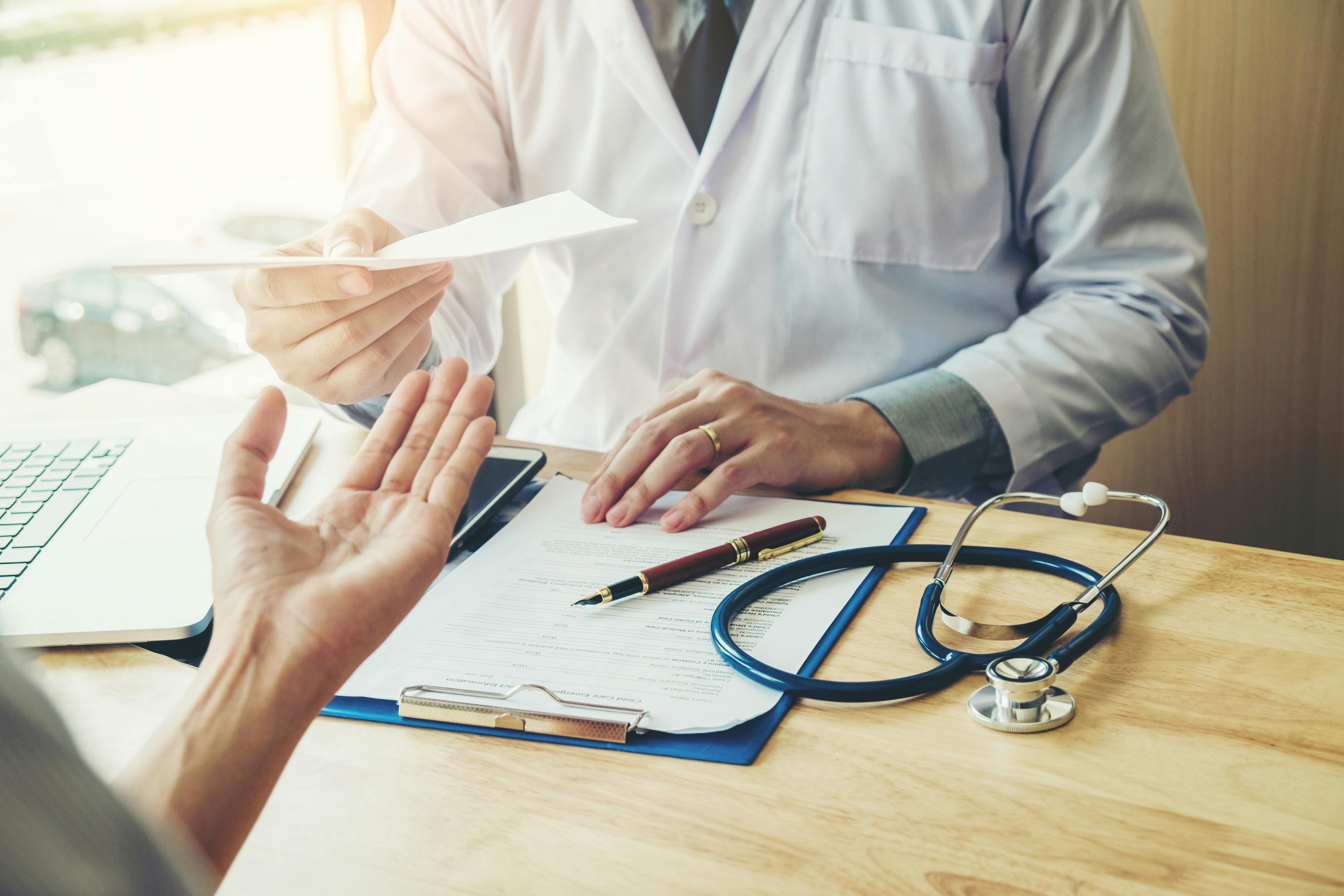 When it comes to value-based care, payers and healthcare professionals (HCPs) are eager to improve the longevity and quality of life of their members. A top priority to reach this goal is to improve medication adherence rates, which, when low, can adversely impact the overall quality of life, healthcare costs, and population health of the country. 
In the United States, medication adherence rates for chronic conditions like hypertension and diabetes can be as low as 50% – meaning one out of two patients do not take their medication as prescribed – and lead to an estimated 125,000 premature deaths annually.1 
While initiatives are being launched to help overcome this issue, there is a long way to go. Data is collected in silos across the medication cycle via pharmacies, device companies, and apps that track adherence and gather information about different parts of the process. Often, this data is not connected. 
The healthcare system needs integrated, data-driven insights into medication adherence using patient data from the moment they receive their first prescription. This powerful visibility is the missing link in today's prescription monitoring programs (PMPs) and incentives to improve adherence. 
Prescription monitoring programs track prescriptions, but HCPs must rely on patients for medication adherence data 
Prescription monitoring programs, also known as prescription drug monitoring programs (PDMPs), are state-level electronic databases that track every patient's prescription history. Their main goals are to identify and prevent drug abuse and manage prescription drug overdose and addictions. HCPs who check their state's database before prescribing medication can help improve patient safety and public health. 
While prescription monitoring programs have their advantages, HCPs do not get consistent and regular insight into whether the prescribed medications and doses work. Instead, physicians have to wait for patients to walk in and volunteer accurate information about their adherence habits. For patients with one or more chronic diseases, maintaining scheduled visits with their HCP can be difficult, adding another layer of complexity.
A lack of cohesive medication adherence data can be a detriment to providers offering value-based healthcare. 
Studies show that medication adherence is linked to 125,000 U.S. deaths per year. In reality, this number may be much higher –– but there is insufficient data to know for sure.1
If a patient is hospitalized or dies of a heart attack, it is virtually impossible to detect if longer-term medication adherence played a role. Similarly, if a person with diabetes suffers a cardiac arrest, healthcare professionals cannot usually identify whether medication adherence was a factor.
Any attempts to improve the healthcare system must recruit patients and their caregivers as active stakeholders in improving their health. To do so, we need granular-level data on the specific challenges affecting different patient groups. 
Campaigns to improve medication adherence offer incremental improvements, but integrated insights may boost their success rates
Medication adherence is estimated to cost $100–300 billion in annual U.S. healthcare costs due to:
Adverse health outcomes 

Faster disease progression 

More medical complications

Higher healthcare costs from potentially avoidable hospitalizations

2

 
Over the years, payers and healthcare providers have launched programs and campaigns to help tackle the issue of medication adherence. One area of focus has been to lower the cost of medications related to chronic conditions like high blood pressure, diabetes, cardiovascular diseases, chronic kidney disease, and more. Studies show that lowering or eliminating copays for these drugs helped improve adherence rates for several conditions, particularly among low-income members.3,4
While drug costs play an important role in adherence rates, many other issues contribute. These factors include forgetfulness, busy lifestyles, complexities in managing multiple chronic diseases, and the varying effectiveness of pill management systems. 
To continue to improve medication adherence, payers continue to evaluate various ways to encourage patients to: 
Get screening tests for chronic illnesses for early detection 

Procure their prescriptions 

Take all medications on time as prescribed 

Stay on top of medicine refills

Use their trackers effectively
These payer initiatives provide a great start towards solving this complex problem. However, medication adherence rates have yet to improve drastically –– and the lack of integrated adherence data may be the culprit.1 
Pharmacies track initial prescriptions and whether members get their refills on time, while some payers and device companies offer wearables and smartphone apps that focus on voluntary user tracking. Pill boxes are another solution that helps patients sort their pills but are a black hole when it comes to accurately tracking adherence. 
Prescription monitoring program databases store different datasets focused on tracking prescriptions for Schedule II-V controlled medications. Healthcare practitioners can use these programs to obtain prescription histories and receive automatic alerts that help them anticipate potential overdose, drug-drug interactions, or prescription misuse.
Ultimately, prescription monitoring programs offer visibility into whether patients receive prescriptions from multiple providers, but they lack visibility into medication adherence and use of non-controlled medication - information valuable to healthcare providers.5,6 
Providers who track prescription use through prescription monitoring programs need visibility into patient medication adherence
As more states implement prescription monitoring programs, many require providers to check their state's database before prescribing medication. For providers to truly offer patient-centric and value-based care, they must have insight into how and when patients take their medications. 
Systems designed to improve medication adherence rates can offer providers complete visibility into each patient's prescription journey. This, in turn, has the potential to raise the overall effectiveness of prescription monitoring programs. 
For a medication adherence solution to work, it needs relevant products and services connected in an intuitive and supportive ecosystem designed to take the hassle out of medication management. 
Hero offers an end-to-end solution including: 
An intuitive smart medication dispenser designed for the elderly and the busy reality of our lives today 

A simple app for patients to receive dosage notifications and track their medications, which can be shared with HCPs during routine visits

A complimentary prescription and refill delivery service

Around-the-clock customer support for patients and caregivers
Learn more about how Hero can help improve patient adherence here. 
Sources
Complex med schedule? We solved it.
Hero's smart dispenser reminds you to take your meds and dispenses the right dose, at the right time.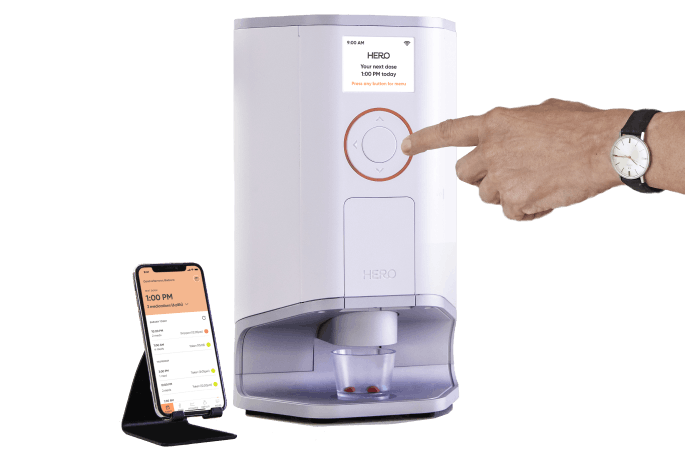 The contents of the above article are for informational and educational purposes only. The article is not intended to be a substitute for professional medical advice, diagnosis, or treatment. Always seek the advice of your physician or other qualified clinician with any questions you may have regarding a medical condition or its treatment and do not disregard professional medical advice or delay seeking it because of information published by us. Hero is indicated for medication dispensing for general use and not for patients with any specific disease or condition. Any reference to specific conditions are for informational purposes only and are not indications for use of the device.