It's time to talk about taking your medicine: America's medication adherence crisis is a $300 billion problem
---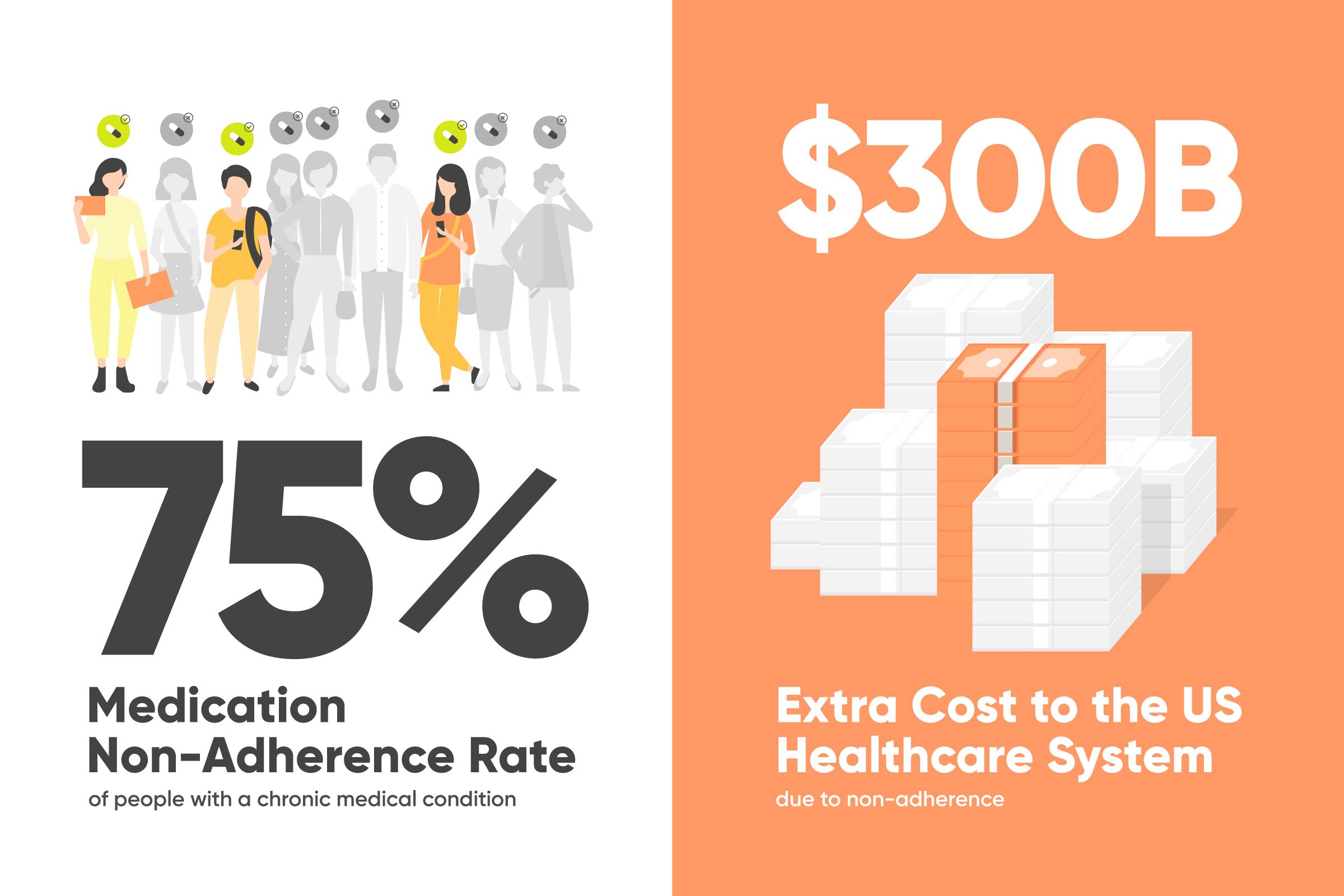 For patients managing a chronic medical condition, day-to-day care can feel like a full-time job. Between juggling doctors' visits, monitoring health data and maintaining a healthy lifestyle, it's easy for things like taking daily medication to slip through the cracks. Indeed, medication non-adherence is one of the most widespread health care issues among millions of individuals. It's also one of the least talked about. 
Up to 75% of people with chronic conditions don't take their medicine as directed—by missing a dose, not refilling their prescription on time or not taking their medication at all.1 Medication non-adherence results in countless unnecessary negative and sometimes dangerous health outcomes, including rehospitalizations and worse. It also imposes a nearly $300 billion cost on the healthcare system in the U.S.
The causes of nonadherence vary, from forgetfulness, to difficulty with dexterity among older patient populations. But, research shows that technology and direct patient engagement can materially improve medication adherence, particularly among seniors and those with chronic conditions.
To improve medication adherence and health outcomes for patients with chronic conditions, Hero has partnered with another digital health innovator, Assure Health. Together, the two companies are solving the issue of medication adherence by combining top-of-the-line, user-friendly technology with individual and personalized patient care. Assure helps patients manage chronic conditions at home by connecting them with a dedicated nurse care manager and providing them with easy-to-use health devices, like Hero's smart pill dispenser. These technologies then communicate health data directly to patients' Assure care manager, who collaborates with their existing healthcare providers. Through the partnership, Hero will provide Assure patients with an end-to-end medication management system, including a smart pill dispenser, app, automatic refills and 24/7 live support. 
Combining Hero with Assure's clinical capabilities means that patients are more likely to stay on track with their medication. Providers using the Hero/Assure offering can understand not only if patients are sticking to their medication, but also their reasons or behaviors if they fall behind. Having this insight can help providers intervene or adjust regimens proactively.
The positive impact of this kind of technology cannot be overstated: Among those who use the Hero system, medication adherence rates have reached 95%.
Recent changes in Medicare rules provide many seniors with coverage for remote therapeutic monitoring—known as RTM—which delivers in-home care solutions for medication adherence to patients. This important change has enabled Hero and Assure—which delivers RTM services through its nationwide, purpose-built clinical network—to provide health-improving, easy-to-use technology tools to help patients stay on track with their medication routines. Eligible seniors can get personalized daily care, plus medication support, at low or no cost to them.
For patients with chronic conditions, the Hero and Assure partnership will do the work of staying on track with medication management for individuals and their caregivers. By making medications easier to manage, Hero and Assure are giving patients with chronic conditions more time back in their day and greater peace of mind. To learn more about the partnership between the two companies, please click here.
Sources
1. http://www.ncpa.co/adherence/AdherenceReportCard_Full.pdf
Complex med schedule? We solved it.
Hero's smart dispenser reminds you to take your meds and dispenses the right dose, at the right time.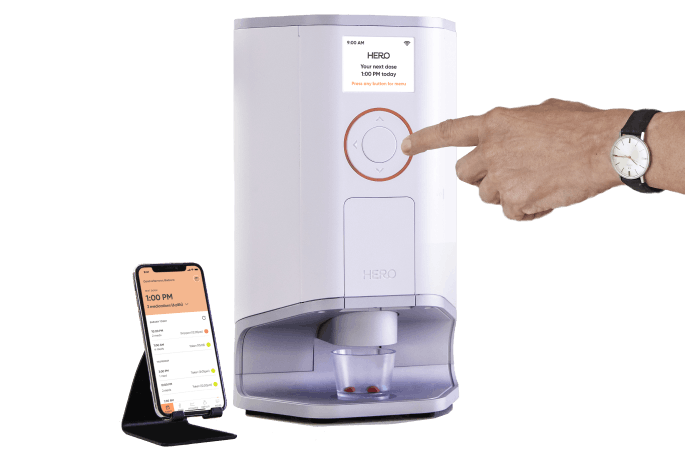 The contents of the above article are for informational and educational purposes only. The article is not intended to be a substitute for professional medical advice, diagnosis, or treatment. Always seek the advice of your physician or other qualified clinician with any questions you may have regarding a medical condition or its treatment and do not disregard professional medical advice or delay seeking it because of information published by us. Hero is indicated for medication dispensing for general use and not for patients with any specific disease or condition. Any reference to specific conditions are for informational purposes only and are not indications for use of the device.