Home Care For Seniors: Choosing the Right Care For You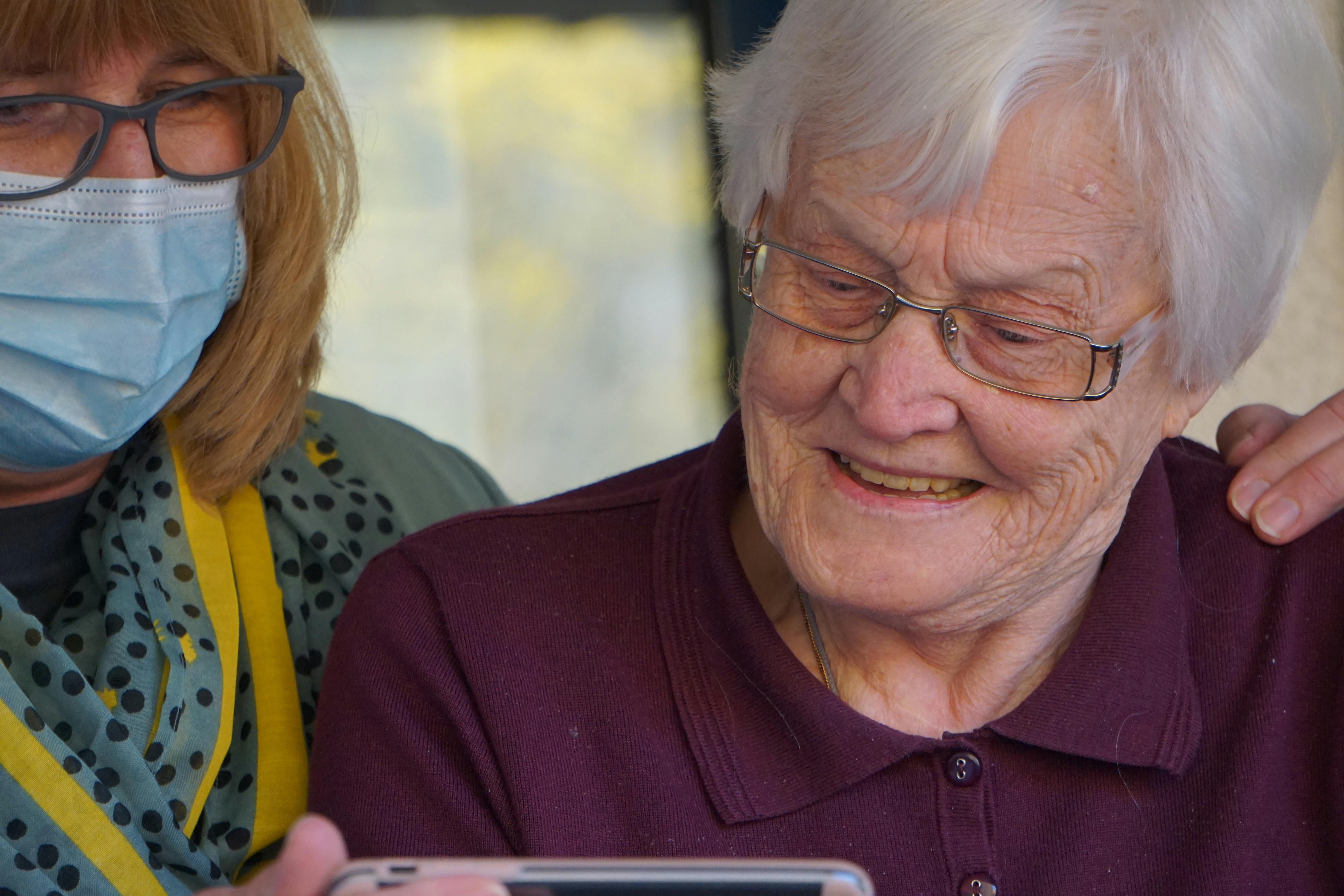 You don't have to look far to know that America is aging. Though we'll know more once the 2020 Census is complete, the number of people over 65 is roughly 73 million right now (almost double the number of seniors in 2010). If you're reading this, you probably know one or two of them. Given the "graying of America" as Baby Boomers become seniors, elder care is becoming a more common topic of conversation.
Nearly 70% of American seniors will be unable to care for themselves at some point, and surveys show that 9 out of 10 prefer to remain in their own homes. Not only does staying at home provide creature comforts, it keeps seniors close to friends and community resources they already know and trust. Of course, independent living and assisted living communities have their advantages, but as we all know: There's no place like home.
In an ideal world, we'd all be able to take care of our friends and family members as they age, but that's not always realistic. Families don't all live in the same neighborhoods, or even cities or states, as they once might have. It's not uncommon for family members to live hundreds, if not thousands of miles apart. Even if you do live in the same area as an aging loved one, caretaking can be a stressful second job requiring a lot of your time and attention.
Home Care vs Home Health Care: There's a Difference!
There's a surprisingly big difference between home care and home health care, so getting the terminology right is crucial.
Home care boils down to basic assistance with daily living. That can include tasks like bathing and dressing, meal prep and cooking, rides to appointments and light house cleaning. This option also offers vital companionship to seniors; fighting loneliness is not something to take lightly, because lonely seniors don't tend to live as long as seniors with a happy social life.
Note that home care aides can remind folks to take medications, but are not allowed to administer meds.
Home health care services, on the other hand, refer to skilled caregivers. While they won't do laundry or make lunch, these services allow seniors to receive visits from a physical or occupational therapist, social worker or a registered nurse who can assist with the management of medications (including administering meds) and disease or wound treatment.
Your senior may be relatively healthy and mobile and only need a home care aide. On the other hand, your senior might need skilled assistance for situations like fall prevention, disease management or mobility-related issues. Or your senior might need — and appreciate — a combination of home care and home health care. Many agencies offer this combination under one umbrella.
The National Care Planning Council is a helpful resource to find agencies that offer combined services, as well as just home care or just home health care.
Individual Providers vs Agencies: Make the Right Choice
Now to decide whether to hire an individual — perhaps someone you know or someone recommended to you — or an agency to provide home care or home health care.
Hiring an individual provider can be a cost-saving option for both types of services. For home care, you don't need a trained nurse, chef or chauffeur to offer enthusiastic, compassionate care to your loved one. They may just end up being your mom's favorite person to spend time with — aside from you, of course — and help her feel independent while still helping her around the house and around town. But there are plenty of individuals not associated with agencies who can provide the medical services your mom needs. You're likely to find them through personal recommendations and community or social networks.
As for agencies, there are more than 10,000 home care and home health care agencies in the U.S., so picking one becomes the challenge. Here are some criteria to help you evaluate agencies:
1) Are They Certified and Accredited?
This section only applies to home health care agencies, which are primarily paid for by Medicare and Medicaid. Home care, in contrast, is paid for primarily by families, out-of-pocket, or using Health Savings Accounts (HSAs).
Both Medicare Part A and Medicare Part B cover home health care (HHC) services such as:
Part-time or "intermittent" skilled nursing care

Part-time home health aides (personal hands-on care)

Physical and occupational therapy

Speech-language pathology

Medical social work

Injectable osteoporosis drugs for women
In order to get Medicare or Medicaid to pay for HHC, the senior must be homebound due to a lack of either mobility or transportation, and under a doctor's care. That doctor needs to have prescribed at least one HHC service from the list above as integral to their long-term health.
In addition to the personal requirements, only agencies certified by the Centers for Medicare & Medicaid qualify for coverage. HHC agencies become certified by meeting and maintaining certain criteria. Among those, they must be licensed by the state or locality where they operate, meet federal requirements for the health and safety of those in their care, maintain clinical records on all patients, and have doctors or registered nurses who regularly supervise aides on visits.
You also want to look for an HHC agency that's accredited to provide Medicare services by one of three bodies. Simply put, accreditation shows that they take both their care and their business seriously. HHC agencies may be accredited by the Joint Commission, Community Health Accreditation Program, Inc. (CHAP) or the Accreditation Commission for Health Care, Inc. (ACHC).
2) Staff Credentials and Training
Training and supervision are key in deciding on the right HHC. Ask agencies you're considering about the training their staff has attained and regularly undergoes, if they perform background checks on staff and how often supervisors join them on visits.
Ask to meet potential caregivers; most HHC agencies will happily connect you with several caregivers so you can learn more about them, the services they provide and their level of personal care for their patients. It's also important to ask who you would report health, care level or conflict issues to, and how such issues are resolved when they do come up.
3) Scores and Recommendations
Did you know there's a Centers for Medicare and Medicaid Services score? It's a 5-star system that rates HHCs and nursing homes on staffing — including the number of hours of care provided to each patient and the levels of care they offer — as well as local health inspection outcomes and quality measures that the staff undertake to serve their population.
Who buys any product or service these days without reading reviews? Do some research on the HHCs you're evaluating to see what other families have to say about their staff and services. Do they have a good reputation and lots of recommendations, or do they have negative reviews about important issues like negligence or lack of care, untrained staff or no way to contact the agency in emergencies? Other key topics to look for are whether they provide thorough documentation of treatment plans, communication with and education of family members about their loved one's health and which staff are providing what services.
You can also ask an agency directly for a list of references from doctors, local hospitals and current or former patients and/or their family members. Learning an HHC's score and reputation up front will guide you to the best choice for your loved one's care.
4) Services and Specialties
We already covered the basic services to look for in an HHC, but many HHC agencies provide additional services, even specializing in the treatment of certain populations or diseases.
For example, you might find an HHC that employs nutritionists or dietitians focused on the care of seniors with diabetes, heart conditions or cancer. Other HHCs focus on balance and mobility, which are invaluable to seniors' ability to avoid falls and injuries. Some even focus on veteran care with a mix of physical and mental health services.
Additional specializations include the treatment of folks with:
COPD

Arthritis

Joint replacements

Parkinson's, dementia and Huntington's Disease

Paraplegia and quadriplegia
5) What Happens in an Emergency?
This should be a given for anyone caring for an elderly loved one: knowing what happens in case of an emergency. Whether you're considering an individual provider or HHC agency, you need to know that you or your loved one in their care can reach someone, 24/7. Make sure they have plans in place for how they respond to common scenarios like falls, medication side effects or interactions and life-threatening situations like allergic reactions, blood pressure spikes or drops and heart attacks.
6) The Cost of Care
Once you've weighed your options using the criteria above, it's time to consider the dollars and cents of it all.
Where your loved one lives could have a huge impact on your total cost. In states where the overall cost of living is higher (and in-home services cost more), seniors have a longer life expectancy. Of course, as we discussed, Medicare or Medicaid may cover HHC, but if coverage is denied, the cost falls to you to pay.
Ask the HHC agency if they provide payment plan options and detailed statements of all costs. This will allow you to see a direct correlation between the level of care provided for how many hours and the cost of that care.
Remember, home health care can be costly, but hospital trips are considerably more expensive. The right HHC can help your loved one avoid hospital visits through their direct care and medication management. While many seniors rely on pill organizers to keep them on track, a home health care provider may instead recommend a pill dispenser or medication management system like Hero to auto-dispense the correct medication at the correct times. Medication adherence alone saves countless visits to emergency rooms every year.
Home Health During COVID-19
We'd be missing out if we didn't talk about the elephant in the room: COVID-19. The pandemic has, of course, led to lockdowns and a lot of isolation for seniors which, while necessary for their health, can have negative effects like loneliness, not maintaining their medication routine (particularly if they take a lot of medications, known as "polypharmacy") and missing services like physical therapy.
There's good news though. Medicare and Medicaid now cover telehealth services as part of a senior's care plan, as long as they don't replace in-person visits. These telehealth visits can be over the phone, using video conferencing or through a remote health and well-being monitoring service like emergency alert buttons.
So even if your mom or dad can't take the risk of in-person visits, they can still have access to elderly care professionals who can guide them through treatments, medication adherence, wound care and more. And you can know that your loved one isn't alone in their home health journey and is getting the companionship and home care assistance they need.
Whether you choose home care, home health care or a combination of both services, arranging for your loved one to stay in their own home provides them with dignity and a feeling of independence. They can enjoy their creature comforts and community of friends and neighbors. You can rest easy knowing that their health and well-being are in the hands of trusted professionals.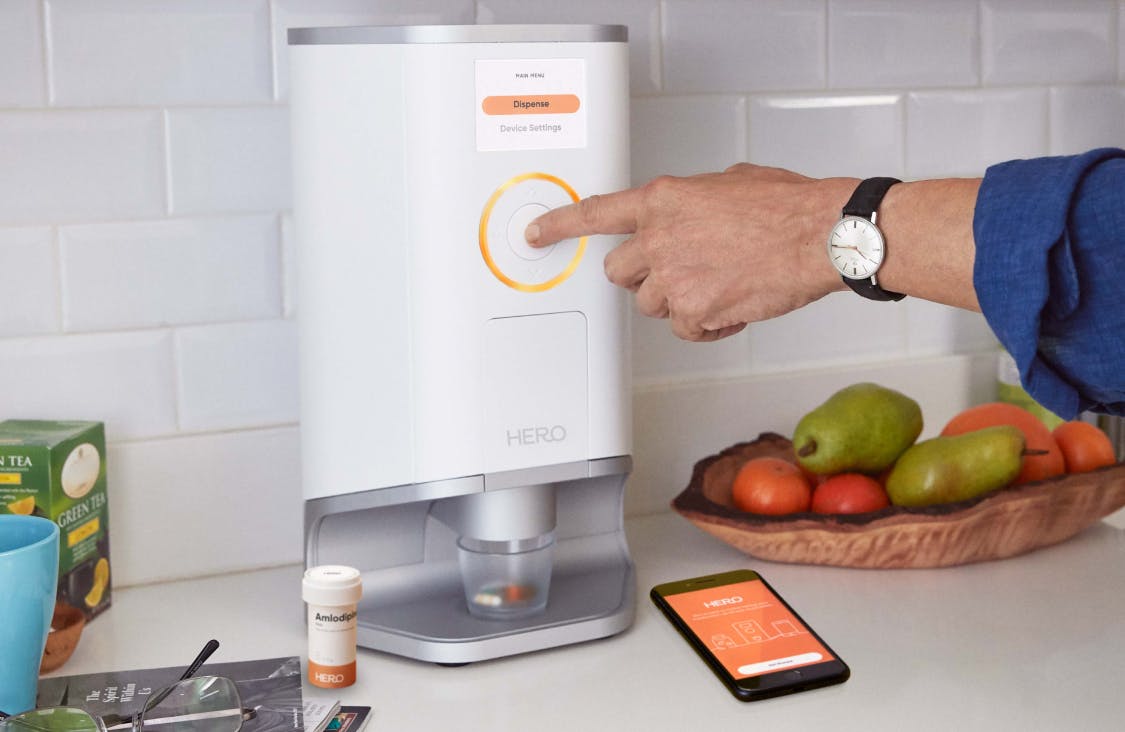 Take the hassle out of taking meds today!
From sorting your meds at the push of a button to delivering refills to you, Hero makes meds one less thing to worry about.
+
$

99.99
one-time initiation fee
90-day risk-free trial, money-back guaranteed
* When choosing 24-month plan
The contents of the above article are for informational and educational purposes only. The article is not intended to be a substitute for professional medical advice, diagnosis, or treatment. Always seek the advice of your physician or other qualified clinician with any questions you may have regarding a medical condition or its treatment and do not disregard professional medical advice or delay seeking it because of information published by us.