Assisted Living vs Independent Living: Which is Right For You?
---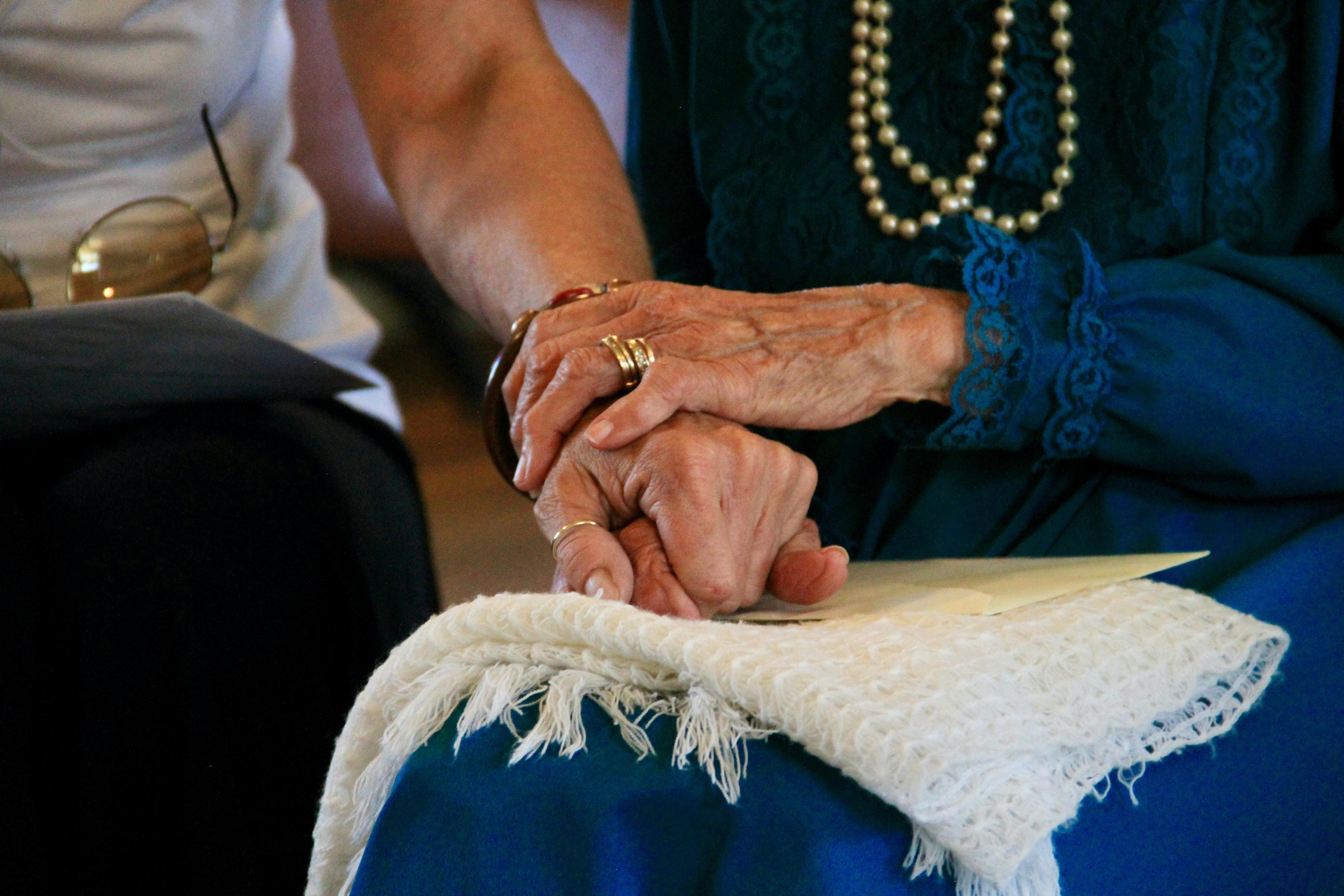 Dive into this comprehensive guide on assisted living and skilled nursing facilities, where we unravel the evolution of senior living in the US. Explore various senior living options and get advice on choosing the right community for your loved ones.
Independence. We all crave it from an early age, and it gets harder for many of us to hold onto as we get older. As we age, the decision between moving to senior assisted living or independent living can be tough. So which is right for you?
The Evolution of Assisted Living Facilities in the US
The concept of assisted living is relatively new, with its origins dating back to the 1970s (Source). Before this time, seniors who needed care had limited options: they could either hire a medical professional or rely on a family caregiver for assistance at home, or enter a nursing home. Nursing homes were often seen as institutional and undesirable places for seniors to live.
In the mid-1970s, Dr. Keren Brown Wilson recognized the need for an alternative solution for seniors who required some assistance but not necessarily the level of care provided in nursing homes. She aimed to create a way for seniors to maintain their independence and dignity while receiving the necessary care. In 1981, Park Place in Portland, Oregon opened as the first modern assisted living facility, offering private rooms with locked doors, 24-hour staffing for medical emergencies, and community areas for social interaction (Source).
Today, assisted living facilities have evolved into diverse senior living options that cater to various needs and preferences. According to the National Survey of Residential Care Facilities, there are over 31,000 assisted living communities in the US, serving almost one million seniors (Source). These facilities range from single apartments to individual or shared rooms and offer different levels of assistance, from minimal to more intensive care.
Assisted living facilities have come a long way since their inception. They now provide a more home-like setting and help seniors avoid social isolation while receiving personalized care. However, it is essential to be aware of potential issues such as neglect or abuse that can occur in some facilities (Source). As the senior population continues to grow, it is crucial to ensure that assisted living facilities maintain high standards of care and continue to evolve to meet the changing needs of older adults.
Exploring Different Types of Senior Living Options
Assisted living facilities are designed for individuals who require assistance with daily activities but do not need the level of care provided by a nursing home. These facilities typically offer private apartments or rooms, shared common areas, and access to various services such as meals, personal care, medication management, housekeeping, and recreational activities (Source). Independent living communities, on the other hand, cater to seniors who can live independently and do not require specialized medical care. These communities often provide different types of housing options and various amenities for residents to enjoy (Source).
The Similarities
Most crucially, both options offer seniors community, where they (and their loved ones) know they're not alone or isolated. They both offer a certain level of peace of mind for family caregivers, which we'll get into later. They both offer varying degrees of independence, including private condos or apartments. Most assisted and independent living communities are also associated with skilled-nursing facilities that can be transferred to when a resident's needs exceed their facility's offerings.
From there, the two options diverge:
Skilled Nursing Facilities: An In-Depth Look
Skilled nursing facilities, also known as nursing homes, focus more on medical care than assisted living facilities. They provide a wide range of health and personal care services, including nursing care, 24-hour supervision, meals, and assistance with everyday activities. Rehabilitation services such as physical, occupational, and speech therapy may also be available. Some residents stay at a nursing home temporarily after being in the hospital, while others live there permanently due to ongoing physical or mental conditions that require constant care and supervision (Source). To compare nursing homes in your area, you can use Medicare's Nursing Home Compare tool (Source).
Continuing Care Retirement Communities: A One-Stop Solution for Seniors
Continuing care retirement communities (CCRCs), also known as life plan communities, offer different levels of service in one location. They often provide independent housing, assisted living, and skilled nursing care all on one campus, along with healthcare services and recreational programs. In a CCRC, residents can transition between levels of care as their needs change, allowing them to age in place without having to move to a different facility (Source). To find a CCRC in your area, you can use resources such as the Eldercare Locator (Source) or the LeadingAge Aging Services Directory (Source).
When considering senior living options, it's essential to weigh the pros and cons of each type and involve family members in the decision-making process. By researching and visiting various communities, you can find the perfect fit that meets your loved one's needs and preferences.
Complex med schedule? We solved it.
Hero's smart dispenser reminds you to take your meds and dispenses the right dose, at the right time.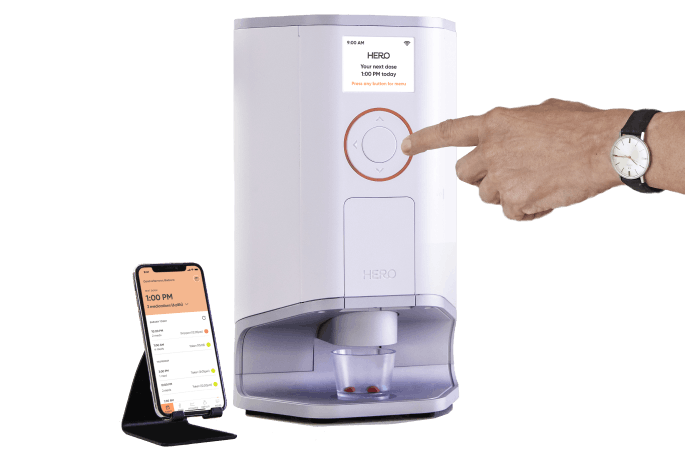 Daily Life in an Assisted Living Facility
In an assisted living facility, residents receive personalized care and support tailored to their individual needs. These facilities focus on promoting dignity, autonomy, independence, and privacy while providing a comfortable, homelike environment (Source).
Personal Care Services: Ensuring Comfort and Dignity for Residents
Assisted living facilities offer various personal care services to ensure the comfort and dignity of their residents. These services may include assistance with daily activities such as bathing, dressing, grooming, and medication management. Additionally, many facilities provide housekeeping, laundry services, and meal preparation to help residents maintain a clean and healthy living space (Source).
Recreational Activities and Socialization in Assisted Living Communities
Recreational activities play a significant role in the daily life of assisted living residents. Engaging in various activities not only keeps residents happy but also offers numerous health benefits. According to the National Institute on Aging (NIA), seniors who participate in mentally and physically stimulating activities may be able to fend off certain diseases, increase mental stimulation, and improve overall well-being (Source).
Assisted living communities typically offer a wide range of activities to cater to diverse interests and abilities. Some popular activities include:
Arts and crafts workshops

Brain games for mental stimulation

Dancing classes

Gardening clubs

Religious studies or prayer groups
These activities not only provide enjoyment but also create opportunities for socialization and relationship-building among residents (Source).
To sum up, daily life in an assisted living facility revolves around personalized care services and engaging recreational activities that cater to residents' individual needs and preferences. These facilities strive to create a comfortable, homelike environment where seniors can maintain their dignity, autonomy, and independence while receiving the support they need.
Choosing the Right Senior Living Community: Factors to Consider
When it comes to choosing the right senior living community, there are several factors to consider. It's essential to find a community that meets your unique needs and preferences while providing a comfortable and supportive environment. Here are some key aspects to keep in mind during your search:
Location, Services, and Costs: Key Considerations in Your Search
When searching for the right senior living community, it's essential to consider the location, services, and costs associated with each option. Here are some tips to help you make an informed decision:
Location

: Narrow down your location preferences by considering factors such as proximity to family and friends, safety rankings, tax-friendliness, walkability, and accessibility (

Source

).

Services

: Evaluate the services and amenities offered by each community. Look for options that provide convenient and maintenance-free living while promoting overall health and wellness (

Source

).

Costs

: Compare the costs of various communities, including entrance fees, monthly fees, and additional service fees. Keep in mind that financial assistance may be available for eligible older adults (

Source

).
Involving Family Members in the Decision-Making Process
Involving family members in the decision-making process is crucial when choosing a senior living community. Open communication with loved ones can help ensure that everyone's concerns are addressed and that the chosen community meets the needs of both the resident and their family (Source).
Family members can provide valuable insights into the resident's preferences, needs, and financial situation. They can also assist with researching potential communities, visiting facilities, and evaluating services and amenities.
By working together with family members, you can make a well-informed decision about which senior living community is the best fit for you or your loved one, ensuring a comfortable and supportive environment for years to come.
Financial Aspects of Assisted Living
The Cost of Care
Cost is one of the greatest differences between assisted and independent living. While costs of the latter really depend on your taste in amenities and lifestyle preferences, the costs of assisted living tend to be higher. With assisted living, in addition to having the comforts of home in a community setting with a variety of entertainment and activities, you're paying for regular monitoring from staff, including a medical and nursing team. That monitoring ranges from elder-care staff just checking in, going to the grocery store and appointments with you, all the way to in-home health nursing.
Given assisted living's more present staff, it becomes the better option for folks with memory or mobility issues, serious medical conditions that require complex medication regimens (polypharmacy) and other increased risks. Assisted living is a great alternative if living with loved ones isn't an option. It takes the stress out of your relationship with that overwhelmed family member or friend, because they'll know you're well cared for.
Understanding the Costs Associated with Assisted Living Facilities
The cost of assisted living can vary greatly depending on factors such as location, services, room type, and amenities. The national median cost of assisted living is $4,500 per month or $54,000 annually (Source). It's important to note that these costs can be significantly higher or lower depending on the state and specific facility. For example, costs in the South and Mid-West range from $2,800 to $4,500 per month, while in the Northeast and West Coast, they range from $4,200 to $6,050 per month (Source).
Financial Assistance and Resources for Seniors and Their Families
To afford assisted living, seniors often rely on a combination of public and private funding sources. Public sources may include Medicaid, which can cover some care services provided in an assisted living community but not room and board (Source). Private funding sources can include personal savings, Social Security benefits, pension payments, retirement account savings, and long-term care insurance.
Other financial assistance options for seniors include:
It's crucial for seniors and their families to explore all available options and consult with a reputable financial advisor or elder law attorney before making any major financial decisions. Local area agencies on aging also provide free benefits counseling and information on government programs like Medicaid and other resources (Source).
In addition to financial assistance, there are numerous senior living resources available to help families navigate the process of finding the right senior living community. Some of these resources include A Place for Mom, the U.S. Administration on Aging's Eldercare Locator, and Access to Respite Care and Help's National Respite Locator (Source).
Addressing Special Needs in Assisted Living Facilities
Assisted living facilities have evolved over the years to accommodate the diverse needs of their residents, including those with special needs. These facilities strive to provide a comfortable and supportive environment for all residents, regardless of their physical or cognitive abilities.
Catering to Residents with Alzheimer's or Other Dementias
Assisted living facilities often offer specialized care for residents with Alzheimer's or other dementias. These memory care units are designed to meet the unique needs of individuals with cognitive impairments, providing a safe and structured environment that promotes mental stimulation and social interaction (Source). Memory care units may feature:
Specially trained staff who understand the challenges associated with dementia

Personalized care plans tailored to each resident's cognitive abilities and needs

Structured activities that promote mental engagement and socialization

Enhanced safety measures, such as secured entrances and exits, to prevent wandering
When considering an assisted living facility for a loved one with dementia, it is crucial to inquire about the availability of memory care services and the level of specialized care provided (Source).
Ensuring Safety and Security for Residents with Disabilities
Safety and security are top priorities for assisted living facilities, especially when accommodating residents with disabilities. To ensure a safe and accessible environment, these facilities may implement various measures, such as:
Installing grab bars, handrails, and ramps to assist with mobility

Providing wheelchair-accessible rooms and common areas

Offering personal care services tailored to each resident's physical abilities

Implementing emergency response systems for prompt assistance when needed
In addition to physical accommodations, assisted living facilities also strive to create an inclusive community where residents with disabilities can thrive socially and emotionally. This may involve offering specialized programs and activities that cater to their interests and abilities, as well as fostering a supportive atmosphere where residents can form meaningful connections with their peers (Source).
All in all, assisted living facilities have made significant strides in addressing the special needs of their residents, including those with Alzheimer's or other dementias and individuals with disabilities. By providing tailored care, specialized services, and a safe and inclusive environment, these facilities aim to enhance the quality of life for all residents, regardless of their unique challenges.
Freedom and Security
When it comes to freedom, independent living really lives up to its name. These communities often look like any gated community, with swimming pools, tennis courts, recreation centers and more amenities. Full of vibrant, active seniors, these facilities foster a neighborly feel where residents dine, play and relax together with people in their age range with similar interests.
Healthcare-wise, you'll find a medical center on-site for when residents need extra attention. But unlike assisted living, home care assistance is not the primary focus. Nobody's going to check to make sure you take your medications properly. The medical and non-medical staff are more of a safety net, and residents can have as much or as little daily interaction with them as they prefer. Independent living communities are focused on allowing seniors to get the most out of life. Often, they're a more affordable option than staying in your current home due to all the amenities offered.
Improving Both
Whatever living situation you choose, a medication management device can make your life even more independent. Hero is not just a pill organizer, it's an all-in-one system that auto-sorts and dispenses medications according to your schedule with handy audio and visual pill reminders. Plus, the companion app keeps a loved one updated that you're taking the right medicines at the right times, giving them peace of mind. Having a system that can help you with medication adherence is one great step to a better life.
Hero: Revolutionizing Senior Care with Innovative Solutions
In today's rapidly evolving healthcare landscape, innovative solutions like Hero are designed to assist seniors and their caregivers in managing daily medication routines. Hero's automatic pill dispenser has features which may assist with the challenges faced by seniors in assisted living facilities, and those living independently, by helping them build a system to track that they receive the right medication at the right time (Source).
How Hero Fits into the Picture of Assisted Living
Assisted living facilities aim to provide a comfortable and supportive environment for seniors who require assistance with daily activities but do not need the level of care provided in skilled nursing facilities. One of the critical aspects of senior care in assisted living is medication management, as many seniors take multiple medications for various health conditions.
Hero's automatic pill dispenser offers a practical option to address this challenge by streamlining medication management for both seniors and their caregivers. By providing an easy-to-use, reliable, and efficient system for organizing and dispensing medications, Hero may be able to help contribute to improving the overall quality of care for those in assisted living communities (Source).
The contents of the above article are for informational and educational purposes only. The article is not intended to be a substitute for professional medical advice, diagnosis, or treatment. Always seek the advice of your physician or other qualified clinician with any questions you may have regarding a medical condition or its treatment and do not disregard professional medical advice or delay seeking it because of information published by us. Hero is indicated for medication dispensing for general use and not for patients with any specific disease or condition. Any reference to specific conditions are for informational purposes only and are not indications for use of the device.