Part B for Medicare: All You Need to Know
---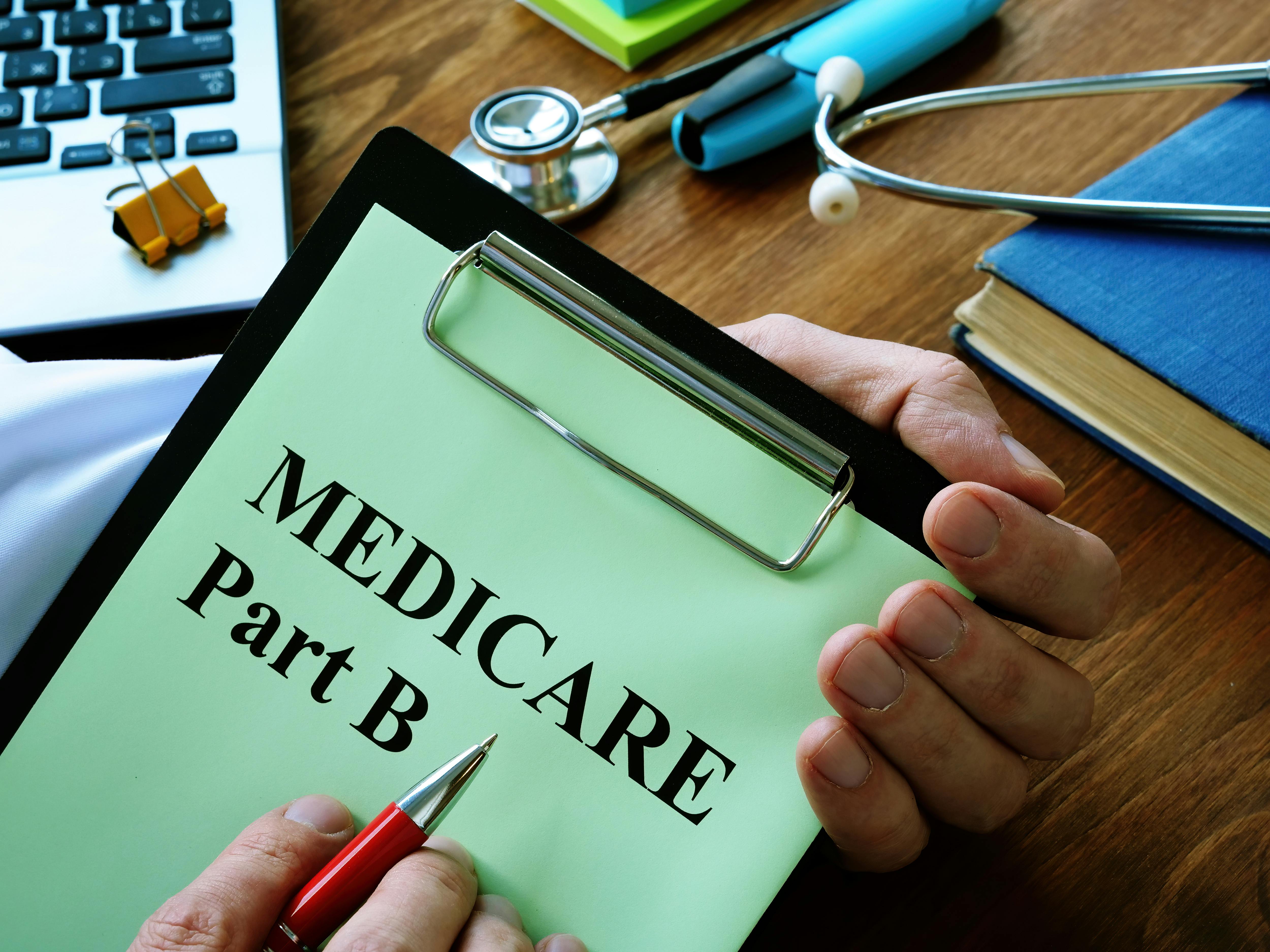 Explore our in-depth guide on Part B for Medicare and discover how it can enhance your healthcare experience. Learn about preventive services, compare it with the Medicare Advantage Plan, and understand the extent of Medicare coverage. Get information to help you make informed decisions about your healthcare coverage.
Medicare Part B: A Comprehensive Guide
Medicare, a federal health insurance program in the United States, is divided into different parts. One of these is Medicare Part B, also known as Medical Insurance. It covers two types of services: medically necessary services that are needed to diagnose or treat medical conditions and preventive services aimed at healthcare prevention.
What is Part B for Medicare: An Overview
Medicare Part B is an essential component of the Medicare program, providing coverage for various outpatient services, including doctor visits, lab tests, diagnostic screenings, medical equipment, and ambulance transportation. It is designed to complement Medicare Part A, which covers inpatient hospital services. Together, Parts A and B form the foundation of Original Medicare.
Part B for Medicare provides coverage for outpatient care, preventive services, ambulance services, durable medical equipment, mental health, and some home health care services. It's designed to cover anything deemed medically necessary by your doctor or other health care provider accepted by Medicare. This includes things like lab tests, surgeries, doctor visits, and home health care. Additionally, it covers many preventive services to prevent illnesses or detect them at an early stage when treatment is most effective. For example, imagine you're a diabetic patient who needs regular insulin injections; under certain conditions, Part B can help cover the cost of your insulin supplies.
The Cost of Medicare Part B: Premiums and Out-of-Pocket Expenses
In 2023, the standard monthly premium for Medicare Part B enrollees is $164.90. This premium may be higher for individuals with an income above $97,000. Additionally, there is an annual deductible of $226 for all Medicare Part B beneficiaries in 2023.
Once the deductible is met, beneficiaries are responsible for paying 20% of the bills for doctor visits and other outpatient services. For those collecting Social Security, the monthly premium will be deducted from their monthly benefit.
It's important to note that if you don't sign up for Part B when you first enroll in Medicare and don't have other insurance, you may have to pay a higher monthly premium for as long as you're in the program.
For Medicare beneficiaries seeking additional coverage, Medicare Advantage plans offer an alternative to Original Medicare. These private health insurance plans are required to cover everything that Original Medicare covers, and some plans even provide extra medicare benefits such as dental and vision care. In 2023, more than 7 in 10 enrollees in individual Medicare Advantage plans with prescription drug coverage pay no premium other than the Medicare Part B premium.
Understanding the costs associated with Medicare Part B is crucial for beneficiaries to make informed decisions about their healthcare coverage. By staying informed about Medicare premiums, deductibles, and out-of-pocket expenses, individuals can better manage their healthcare costs and ensure they receive the appropriate level of care.
Delving deeper into the Benefits of Medicare Part B
Medicare Part B is an essential component of the Medicare program, providing coverage for various medical services and supplies. It is designed to help beneficiaries manage their healthcare needs effectively and affordably.
Coverage Details: What Services are Covered Under Part B?
Medicare Part B covers a wide range of medically necessary services, including outpatient care, doctor visits, preventive services, and durable medical equipment. Some of the specific services covered under Part B include:
Provider services from licensed health professionals

Home health services for homebound patients requiring skilled nursing or therapy care

Ambulance services for emergency transportation

Therapy services such as outpatient physical, speech, and occupational therapy provided by a Medicare-certified therapist.
It is important to note that Medicare does not usually cover the full cost of your care, and you may be responsible for some portion of the cost-sharing (deductibles, coinsurances, copayments) for Medicare-covered services.
Preventive Services: The Role of Medicare Part B in Preventive Care
Medicare Part B plays an important role in preventive care by covering various screenings and counseling services aimed at preventing illness, detecting conditions, and promoting overall health. In most cases, preventive care is covered by Medicare with no coinsurance.
Part B for Medicare emphasizes preventive care to detect health problems early or prevent them altogether. This includes exams, shots, lab tests, screenings, and counseling aimed at maintaining your health. For instance, it covers yearly "Wellness" visits where you can discuss with your doctor your health status and any potential risks. Additionally, there's a new insulin benefit effective from July 1, 2023; if you use an insulin pump covered under Part B's durable medical equipment benefit or get your insulin through a Medicare Advantage Plan, your monthly cost for insulin won't exceed $35.
Outpatient Services and Medical Equipment under Part B
Medicare Part B covers outpatient care including doctors' services and other health care providers' services. It also extends its coverage to durable medical equipment such as hospital beds or wheelchairs which are deemed medically necessary. However, it's important that these services or items are provided by enrolled doctors or suppliers who accept assignments to ensure that Medicare pays for these claims.
Prescription Drug Coverage: How Does Medicare Part B Contribute?
While Medicare Part B does not offer comprehensive prescription drug coverage like Medicare Part D, it does cover select prescription drugs. These include drugs administered during a doctor's office visit or in a hospital outpatient setting like injectable osteoporosis drugs as well as:
Immunosuppressant drugs

Some anti-cancer drugs

Some anti-emetic drugs

Some dialysis drugs.
Remember though that while some medications may fall under the umbrella of part b for medicare prescription drug coverage, others might require additional plans like Medicare Advantage or Medigap policies to reduce out-of-pocket costs.
To sum up, Medicare Part B offers valuable coverage for various medical services and supplies, playing a vital role in preventive care and providing limited prescription drug coverage. Understanding the benefits of Part B can help you make informed decisions about your healthcare needs and ensure you receive the appropriate care and support.
Exploring Alternatives: The Advantage of Medicare Advantage Plans
Medicare Advantage plans have become increasingly popular in recent years, with enrollment more than doubling over the last decade. These plans, offered by private insurance companies, provide an alternative to Original Medicare and often include additional benefits. Let's explore some of the key differences between Medicare Advantage and Original Medicare.
Medicare Advantage Plan vs Original Medicare: A Comparative Analysis
One significant difference between Medicare Advantage and Original Medicare is the way they are structured. While Original Medicare consists of Part A (hospital insurance) and Part B (medical insurance), Medicare Advantage plans combine both parts into a single plan. Additionally, most Medicare Advantage plans also include prescription drug coverage (Part D), which is not included in Original Medicare.
Another notable difference is the cost structure. While both options require beneficiaries to pay a monthly premium for Part B coverage, Medicare Advantage plans may offer lower out-of-pocket costs for certain services. However, these plans often have a more limited network of providers compared to Original Medicare.
In terms of quality, a study found that Medicare Advantage enrollees were more likely to be admitted to average-quality hospitals instead of either high- or low-quality hospitals. This suggests that Medicare Advantage plans may steer their enrollees to specific hospitals.
Additional Benefits with Medicare Advantage Plans: Beyond Original Medicare
Medicare Advantage plans often provide extra benefits not available in Original Medicare. Some examples include:
Vision care

: Many plans cover routine eye exams, eyeglasses, and contact lenses.

Dental care

: Some plans offer coverage for preventive dental services, such as cleanings and exams, as well as more extensive procedures like fillings and extractions.

Hearing care

: Coverage for hearing exams and hearing aids may be included in certain plans.

Wellness programs

: Some Medicare Advantage plans offer gym memberships or fitness classes to promote a healthy lifestyle.
It's essential to carefully compare Medicare Advantage plans to find the one that best suits your needs and preferences. Factors to consider include the plan's network of providers, out-of-pocket costs, and additional benefits offered. By weighing the pros and cons of both Medicare Advantage and Original Medicare, you can make an informed decision about your healthcare coverage.
Complex med schedule? We solved it.
Hero's smart dispenser reminds you to take your meds and dispenses the right dose, at the right time.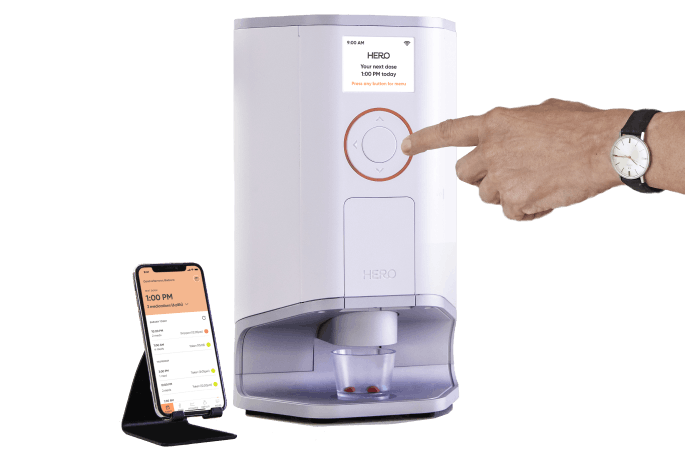 Hero: Simplifying Medication Management for Medicare Beneficiaries
Managing medications can be a challenging task, especially for Medicare beneficiaries who often have multiple prescriptions to keep track of. Hero, an innovative remote medication management platform, offers a comprehensive solution that can complement your Medicare coverage.
How Hero Complements Your Medicare Coverage
Medicare now covers Remote Therapeutic Monitoring (RTM) services under Medicare Part B, which includes digital technologies to collect and monitor non-physiologic health data such as medication use and adherence. Hero's smart dispenser can store up to a 90-day supply of 10 different medications and dispense them according to the user's programmed schedule. It also sends text and audio reminders when it's time to take a dose, making it a potentially helpful solution for Medicare beneficiaries with multiple medications to manage.
Enhancing Medication Adherence Among Medicare Patients with Hero
Medication adherence is one important facet of improving patient outcomes, especially among Medicare beneficiaries who may have chronic diseases or complex medication regimens. Hero's system provides real-time adherence data, keeping users informed on the status of their medication management. This feature is particularly useful for caregivers who may not live with the patient but still need to monitor their medication adherence.
In addition, Hero's smart dispenser sends reminders when it's time to take a dose, which may help its users to decrease the risk of missed or incorrect dosages. 
Hero offers a comprehensive medication management solution that complements Medicare coverage and may help assist with medication adherence among Medicare patients. By simplifying the process of managing multiple prescriptions, Hero is revolutionizing healthcare management for Medicare beneficiaries.
The contents of the above article are for informational and educational purposes only. The article is not intended to be a substitute for professional medical advice, diagnosis, or treatment. Always seek the advice of your physician or other qualified clinician with any questions you may have regarding a medical condition or its treatment and do not disregard professional medical advice or delay seeking it because of information published by us. Hero is indicated for medication dispensing for general use and not for patients with any specific disease or condition. Any reference to specific conditions are for informational purposes only and are not indications for use of the device.