Pill Dispensers For the Elderly: Tips for Medication Reminders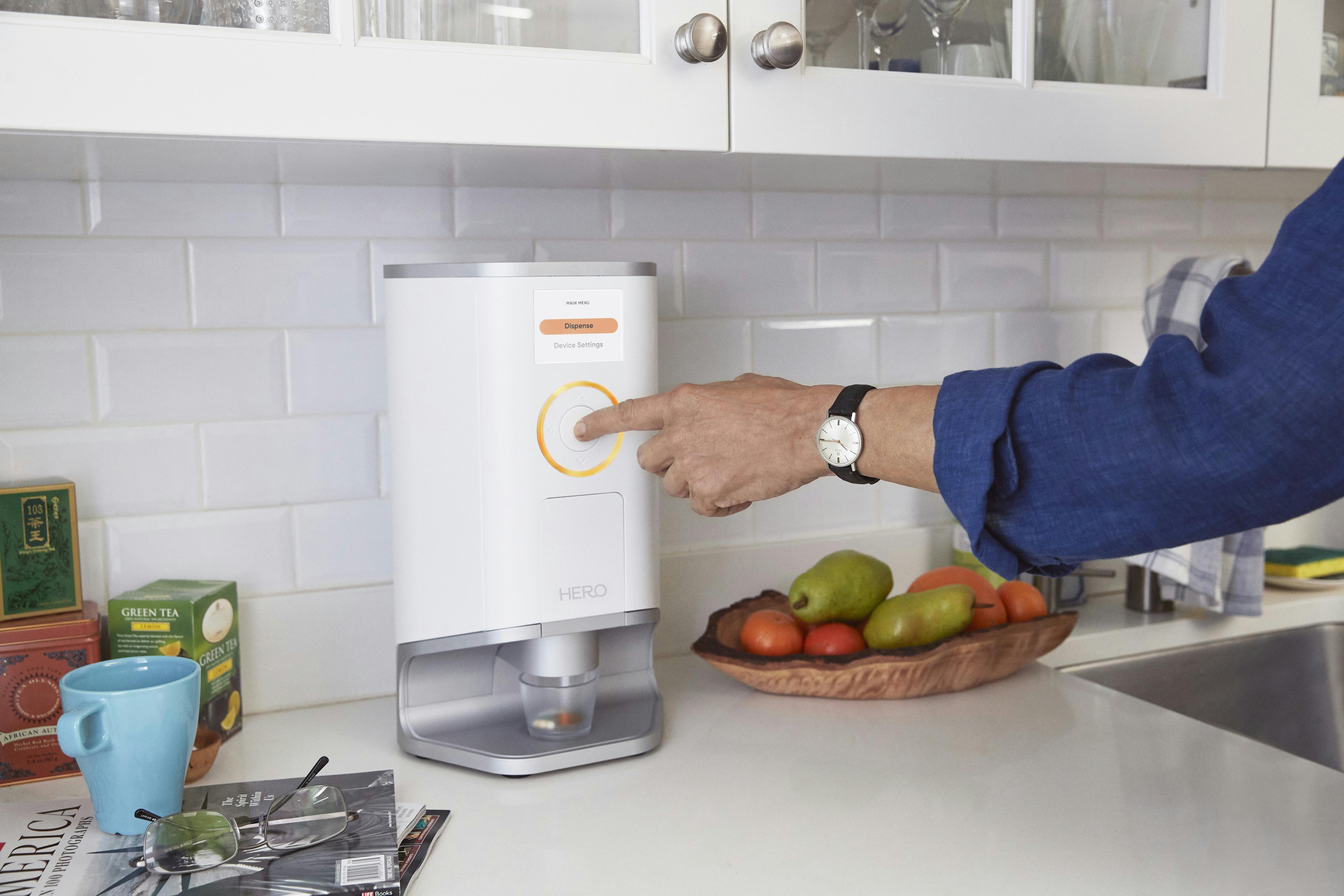 While taking daily medication can ease the symptoms of many medical conditions, handling and managing those many different medications can be overwhelming.
As we age, we become more likely to take a variety of medications to help with the various health conditions we encounter over time. And with 40% of seniors reporting memory issues and 64% of seniors experiencing declines in vision the potential to make mistakes when taking those medications becomes all too common.
Thankfully, the following tips for setting medication reminders can help ease the stress that comes along with medication management. Paired with medication dispenser systems like Hero, these solutions can help bring some peace of mind to older adults and their family members alike.
Avoid the Outdated Pillbox
Taking medication straight from the original prescription bottle can cause problems for seniors who have vision, memory, and dexterity issues. The small text can be difficult to read, it's all too easy to forget a dose, and the bottles themselves can be hard to open.
Even if a caregiver helps with the medication regimen, trying to get a handle on medication schedules and pill organizers can become a formidable task. Polypharmacy, which is common for elderly people, also increases the potential for medication error.
Pillboxes, which contain small containers for the time of day or day of the week, once appeared to be the optimal organization tool, but these bring their own set of challenges. The small nature of these compartments may be too small for your daily pill needs. Similar to the original prescription bottles, the compartments can also be difficult to open, especially when considering that almost half of the senior population in the U.S. has arthritis. But the biggest issue of all remains the fact that these boxes only hold one week of medication at a time, meaning someone -- whether that's the patient or the caregiver -- needs to both remember and take time to refill the box with the right medication every week.
Find an Effective Reminder System
The most difficult part of taking many medications is remembering to take them at the right time. When all medications are taken at once, it can be a simple process, but this often isn't the case when dosing ranges from once to twice to thrice daily, and some pills need to be taken with meals or before bed.
With so many factors involved, it's easy to see why having effective reminders are so important.
Alarm clocks are one of the oldest tools to make sure something gets done on time. In the modern era, most smartphones let you program multiple alarms right into the phone. Unfortunately, as with old school alarms, it's all too easy to hit "snooze" or just turn off the alarm altogether without actually getting out of bed or up from that comfy couch.
Another option are pillbox alarms, which are essentially standard plastic pillboxes with a small alarm clock built into it. With a limitation of just two alarms on most models, however, this option is rarely an option at all for users taking several different medications.
Looking for a Medication Management Solution That Covers All Bases?
Instead of keeping the different parts of medication management separate, why not combine them into one streamlined system? Hero does just that.
The Hero automatic medication dispenser stores, organizes, and dispenses up to 10 different medications -- the Hero app can even help you track 10 more. Hero tracks each one of your prescription medications for you after initial setup, serving as your dispensing system and alert system all in one.
When it's time for a dose, Hero will organize your needed doses, and have them ready for you with the touch of a button. Expect to hear a pleasant chime and a colorful display around the center button to get your attention. Once you confirm you're ready for medication dispensing, your pills will be dropped into an easy to grab cup.
No more sorting through bottles, reading each prescription to check which one you need to take when, then laying them out one at a time across the dining table hoping you've gotten it all right.
You can also have medication reminders sent to your phone through in-app-notifications, phone calls, or text messages, giving you the freedom to be away from your dispenser without worrying that you'll miss the notification. If you do happen to be late on or miss a dose for any reason, Hero also offers the option to send a notification to loved ones, caregivers, or medical aids to help keep track of medication adherence.
Hero also keeps track of when it's time for a refill, so you won't have to worry about not having your pills when you least expect it. Need to make changes? You can alter, manage, and access your whole routine and medication information right in the Hero app.
No need to worry about power outages or WiFi issues either -- Hero comes with a safety key that you can use to access your meds manually in the case of an emergency.
Hero is more than an alarm clock -- it's your key to easy, streamlined medication management.
Remembering to take the right medication, on time, multiple times a day isn't quite the easy task your prescribing doctor or pharmacist makes it out to be. Luckily, Hero has created a customizable, all-in-one medication management system to make it simpler than ever before.
Ready to learn more? Click here to explore how Hero works.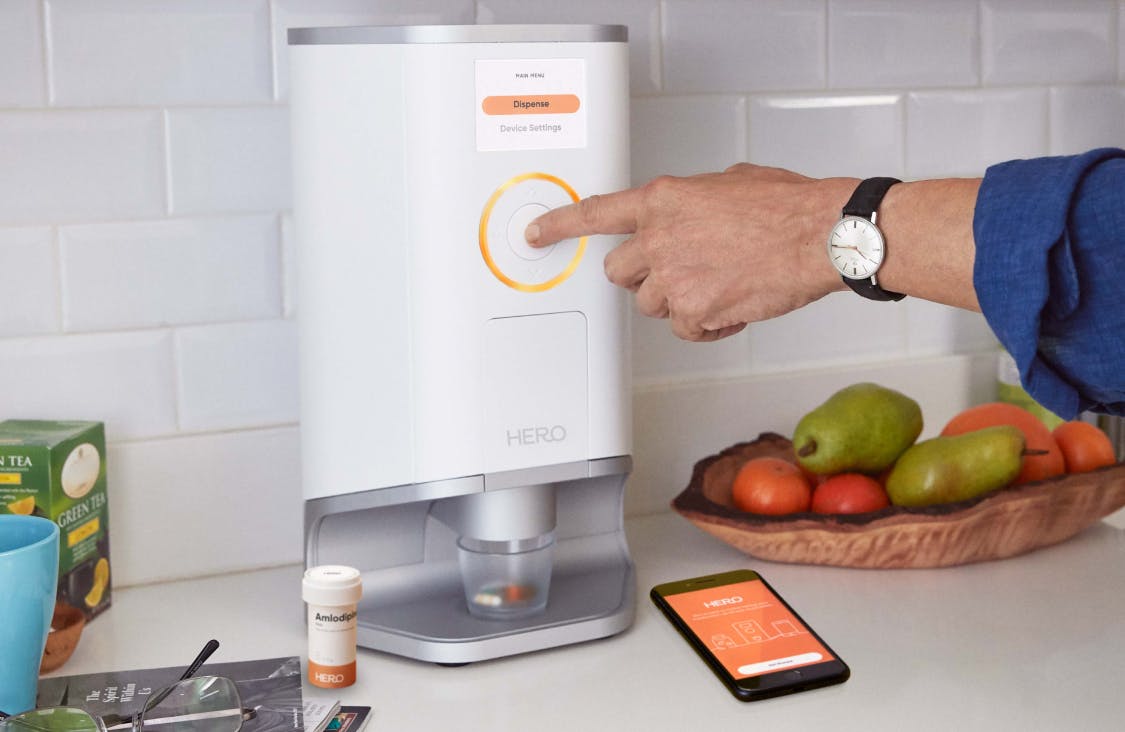 Take the hassle out of taking meds today!
From sorting your meds at the push of a button to delivering refills to you, Hero makes meds one less thing to worry about.
+
$

99.99
one-time initiation fee
90-day risk-free trial, money-back guaranteed
* When choosing 24-month plan
The contents of the above article are for informational and educational purposes only. The article is not intended to be a substitute for professional medical advice, diagnosis, or treatment. Always seek the advice of your physician or other qualified clinician with any questions you may have regarding a medical condition or its treatment and do not disregard professional medical advice or delay seeking it because of information published by us.