Medication dispensing machines in hospitals: how to reduce medication errors with automated systems
---
Medication errors affect almost seven million Americans per year, leading to 7,000–9,000 deaths and $40 billion in healthcare spending. The good news? They are entirely preventable. 
Studies show that 75% of all medication errors are due to distraction.1 And understandably so: healthcare workers are pulled in every direction from the minute they walk in the door. When juggling multiple patients, it can become challenging to keep track of prescription changes, distinguish between similar-sounding drug names, sort medications that look the same, and dispense the right doses to the right patient, all while staying on top of other administrative work.  
So, how can we reduce error rates in hospitals when times get stressful?2 These medication dispensing machines in hospitals can help minimize medication errors and their associated costs.3 
Types of medication dispensing machines in hospitals and care facilities
Automated Dispensing Cabinets (ADC)
An ADC is a computerized medical filing cabinet that stores and dispenses medications. ADCs are commonly used in hospitals to control and monitor drug distribution.3 In cases of high-risk medications, hospitals can restrict access to specific cabinets or drawers through pass codes, biometric scans, physical lock-and-key mechanisms, and other security features. 
Pros
Pills are organized in compartments and ADCs can track which compartments each user accesses. 

Compared to traditional filing cabinets, ADCs offer more security features, such as password protection or biometric scans to access stored medications.  

All medications stored and dispensed in ADCs are logged in a centralized database.

Some ADCs can alert pharmacies about medications that are low-in-stock or require them to review meds before nurses can administer them, helping to reduce medication errors.

3,4,5 

ADCs' security features are very beneficial to help control the distribution of narcotics and other controlled substances. 

ADCs are easy to use and have proven to be effective in reducing medication administration errors.

4 
Cons 
ADCs can make workflows more inefficient for nurses and emergency room staff, as they may need to run back and forth to retrieve various patients' meds. When all patients' meds are being stored in one ADC, hospital staff may also find themselves waiting in line to get the meds they need. 

ADCs require customization based on each facility's requirements, requiring significant setup and maintenance time. 

ADCs can take up valuable floor space, which can potentially be cumbersome for smaller facilities. 

Because they are used for multiple patients' meds, ADCs cannot be personalized for each patient's needs or collect patient-specific data on medication administration errors. 

ADCs can lead to omission errors when there is insufficient stock due to miscommunication between providers and pharmacies.

3,6
Barcode Medication Administration (BCMA)
Barcode medication administration (BCMA) is used by hospitals to scan barcodes on a patient's ID tag and medications, helping to keep track of their data on a centralized database. They are often used in hospitals and nursing homes to help lower medication administration errors.3 
Pros
BCMA is simple to use, so it's easier to train new staff members and quicker to adopt than more complex systems. 

When used correctly, BCMA works well to reduce medication and dosage errors by showing what meds were administered for each patient.

3,7 
Cons
Scanning barcodes all day can add considerable time to nurses' already demanding schedule. 

This type of system can be prone to human error, e.g. if hospital staff try workarounds like using one patient's ID to scan multiple medications. 

Challenges can arise when a scanner malfunctions or barcodes are damaged or unreadable. 

Barcodes also do not offer insights into what meds a patient may have already taken.

7,8
Smart medication dispensers with medication management apps and automatic refills 
Automatic pill dispensers, like the one offered in Hero's medication management service, can take the guesswork out of medication administration. These devices can sit on a countertop and hold varying amounts of pills, based on their storage capacity. When it's time for a dose, they can dispense a patient's medication at the push of a button. Some automatic pill dispensers are also connected to apps that can send alerts, notifications, and track pill counts.  
Pros
Smart medication dispensers can be pre-loaded with meds and personalized based on each patient's prescription regimen. 

Smart dispensers can be programmed to dispense the right dose at the right time, taking the guesswork out of medication management. 

Hospitals can place automatic medication dispensers by a patient's bed and busy nursing staff simply have to press a button or hold a cup under the dispenser to get the right pills at the right time. 

A connected app can display pill counts, and provide alerts and notifications. 

Healthcare providers can use the app to update prescriptions from a centralized location.

Hero's automatic medication dispenser is connected to AdhereRx, a pharmacy partner offering timely and free delivery of refills. 

Overall, using a smart dispenser can improve efficiency, adherence, reduce medication errors, and help enhance

patient safety

. 
Cons
Automatic medication dispensers like Hero cannot store and dispense meds for multiple patients at a time. 

For dispensers with connected apps, nursing staff must know how to use a smartphone and the app's various features. 

Smart dispensers will have to be re-programmed with the right meds for each new patient. Fortunately, dispensers with connected apps make this process relatively frictionless. 
The right medication dispensing machines in hospitals and care facilities can help reduce medication errors
Hero offers a new way to manage your meds. A Hero subscription includes access to our award-winning smart dispenser, medication management app, automatic refills with free delivery, and 24/7 live support. 
Sources
1. Tariq, R. A., Vashisht, R., Sinha, A., & Scherbak, Y. (2021). Medication dispensing errors and prevention. In StatPearls [Internet]. StatPearls Publishing. https://www.ncbi.nlm.nih.gov/books/NBK519065/ 2. Rodziewicz, T. L., Houseman, B., & Hipskind, J. E. (2022). Medical error reduction and prevention. https://pubmed.ncbi.nlm.nih.gov/29763131/ 3. Zheng, W. Y., Lichtner, V., Van Dort, B. A., & Baysari, M. T. (2021). The impact of introducing automated dispensing cabinets, barcode medication administration, and closed-loop electronic medication management systems on work processes and safety of controlled medications in hospitals: a systematic review. Research in Social and Administrative Pharmacy, 17(5), 832-841. Retrieved from: https://www.sciencedirect.com/science/article/pii/S155174112030406X 
4. Wang, Y. C., Tsan, C. Y., & Chen, M. C. (2021). Implementation of an Automated Dispensing Cabinet System and Its Impact on Drug Administration: Longitudinal Study. JMIR Formative Research, 5(9), e24542. Retrieved from: https://www.ncbi.nlm.nih.gov/pmc/articles/PMC8486989/
 5. Pickle, J. (2021, November 23). How Automated Dispensing Cabinets (ADCs) revolutionised point-of-care medication administration? Biomedical News & Health Blog. Retrieved from: https://biomedj.org/healthcare/automated-dispensing-cabinets-adcs-revolutionized-point-care-medication-administration/ 
6. Rhodes, J. A., & McCarthy Jr, B. C. (2019). Automated dispensing cabinet technology limitations compromise patient safety. American Journal of Health-System Pharmacy, 76(18), 1372-1373. Retrieved from: https://academic.oup.com/ajhp/article-abstract/76/18/1372/5544554?login=false 
7. Naidu, M., & Alicia, Y. L. Y. (2019). Impact of bar-code medication administration and electronic medication administration record system in clinical practice for an effective medication administration process. Health, 11(05), 511–526. https://doi.org/10.4236/health.2019.115044
8. Van Der Veen, W., Van Den Bemt, P. M., Wouters, H., Bates, D. W., Twisk, J. W., De Gier, J. J., & Mangelaars, I. (2018). Association between workarounds and medication administration errors in bar-code-assisted medication administration in hospitals. Journal of the American Medical Informatics Association, 25(4), 385-392. Retrieved from: https://academic.oup.com/jamia/article/25/4/385/4091349
Complex med schedule? We solved it.
Hero's smart dispenser reminds you to take your meds and dispenses the right dose, at the right time.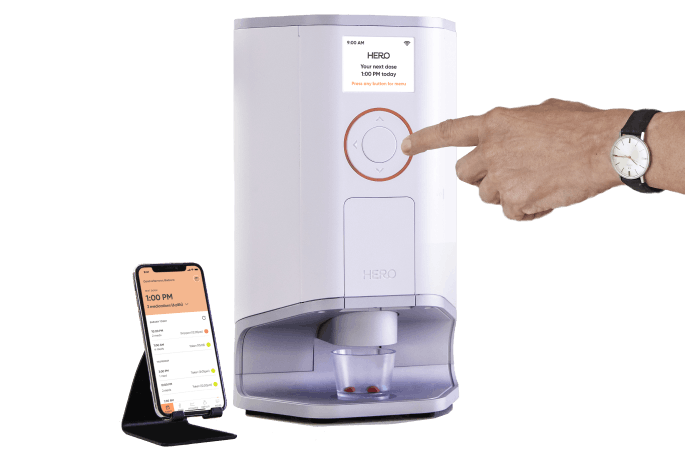 The contents of the above article are for informational and educational purposes only. The article is not intended to be a substitute for professional medical advice, diagnosis, or treatment. Always seek the advice of your physician or other qualified clinician with any questions you may have regarding a medical condition or its treatment and do not disregard professional medical advice or delay seeking it because of information published by us. Hero is indicated for medication dispensing for general use and not for patients with any specific disease or condition. Any reference to specific conditions are for informational purposes only and are not indications for use of the device.