Meet Our Members: Matt Schuster
---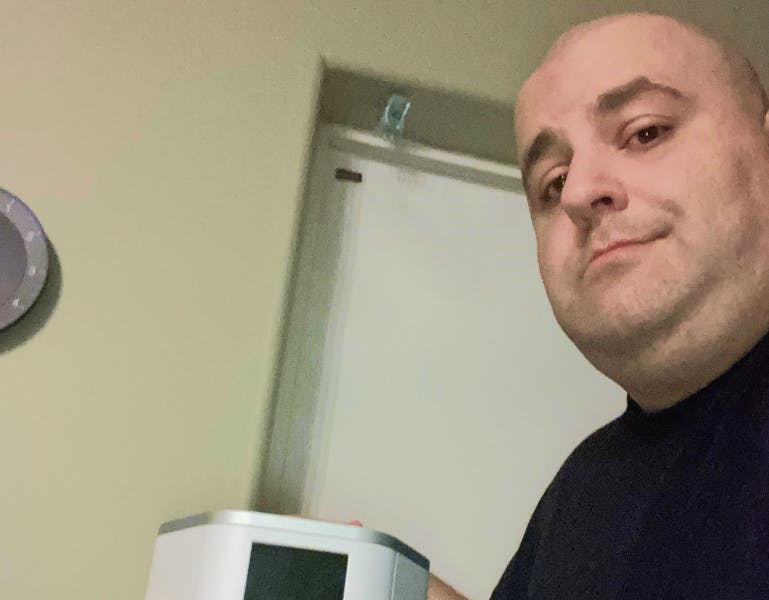 In this conversation with the Hero team, member Matt Schuster discusses how Hero has helped him manage his several medications to keep both his physical and mental well-being in check.
Hero Team:
Could you tell us a bit about your background and your general experience with Hero so far?
Matt Schuster:
I take multiple medications for multiple things.
I have had a back injury since 2000. I've had surgeries a couple of times, and I have also been diagnosed with schizoaffective disorder since 1998 or so. I'm 39 years old now, so it's impacted most of my life.
I take a couple psychotropic meds – one antipsychotic and one antidepressant – and then I take multiple other medications for my pain. I take Gabapentin, Duloxetine, and then I also have a blood clotting condition, so I take a blood thinner every day, twice a day. And I take a muscle relaxer. Those are my main medications. I also take a supplement for digestion, Omeprazole for heartburn. So in the morning I take two pills, three more pills at 10:30, one pill at 1:30 and three pills at 5:00 PM.
My condition is not debilitating, but it definitely makes my life harder to live sometimes, and Hero seems to help make it easier.
Hero Team:
What was your medication routine like before you were using Hero?
Matt Schuster:
Before Hero, I kept my meds in all my pill bottles, and it wasn't very organized. They were just sitting on top of a cabinet and each time I would go to take meds, I'd have to sort through the pill bottles.
I would take them when I found the time to take them and not really on any set schedule. So I would try to get all my meds in for a day, but it would be at varying times every day. And since I've had Hero, I take them at a set time every day at the same time, whether I'm home or not, because if I'm not home I just pack the meds with me and I get the reminder on my phone. It's really easy to use.
Hero Team:
Was that stressful for you?
Matt Schuster:
Yes, just the fact that I had to sort through the bottles every time and spilled pills on the floor constantly. And I have a cat that I'm always worried about getting into my meds when I lose a pill or something, or even small kids when my nieces and nephew come to visit.
Hero Team:
How is your day-to-day affected when you don't take your medication versus when you do?
Matt Schuster:
I recently got a spinal cord implant, so I don't take as much medication as I used to, my back pain is definitely more ongoing and chronic when I don't take my medication. I'm just a lot more uncomfortable.
My medication for schizophrenia keeps my mood level and my thoughts coherent. If I didn't have that, I would definitely struggle more with basic things like sleeping and staying awake during the day and things like that.
Hero Team:
How does Hero compare to some of your earlier methods for medication management? And since using our service, has it helped improve any of the stressors that you mentioned?
Matt Schuster:
With Hero, I don't worry now since everything is organized in a locked container and I don't have to sort pills. I don't worry about pills spilling or losing a pill somewhere to have it found by an animal, or a small child, or anything. So that definitely gives me a peace of mind, not having to constantly lock and unlock the cabinet to get into my meds it definitely just seems less of a hassle.
Hero Team:
Has your physical and or mental health changed since using Hero?
Matt Schuster:
I think I have seen an improvement in my general wellbeing. It's just easier to take my medication at a set time every day and keep everything on a level line. I just feel that I'm doing better than I was before. Just how I feel, my general mood and my anxiety levels and all that.
I also work at home a few hours every week and I'm definitely able to focus and get my work done in a real timely manner. I actually look forward to it now instead dreading it. I don't know why but it seems to be going a lot smoother.
Hero Team:
Amazing. By staying on top of your medication, do you think you've been able to avoid any other medical costs?
Matt Schuster:
Yes, I've definitely seen a cutback in medication costs. I probably avoided the doctor, just because when everything's taken on a set time every day, I don't have to worry about taking it and or missing a dose here and there. I haven't even been to the doctor for over a year now, whereas I was used to going every few months before.
Hero Team:
Which of Hero's features is your favorite, and why?
Matt Schuster:
I like being able to dispense my meds as needed and having a Vacation Mode, so if you're not going to be home for a couple days, it has your meds set to a schedule on your phone, so you know what to take and when, and you can pack them accordingly.
Hero Team:
That's good to hear. And as a final question, what do you think makes Hero worth it?
Matt Schuster:
Just the fact that your medications are locked and dispensed for you, so you don't have to worry about losing meds or taking them on time. And having support available to you 24 hours a day, I think is important. I've contacted them a few times over different things, like how to get pills out as needed and how to get medication out of the machine during a vacation, and it's easy to get in contact with someone real quickly. They walked me through everything, and it was pretty easy once I knew how to do it!
Hero Team:
Awesome. Thanks for taking the time to speak with us!
Complex med schedule? We solved it.
Hero's smart dispenser reminds you to take your meds and dispenses the right dose, at the right time.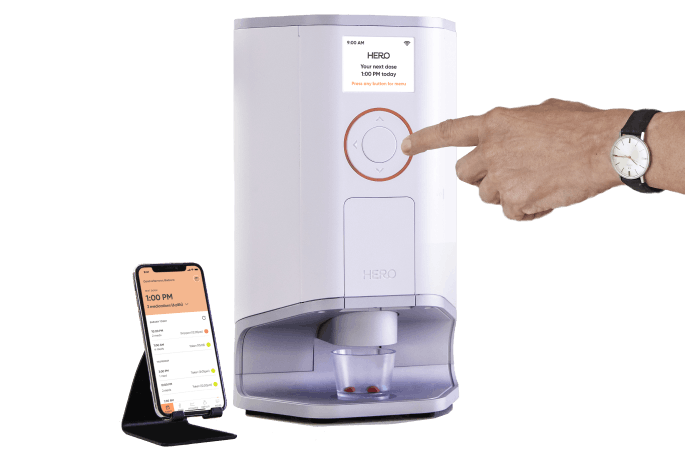 The contents of the above article are for informational and educational purposes only. The article is not intended to be a substitute for professional medical advice, diagnosis, or treatment. Always seek the advice of your physician or other qualified clinician with any questions you may have regarding a medical condition or its treatment and do not disregard professional medical advice or delay seeking it because of information published by us. Hero is indicated for medication dispensing for general use and not for patients with any specific disease or condition. Any reference to specific conditions are for informational purposes only and are not indications for use of the device.