Area Agencies on Aging (AAA): Everything you need to know
---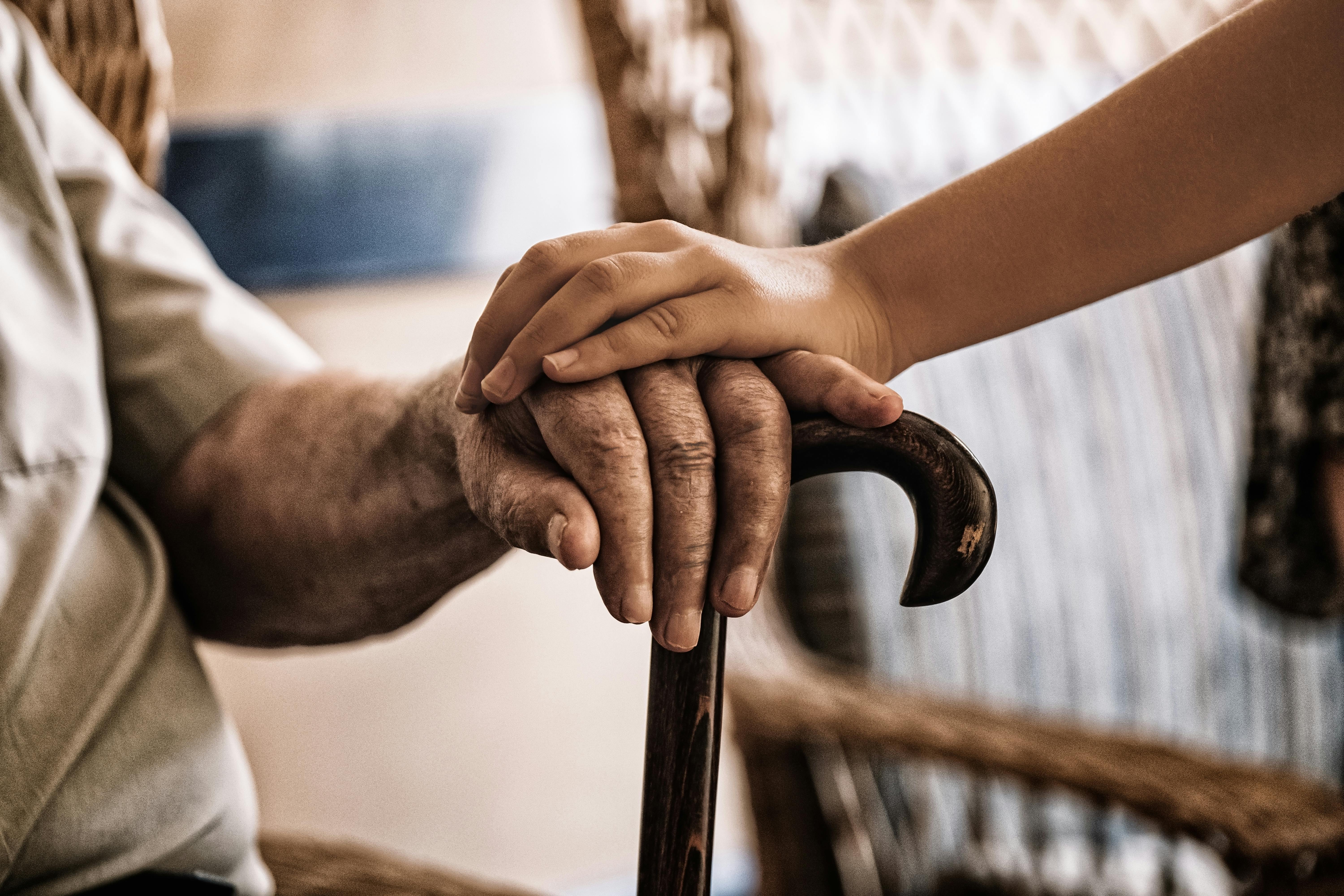 Area Agencies on Aging (AAA), or as some refer to them, aging area agencies, form an extensive, vital network established to empower and support older adults throughout the United States. These local area agencies offer a variety of programs and services designed to meet the unique needs of seniors, families, and family caregivers within their communities. The goal? To enable our older citizens to age with dignity and grace.
At the heart of AAA's operation lies an exhaustive array of services such as long-term care assistance, counseling, referral services, and even meal provision. These are aimed at improving the quality of life for seniors, whether they reside in their homes, with family members, or in long-term care facilities. Moreover, assistance extends to those with disabilities, facilitating support for some of the most vulnerable members of our society.
History and Origins of AAA's
Tracing its roots back to the Older Americans Act of 1965, the concept of the Area Agency on Aging emerged from a deep-seated commitment to the welfare of older Americans. The Act, enacted during President Lyndon B. Johnson's administration, represented a transformative response to the needs of aging individuals in the county.
The vision behind establishing these local area agencies was to provide a source of support and advocacy for older adults, recognizing their valuable contributions and acknowledging their unique challenges. Over the years, the AAA network has expanded its outreach and tailored its services, becoming an indispensable lifeline for seniors and their families. Furthermore, the vital role of family caregivers has been acknowledged, with programs specifically aimed at offering support, education, and respite for these often unsung heroes of everyday care. Today, there are hundreds of AAAs across the nation, all devoted to the singular cause of making aging a journey of dignity, respect, and continued engagement for every older adult.
Programs, Services, and Support for Seniors: Understanding the Role of AAAs in Elderly Care
Area Agencies on Aging, with their far-reaching local impact, function as the pivotal pillars of elderly care within communities. They provide a diverse range of programs, services, and supports aimed at fostering independence, ensuring dignity, and enhancing the quality of life for older adults. From care planning and coordination to advocacy and rights protection, AAAs make a significant impact on the lives of seniors, their families, and caregivers.
Care planning and coordination
At the heart of AAA's work lies a thoughtful, compassionate approach to care planning and coordination. This encompasses crafting comprehensive care strategies tailored to each individual's unique needs and preferences. Whether it's orchestrating home-delivered meals for those with dietary restrictions, providing transportation for medical appointments, or coordinating with long-term care facilities for those requiring specialized care, AAAs work relentlessly to ensure older adults receive the care they need and deserve.
Information and referral services
Knowledge is power, and in the realm of elder care, it often means the difference between struggle and support. AAA's offer a wealth of information and referral services, serving as a lifeline for families navigating the complexities of aging-related issues. From understanding Medicare benefits to finding the right home health care provider, AAAs guide families, caregivers, and seniors themselves through the often-confusing landscape of elderly care options.
Advocacy and rights protection
Beyond providing services, AAA's play a crucial role in advocating for older adults' rights. This advocacy includes voicing concerns at local, state, and federal levels to influence public policy, legislation, and public attitudes toward aging. Additionally, AAAs offer resources to protect older adults from scams, elder abuse, and neglect, ensuring their rights are respected and safeguarded.
Community support services
Lastly, but by no means least, AAAs extend their reach into the heart of communities with various support services. These range from health and wellness programs to social engagement activities, creating an inclusive and vibrant space for older adults. Meals-on-wheels, adult day care, caregiver support groups, and counseling services for seniors facing emotional challenges are just a few examples of the community-oriented assistance that AAAs offer, making them a beacon of support for seniors and their families.
Services offered by aging area agencies
Aging Area Agencies are renowned for their wide spectrum of services that aim to support older adults, foster independence, and enrich their quality of life. With services ranging from in-home assistance to legal guidance, each AAA is dedicated to addressing the diverse needs of seniors in their respective communities. Let's explore some of these invaluable offerings in greater detail.
In-home services
AAAs understand the value and comfort that home holds for many older adults. Therefore, they provide a host of in-home services, including personal care assistance, homemaker services, and home health aides. These services aim to support seniors who wish to age in place while ensuring they receive the necessary assistance with daily tasks such as bathing, meal preparation, cleaning, or health monitoring.
Nutrition services
Nutrition plays a vital role in maintaining good health and well-being, especially for older adults. AAA's provide access to nutrition services that include meal planning, preparation, and delivery. These services not only ensure that seniors receive balanced, nutritious meals but also cater to specific dietary needs and restrictions. Some AAA's also offer communal meal programs that enable older adults to socialize while enjoying their meals.
Health, Fitness, and Wellness Programs
AAA's prioritize the physical health and mental well-being of seniors by offering various health, fitness, and wellness programs. From yoga and Tai Chi classes for maintaining physical flexibility to cognitive health workshops aimed at slowing cognitive decline, these programs provide holistic approaches to health. They also promote social interaction, encouraging a sense of community among older adults.
Legal Assistance
Navigating legal complexities can be daunting for anyone, particularly for older adults who may be dealing with issues like estate planning, healthcare directives, or understanding their rights. AAA's provide crucial legal assistance, offering resources, referrals, and sometimes even free legal counseling. Their goal is to protect the rights and interests of seniors, providing them with the information and assistance they need.
Employment Assistance
For seniors who wish to remain engaged in the workforce, AAA's offer employment assistance. These services range from job training and placement to volunteer opportunities, catering to the varied interests and abilities of older adults. AAA's recognize the value of purposeful work and community engagement, striving to provide opportunities for older adults to continue contributing their skills and experience.
Special Programs/Initiatives by Aging Area Agencies
Every AAA is unique, and many offer special programs or initiatives that cater specifically to the needs of their local communities. These may include Alzheimer's support groups, falls prevention classes, LGBT+ senior programs, caregiver respite services, or transportation programs. These innovative programs demonstrate the AAA's commitment to addressing the diverse and evolving needs of the aging population, underscoring their pivotal role in elderly care.
How to access AAA services
Securing the support and services provided by your local Area Agency on Aging (AAA) can be an invaluable asset in navigating the journey of aging for yourself or a loved one. Understanding how to access these services is the first step in this process.
Here's a simple guide to get you started:
Identify your local AAA

: Use the Eldercare Locator, a public service of the U.S. Administration on Aging, to find your local AAA. You can access this online or by calling 1-800-677-1116.

Reach out for an initial consultation

: Once you've identified your local AAA, call or visit their office to inquire about the services and programs they offer. Some agencies may have a central intake system where you'll be directed for an initial assessment.

Undergo a needs assessment

: AAA professionals will typically conduct a needs assessment. This process helps them understand your specific situation and the types of assistance you may require.

Develop a care plan

: Based on the assessment, the AAA team will work with you to create a tailored care plan addressing your needs.

Utilize AAA services

: Start taking advantage of the services available to you. Remember, the AAA team is there to support you, so don't hesitate to ask questions or seek further assistance.
Remember, every AAA operates differently and in accordance with local areas, so be sure to check with your local agency for specific steps. In any case, they are there to support you and make the process as seamless as possible.
Future Trends in area agency - Where Hero can fit in
As we gaze into the future of elderly care, it's clear that the landscape is rapidly evolving, influenced by advancements in technology, shifts in demographic patterns, and changing societal attitudes toward aging. One prominent trend is the integration of technology into service delivery. As older adults become tech-savvy, AAAs are increasingly leveraging digital platforms to offer services remotely, from telehealth consultations to online wellness programs.
Complex med schedule? We solved it.
Hero's smart dispenser reminds you to take your meds and dispenses the right dose, at the right time.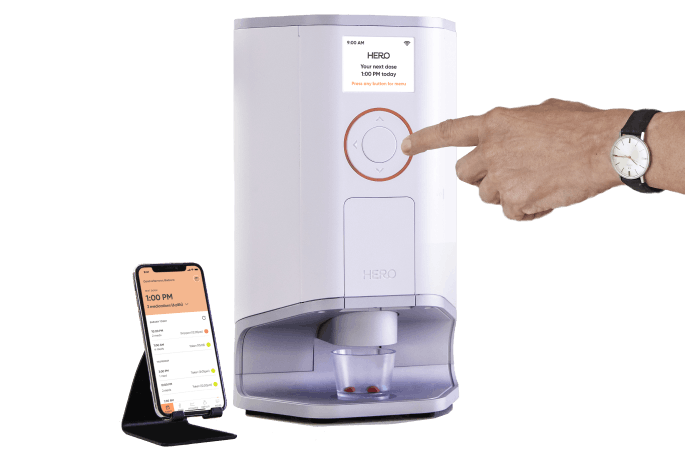 Hero
Hero emerges as a shining example of new technologies revolutionizing elderly care, providing an innovative solution for medication management. In the past, Hero has presented at the annual conference for the National Association of Area Agencies on Aging (now known as "USAging"), in order to connect with as many AAAs, and by extension seniors who would benefit from improved medication management, as possible.
At the heart of Hero's offering is its state-of-the-art pill dispenser, a device designed to manage, sort, and dispense medications at pre-set times with visual and audio reminders, which may reduce the probability of missed doses or medication errors - a huge issue among seniors with complex medication regimens. The dispenser can hold a 90-day supply of 10 medications and comes with an easy-to-use app where you, your family member, or caretaker can set up medication schedules, and reminders and track medication adherence in real-time.
The App allows family members or caregivers to monitor medication adherence remotely, providing a significant layer of support for those caring for a loved one from a distance. Importantly it also empowers older adults to maintain their independence while ensuring their health needs are closely monitored. Furthermore, Eligible Medicare enrollees may be able to use Hero at little to no cost when offered as part of a Medicare-covered Remote Therapeutic Monitoring (RTM) service. Through integrative technologies like Hero, we see a future where managing health becomes simpler and more efficient for our aging population.
Conclusion
From their inception through the Older Americans Act, Area Agencies on Aging (AAAs) have been pivotal in providing support, resources, and services to older adults, their families, and caregivers. They've tailored an array of services, from in-home care and nutrition services to advocacy and legal assistance, designed to enhance the quality of life for seniors. These agencies have also showcased an impressive ability to adapt to emerging trends and advancements, all with the ultimate goal of fostering an environment in which aging adults feel valued, respected, and empowered.
The contents of the above article are for informational and educational purposes only. The article is not intended to be a substitute for professional medical advice, diagnosis, or treatment. Always seek the advice of your physician or other qualified clinician with any questions you may have regarding a medical condition or its treatment and do not disregard professional medical advice or delay seeking it because of information published by us. Hero is indicated for medication dispensing for general use and not for patients with any specific disease or condition. Any reference to specific conditions are for informational purposes only and are not indications for use of the device.