Cake aside, to prepare for retirement, your financial situation needs to be in place. But it is also important to mentally prepare for all the freedom you will have. It is quite the transition for many, and a large number of retirees can suffer from depression from lack of social interaction and routine. Many aging adults are choosing to live independently, and may find they have a lot more time on their hands.
A great way to prepare is to compile retirement bucket list ideas. This can include daily activities to stay active and connected, like taking classes to learn a new language. Not everything on the bucket list has to be a wild, exciting travel adventure. Retirement is also meant for relaxing and doing the hobbies you now have more time for. Trying new things and balancing that with what speaks to your nature makes for the perfect list.
Keep reading for inspiration of what you can do during your retirement.
A Taste of Adventure
If wild, new experiences are your main priority, there are a ton of wonderful, eye-opening places to explore across the globe. Here are a few ideas:
Take a road trip to the Grand Canyon -- the journey there is almost just as gorgeous, no matter where you're coming from.

Visit Antarctica for a whole new view of nature.

Scuba dive in New Zealand.

Take photos of the Pyramids of Giza in Egypt.

Hike to Machu Picchu in Peru. Live among the locals.

Surf at one of California's beaches. Huntington Beach, CA is known as Surf City.

Go on a safari - in Africa if you can! Have an encounter with lions, giraffes and cheetahs.

See the glory of the Great Wall of China. If you can handle it, take a walk along the wall. Be careful--some parts are very steep.

Book an intercontinental train ride from Chicago to Seattle. View the beauty of the Midwest from your window.

Hike part of the Appalachian trail -- this is another one where the journey to the trail itself is beautiful!
If you want to try something new (and even a little reckless), introduce some adrenaline into your bucket list items. Depending on your personal preferences, try to step out of our comfort zone.
Get a tattoo (a permanent one!)

Take a helicopter ride over your city. Better yet, learn how to

fly a plane.

Go for a hot air balloon ride.

Try stand-up comedy. Plan a story or a joke and have your 10 minutes of fame.

Pick up photography and start capturing and documenting your adventures.

Go skydiving (with the approval of your doctor!)
Must-See Natural Sites
If you are a nature lover and want to spend more time in the great outdoors, there are beautiful natural sites to see. If international is not an option, it could be time to rent (or buy!) an RV and hit the road.
Snorkel The Great Barrier Reef in Australia

Take a boat tour down the Amazon River

Hike (or even just drive) Yosemite National Park

Attend a Cherry Blossom Festival during Cherry blossom season in Japan — the best time to go is Late March to early April.

Take a dip in the hot springs in Iceland.

Go whitewater rafting in Costa Rica.
Local Adventures
You do not need to hop on a plane to get a taste of the outdoors. For adventurous activities a bit closer to home and a bit easier on your retirement years budget, here are some ideas:
Plan more beach days.

Visit a national park — better yet, try visiting them all!

Adopt a pet.

Learn bushcraft - then go camping to test out your new skills.

Go stargazing in the desert and learn astronomy basics.

Start your own vegetable and herb garden.
Foodie Adventures
For foodie lovers and cuisine connoisseurs, there are world-renowned Michelin star restaurants in many countries. Eateries are just one aspect of the foodie life — culinary adventures can be found in other, creative ways. Take a look at this list for some inspiration.
Try tapas in Barcelona. This colorful city is home to countless tapas restaurants that each have their own specialty.

Head to Japan for authentic ramen and the freshest sushi. You will rarely see a bad review at any restaurant!

Tour a vineyard in France's countryside. Champagne is named after the city of Champagne — why not try it straight from the source?

Try New York City pizza. Or a fresh New York bagel is just as satisfying.

Explore the street markets in Thailand. Street vendors are renowned throughout Asia!
For more convenient ideas, look closer to home at fun opportunities locally or online. There are foodie experiences to try just with an internet connection or a quick car ride:
Learn how to make your own hot sauce.

Try cooking a new cuisine! Head to your nearest bookstore, choose a cookbook at random and pick a recipe.

Go fishing. And if you can handle it, cook your own catch!

Make sushi at home! It requires fresh quality fish and some special ingredients you may need to purchase online.

Brew your own beer. Beer kits are also available to purchase, but with some research, you can successfully make a tasty beverage.
Glamor and Luxury Ideas
More independent-living retirees are opting for the glam life. If this suits you (and your budget), include some luxurious experiences in your bucket list. Here is a mix of luxe travel and activity ideas.
Fly first class.

Book a luxury cruise. Treat yourself to an ocean view.

Rent one of the many glamping experiences across the states.

Upgrade to a penthouse suite with a view of the strip in Las Vegas.

Plan a stay at a luxurious resort on an island.
Need a break from traveling? Here are some fun, glitzy ideas to try.
Attend a film premiere. Red carpet, flashing lights, fancy clothes.

Splurge on court side tickets at an NBA game.

Go to a fashion show. It's also an opportunity to dress up and mingle with the fashion industry.
Gain New Perspectives
Not all adventure has to be blood-pumping. Trying new things is about expanding your interests and perspectives. If you have a little weird streak and natural phenomena interests you, here are some eccentric ideas to add to your list.
Visit a haunted house in New Orleans, Louisiana.

Wonder at Stonehenge in England.

Try to catch a glimpse of the Loch Ness Monster in Scotland.

Audition to be on a gameshow! A win is not guaranteed, but the experience will be exhilarating.

Attend a séance. Even if you do not believe in ghosts and the paranormal, the atmosphere alone might be interesting.

Take a genealogy test and see what makes up your heritage.
Manage your Meds Along the Way – Less Worry, More Adventure!
While you are out busy checking off items on your bucket list, Hero's medication management system can assist with medicine management. With an exciting new lifestyle, you may not do the best job of adhering to your medication schedule. Hero's automatic pill dispenser and app reminders can take a load off your responsibilities. You can spend more time planning adventures, rather than worrying about whether you remembered to take your medication.
Hero's Vacation Mode allows you to set your vacation dates, dispense the pills you'll need ahead of time, and store them in their original containers for travel. The app will still remind you to take your meds and track your adherence while on vacation, so you'll be sure to stick to your schedule!
Key Takeaways
When people think of retirement, they automatically associate it with financial preparation. But mental health is just as important, and creating a plan is a great way to prepare yourself for this new lifestyle. You will have so much more time, which, if planned properly, can be used in a wonderful way. Exciting adventures, relaxation time and trying new things are just a few ideas that deserve a place on your retirement bucket list.
We hope this list was helpful and that you're already planning out in your head where you want to go next weekend! Wherever you end up, let Hero take care of your medication -- you've got funner things to do!
Sources
https://www.annuity.org/retirement/lifestyle/retirement-bucket-list/
https://www.pbs.org/newshour/nation/think-youre-old-bucket-list-90-somethings-disagree
https://discussion.roadscholar.org/b/blog/posts/top-12-hobbies-for-retirement
Complex med schedule? We solved it.
Hero's smart dispenser reminds you to take your meds and dispenses the right dose, at the right time.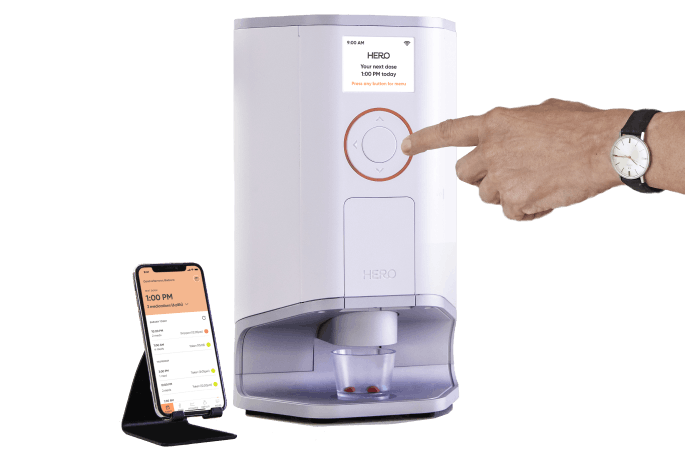 The contents of the above article are for informational and educational purposes only. The article is not intended to be a substitute for professional medical advice, diagnosis, or treatment. Always seek the advice of your physician or other qualified clinician with any questions you may have regarding a medical condition or its treatment and do not disregard professional medical advice or delay seeking it because of information published by us. Hero is indicated for medication dispensing for general use and not for patients with any specific disease or condition. Any reference to specific conditions are for informational purposes only and are not indications for use of the device.