Pill Dispensers With Alarms: All You Need to Know
---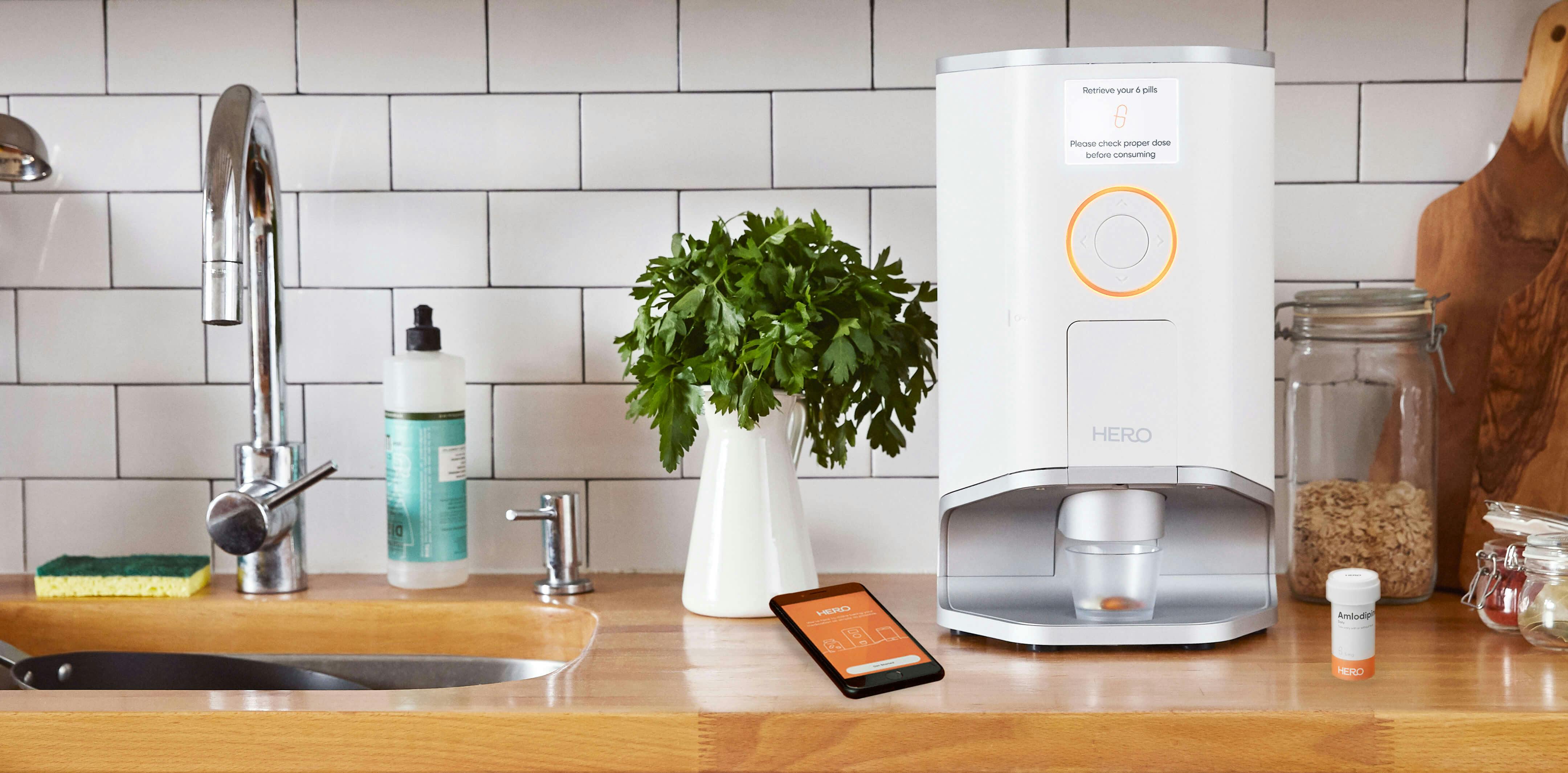 Find out what is the best pill dispenser with an alarm that improves medication adherence, prevents missed doses, and offers peace of mind for patients and caregivers. Explore the benefits of medication management systems like Hero and upgrade your health routine today!
Pill Dispensers with Alarms: A Lifesaver in Medication Management
As we age, medication management becomes a significant responsibility. Medications, when taken correctly, can enhance our quality of life. However, taking the wrong medication, at the wrong time, or in the wrong dose can have detrimental effects.
Daily medications are often scheduled to slightly overlap in your body, ensuring a steady amount of medication circulates at all times. If medication is taken too late, it could leave your body without the extra help that medication provides, leading to discomfort or other negative effects. Conversely, taking medication too early could lead to health issues ranging from nausea to overdosing1.
Given the importance of taking medication at the right time, having a medication dispenser that also serves as a medication reminder is not just a bonus functionality -- it's a necessity.
What is a Pill Dispenser?
Pill dispensers, available in various styles, are designed to accurately provide one dose of medication at a time, keeping the rest of the meds safely stored away until it's time for the next dose. They also serve as a pill organizer. 
Depending on the dispenser's storage capacity, it can handle multiple types of medications at once, dispensing several types simultaneously if they are meant to be taken together.
Complex med schedule? We solved it.
Hero's smart dispenser reminds you to take your meds and dispenses the right dose, at the right time.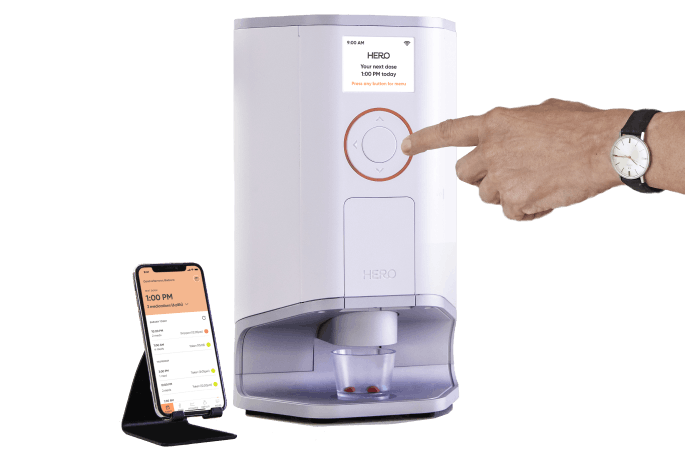 How Does an Automatic Pill Dispenser Work?
An automatic pill dispenser with an alarm reminds you when it's time to take medication and then dispenses the medication for you. This feature could be especially beneficial for patients in an assisted living facility, for example.
The Benefits of Pill Dispensers
Reminders from pill dispensers with alarms may help to decrease the risk of missing doses, and therefore may help to foster better medication adherence outcomes. Many individuals taking daily medication are often distracted by watching the clock to ensure they stay on track; an alarm allows you to focus on enjoying your day instead of counting down the minutes to a dose.
The Limitations of a Traditional Medication Dispenser
Most medication dispensers with alarms limit how many daily alarms you can set, making them a suboptimal option for pills taken at varying times or just a few times a week.
With meds stored out of sight in a medication organizer, it's also crucial for you and your caregiver to keep track of prescription refills. Being unable to see the pills can become an issue for some users who enjoy the freedom of medication dispensing so much that they no longer make a conscious effort to track their medication or their adherence.
The Best Solution: Fully Customizable Automatic Pill Dispensers
Fully automated medication management systems like the Hero pill dispenser and app are designed to prevent double dosing by allowing you to create a medication schedule tailored to your exact needs, surpassing the basic functionality of traditional pillboxes with beeps and alarm sounds.
Aside from a pleasant chime and a gentle flashing light on the dispenser itself, Hero can send texts, calls, and app notifications directly to your phone to let you know it's time for a dose. Additionally, if you're late to a dose or miss a dose, you can also set Hero up to send notifications to a family member or caregiver to help keep them in the loop.
Improve Medication Adherence with Hero
Hero can store and organize up to 90 days' worth of 10 different meds, with the capability to program an additional 10 medication reminders right in the app, so that you can help to ensure that you get the right dose of the right medication, at the right time.
One of the secrets to Hero's ease of use is in the connectivity between the dispenser and mobile phone app, which communicate directly through your home's WiFi. This gives you real-time access to your dosing schedule, medication reminders, and your medication information and adherence, whether you are at home or at a doctor's appointment.
Even with your pills stored away in the dispenser, Hero also keeps track of refills for you and sends you a notification when pill count is getting low, further simplifying medication management.
Hero: Connecting Patients, Caregivers, and Healthcare Providers
Hero provides a closed-loop between healthcare providers, patients, loved ones, and caregivers. The app allows everyone involved to stay up-to-date on prescription information, dose changes, and medication adherence, all in just a few taps.
In addition to a lifetime warranty, Hero offers 24 hours a day, 7 days a week customer service with their affordable membership. If you ever have a question or need help, Hero is here, no matter the time of day.
As a user-friendly device, Hero is designed to easily fit into your life, providing a solution for managing not just medications but also supplements and vitamins. Unlike other automatic pill dispensers and a traditional pill organizer, Hero offers a sophisticated solution for proactive pill management.
Summary: The Power of Automatic Pill Dispenser
Pill dispensers remain a great option for keeping medication safely stored and easily dispensed, replacing the need to open bottles and sort pills into a weekly pillbox. Alarm-equipped dispensers provide extra assistance by reminding you when it's time for a dose, though they do have their caveats for medication schedules more complex than daily doses.
With the increasing number of people experiencing polypharmacy, Hero is an ideal tool to easily manage multiple medications and dosing schedules. The Hero dispenser and app work in conjunction to store, dispense, notify, report, track, and manage. Home care has never come with so much peace of mind.
If you're ready to upgrade from an automatic pill dispenser with an alarm to an entire medication management system designed with you in mind, get started with Hero today.
Sources:
https://www.meridianpsychiatricpartners.com/2018/07/medication-management-consider/#:~:text=Medication%20management%20is%20a%20level,by%20a%20qualified%20physician%2Fprescriber.
https://www.ahrq.gov/patient-safety/reports/engage/interventions/medmanage.html
https://www.nia.nih.gov/health/topics/medicines-and-medication-management
The contents of the above article are for informational and educational purposes only. The article is not intended to be a substitute for professional medical advice, diagnosis, or treatment. Always seek the advice of your physician or other qualified clinician with any questions you may have regarding a medical condition or its treatment and do not disregard professional medical advice or delay seeking it because of information published by us. Hero is indicated for medication dispensing for general use and not for patients with any specific disease or condition. Any reference to specific conditions are for informational purposes only and are not indications for use of the device.