How Do the Hero Pill Dispenser and Hero App Work?
---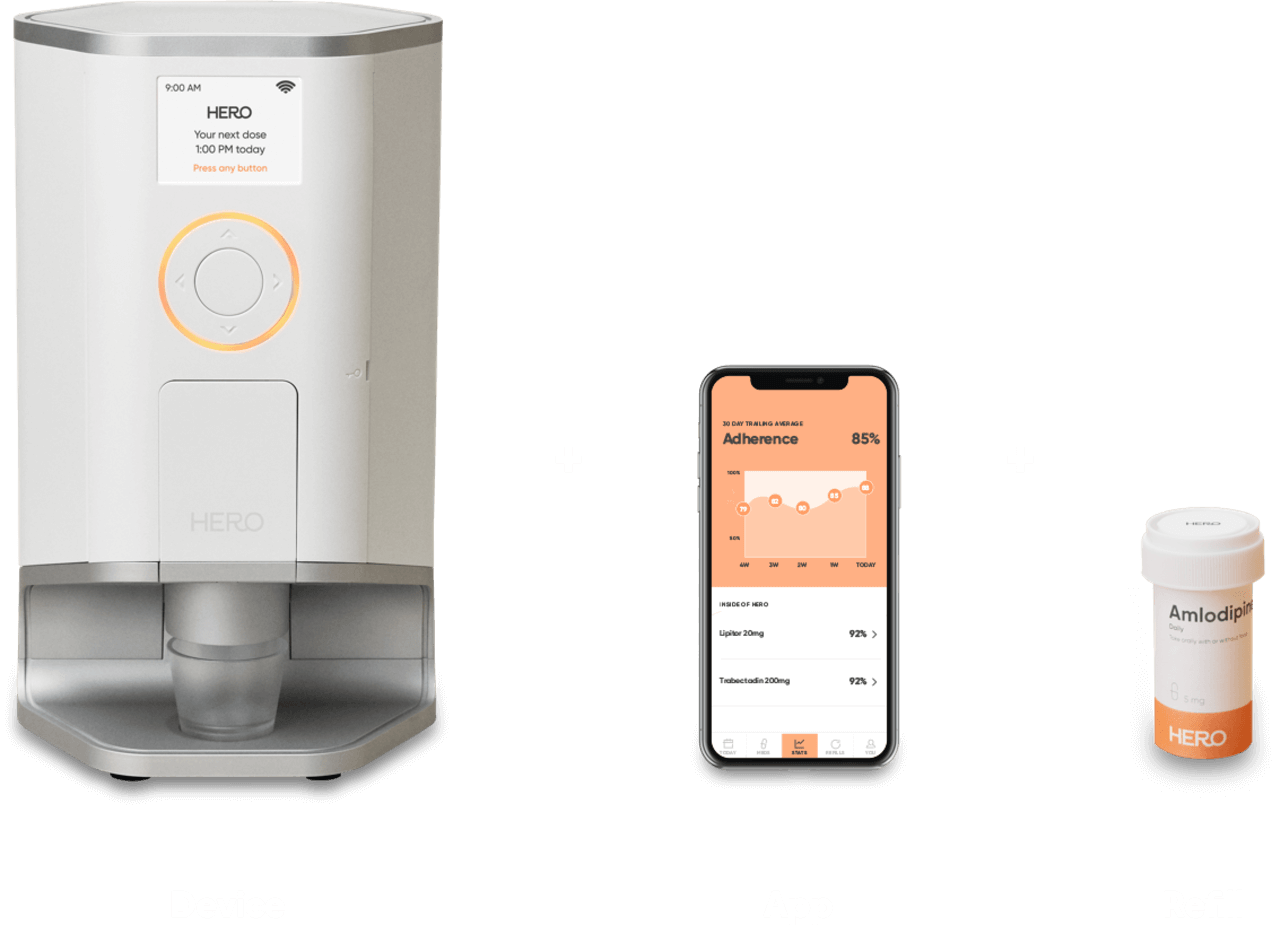 Organizing prescription bottles, remembering when a dose should be taken, and trying to stay on top of medication schedules and refills can make medication management feel like a second job.
Luckily, it doesn't have to be.
Hero is here to help streamline med management to make the whole process a lot easier and a lot safer for everyone involved.
Medication at the Right Time, Every Time
Hero automatically organizes and dispenses up to 10 different medications, supporting any pill size or shape. It can also track up to an additional 10 medications in the connected app, offering reminders and interaction warnings for pills not organized in the dispenser.
The main goal of Hero is not to replace the caregiver, but to assist them in the entire medication management process.
The Dispenser
The Hero dispenser is your optimal solution for medication storage, organization, and dispensing, all in one device.
This easy-to-use dispenser allows you to store up to 90 days' worth of 10 different prescriptions within its compartments. You can then schedule specific doses through the app, including reminders and notifications that help you and your caregiver stay on track.
When it's time to take your medication, a pleasant chime lets you know your pills are ready for dispensing. The dispenser will prepare your medication, have you confirm you're ready for dispensing, then will drop all of your prescriptions into an easy to grab cup.
Polypharmacy
Polypharmacy refers to taking five or more medications at once, often for different chronic conditions. When dealing with many medications, you will often find yourself with a complex schedule to follow. In many cases, this involves multiple medications prescribed by different providers, running the risk of the patient being over-prescribed or medications interacting in negative ways.
Those dealing with polypharmacy may find it difficult to keep track of when each medication should be taken. This becomes especially challenging for seniors, who are often subject to memory degeneration just as they become most susceptible to polypharmacy.
The App
The Hero app is your go-to solution for medication tracking, allowing you to see real-time updates about dose scheduling, medication information, and refill needs.
The app can send you or a caregiver a text or call reminder when it's time to take your medication. This allows you to be away from your dispenser, enjoying life, while helping to make sure you don't miss a dose.
In addition, the Hero app is your real-time tool to set up and manage your dispenser, allowing you to make updates, access your info, and schedule reminders anywhere, anytime. No more writing down easy-to-lose instructions on a piece of paper during doctor's appointments, or having to remember that one of your doses changed. Simply take your phone with you to your appointment and make the adjustments and take notes while there, and the dispenser will have you confirm your changes when you get home.
Your healthcare provider may also ask about missed doses, and if you're taking your medication on time -- this info is vital to help them determine if your medication is working well for you. The Hero app tracks every dose, showing if a prescription was dispensed on time, late, or completely missed. For caregivers, this means no more tracking through a notebook or spreadsheet -- simply open the app and the info is at your fingertips.
Benefits of the Hero System
For caregivers, Hero can help alleviate the stress and anxiety surrounding the medication process.
Hero greatly reduces a lot of the risks associated with polypharmacy, such as overdose or mismanaged medication.
Medication management with Hero gives some independence back to the patient. Hero helps reduce healthcare costs due to increased patient safety, and gives patients back their team when living alone. They can feel more in control of their health and well-being thanks to managed dosing and scheduling, becoming less reliant on people they'd rather be spending quality time with instead.
Being a caregiver is a full-time commitment, with a lot of caregivers often spending over 40 hours a week with the person they care for, taking responsibility for that person's safety and daily quality of life.
By helping to streamline med management responsibilities, Hero ultimately gives you and your loved the peace of mind you deserve.
Getting Started with Hero
While Hero offers several one-of-a-kind features, the system is designed to be intuitive and simple to use at every step, from setup to dispensing to refills.
Prepping the Hero Dispenser
The Hero dispenser itself needs just a WiFi connection and a standard outlet -- plug it in and connect it, and the dispenser screen will guide you through the rest of the process.
Next, you'll need the app: enter the names of all the medications you are loading into the dispenser, and set up the dosing schedules. The device will give you a cartridge to load each medicine.
Inputting the correct medication name and dosage is vital, as Hero will check all medication to help ensure they have no drug-drug interactions.
Using Hero
Using the dispenser is simple. When it's time for a dose, you will be alerted with a pleasant chime and a colorful light. Simply press the dispense button and your pills will be dropped in the medication cup.
The Hero App can send you pop-up notifications as well as a call or a text to remind you it's time to dispense.
The reminder system is customizable to your needs, so you can get as many or as few reminders as you like.
As a caregiver, the app can send a few different handy notifications such as when it's time for a dose, if a dose is late or missed, as well as when it's time for a refill.
If you would like a second safety measure, Hero allows you to create a 4-digit passcode to input on the screen for medication to be dispensed, keeping meds accessible only to those needing access.
Of course, issues such as power outages or loss of internet can happen. Rest assured that you'll be still able to access your medication with the safety key, which allows you to manually unlock the dispenser and retrieve your medication.
Hero also offers some other notable features, including:
Travel Mode

: allows you to dispense pills ahead of time to take with you on your trip, while still being able to take advantage of the app, text, and call reminders

Caregiver Notifications

: notifies your caregiver if you miss a dose, take a dose late, or are running low on pills

Adherence Tracking Reports:

clearly shares data about when doses where missed, and how well the patient is adhering to their medication schedule

PRN Meds Limit:

sets a limit on how many as-needed meds can be dispensed
Updates: continuous software and firmware updates to keep your app and dispenser running smoothly
The Hero Membership
By signing up for a Hero membership, you have access to the Hero dispenser, the Hero app, and 24/7 human support.
Having a membership price allows Hero to be more affordable upfront, making it accessible for a greater number of people. Many dispensers on the market require a large upfront cost, becoming a major purchase that's out of reach for many. They also provide far less features, paired with the fact that none offer an app that connects both patients and caregivers. Our membership model instead offers a low monthly cost over time, making the Hero dispenser affordable and available to all.
For under $1 a day you also get unlimited customer service and a lifetime warranty; if any part of the hardware malfunctions, we can repair or replace your device, giving you the peace-of-mind that you will always be covered.
Ready for Optimal Med Management?
Let Hero replace that collection of pill bottles on your kitchen counter, so you can get back to living life knowing your meds are managed. Click below to get started with your membership.
Complex med schedule? We solved it.
Hero's smart dispenser reminds you to take your meds and dispenses the right dose, at the right time.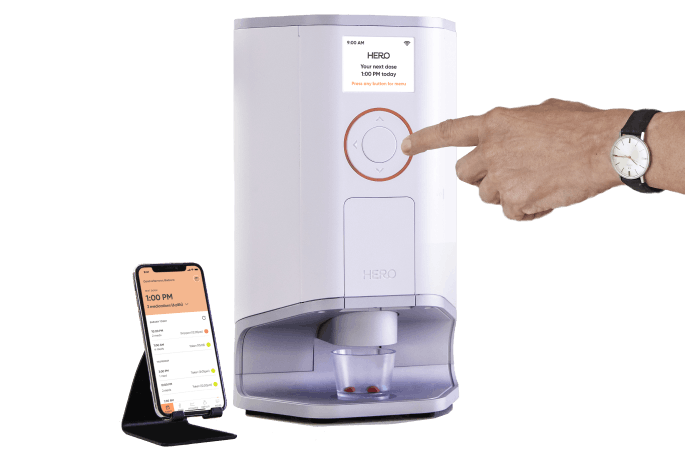 The contents of the above article are for informational and educational purposes only. The article is not intended to be a substitute for professional medical advice, diagnosis, or treatment. Always seek the advice of your physician or other qualified clinician with any questions you may have regarding a medical condition or its treatment and do not disregard professional medical advice or delay seeking it because of information published by us. Hero is indicated for medication dispensing for general use and not for patients with any specific disease or condition. Any reference to specific conditions are for informational purposes only and are not indications for use of the device.