How a Hero Medication Dispenser Can Improve Patient Safety
---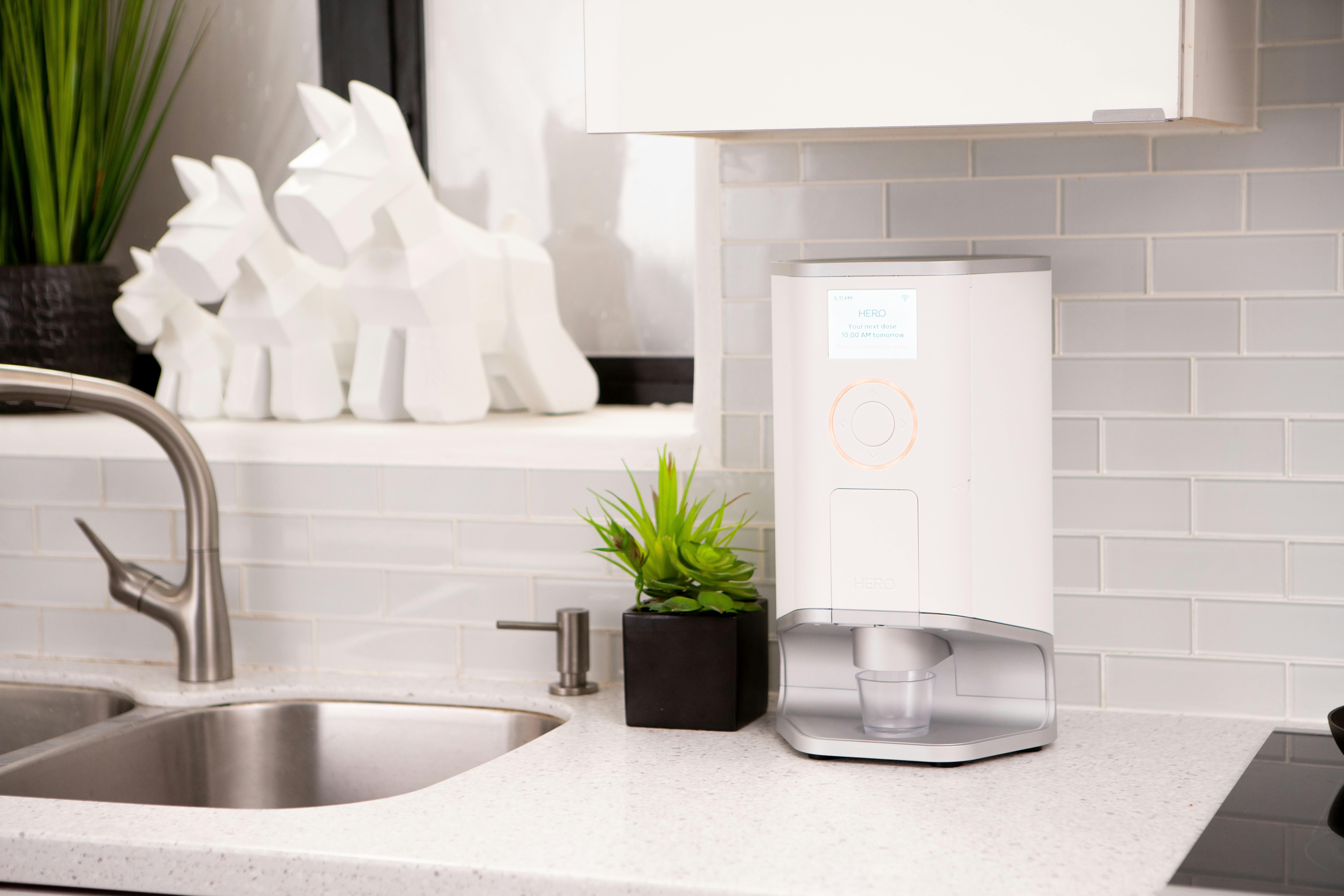 Even the most careful, meticulous caregivers and health providers are vulnerable to human error. An oversight in dosages or medication times can have serious side effects for the user, and adverse drug reactions and overdoses are unfortunately very common in the elderly community.
Automated pill dispensers can be a life-saver for those susceptible to medication errors. Not only do they improve patient safety, but they also provide peace of mind to those administering medication.
Hero's automated dispenser helps to improve patient safety by focusing on medication management as a whole--not only automatically dispensing medication when it's time for a dose, but also providing tools for refill management, medication records, and reminders if doses are missed.
Here's how Hero can improve patient safety, one feature at a time.
Automated, Scheduled Dispensing
The Hero dispenser helps ensure the right dose is taken at the right time. Once medication is scheduled through its connected app, Hero takes charge of accurate prescription management and can greatly reduce the chances of missed or late doses that could result in adverse health outcomes.
The integrated app allows both the user and the caregiver to receive reminders each time it's time for a dose. It can also set daily dispensing limits for certain medications, allowing you to safely store as-needed medication in the dispenser. In the event you are away from your home, Hero can even pre-dispense the medication you'll need ahead of time, and the app will still notify you when it's time for a dose.
Ability to Track Doses and Prescriptions
The Hero dispenser and app allow for a closed-loop between the physician, caregiver, pharmacist, and patient by tracking medication adherence and notifying patients and caregivers about needed refills. With this clear line of communication, the opportunity for medication errors is greatly reduced.
Safe Prescription Storage
The Hero dispenser properly stores and tracks up to 10 different medications and offers passcode protection to prevent others in your home from dispensing pills. In the event of an emergency--say, a power outage--Hero's Safety Key also providers a manual override to help you access your medication.
The Reality of Human Error
Up to 125,000 deaths a year are caused by errors in medication management. In a survey of pharmacists, 53% of them even said that they have made drug errors in the last 60 days, including errors in dosage, labeling, or data entry.
Caregiver fatigue can also lead to incorrect dosing and adverse drug reactions. When a caregiver is working well over 40 hours a week, they are more likely to make mistakes counting out pills or following a medication schedule.
Hero addresses this problem by taking some of the stress off the caregiver while improving patient safety. While any piece of technology has its occasional flaws, automated systems are less prone to mindless errors, especially those due to stress or fatigue.
Dangers of Overdoses or Adverse Reactions
No matter what system you are using to manage medication, it is important to be vigilant of the signs of an overdose.
Signs of overdose that warrant immediate medical attention include:
Shallow breathing

Weak pulse

Excessive tiredness or drowsiness

Hallucinations

Seizures

Severe agitation or depression
Some of these effects can be more subtle than others, so it is vital for caregivers to keep a close eye on their patients--even with automated dispensing.
Fortunately, automated systems like Hero can help lower the odds of incorrect dosages. The pills in the Hero device are dispensed into a cup based on your indicated schedule, preventing you from having to fumble through pill boxes or pill packs and potentially dropping or losing pills in the process.
Beyond overdoses, adverse drug reactions can occur when a medicine is taken correctly but is incompatible with other drugs in your system
The signs of adverse drug reactions can include:
Drowsiness

Itchy skin

Blistering or swelling

Trouble breathing

Dizziness

Hives
Reactions like these can happen as soon as you take the medication or up to two weeks after your last dose, making them very difficult to predict or track.
Luckily, this is another problem that can be solved with an automated dispenser. Hero is always up-to-date with every prescription that the patient needs, making it clear what medication is taken when, and what medications could potentially lead to adverse drug effects.
How Hero Can Help at Home
Hero makes medication management easier for everyone involved. Your family will have more time to spend together and less time worrying about pills.
Making sure medication is ready to go and taken correctly can be very difficult for just one person to remember. It can be even more difficult when you're doing it for someone you love. That's why Hero wants to give you the assurance that your loved ones are being taken care of.
The Bottom Line
With automated dispensing, prescription medication can be more effectively managed to reduce the chance of human error that might result in negative side effects and even hospital visits in the worst-case scenario.
Medication dispensers like Hero help streamline the management process. By making it easier to manage multiple prescriptions and dose scheduling, Hero ensures that patients get the best possible quality of life so they can enjoy what matters most.
Sources:
Complex med schedule? We solved it.
Hero's smart dispenser reminds you to take your meds and dispenses the right dose, at the right time.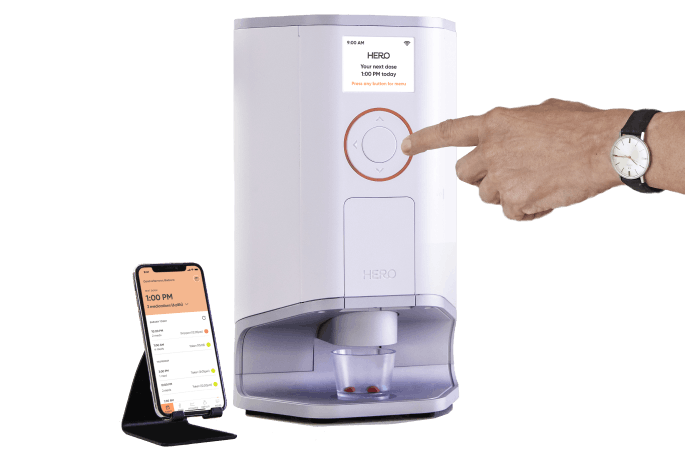 The contents of the above article are for informational and educational purposes only. The article is not intended to be a substitute for professional medical advice, diagnosis, or treatment. Always seek the advice of your physician or other qualified clinician with any questions you may have regarding a medical condition or its treatment and do not disregard professional medical advice or delay seeking it because of information published by us. Hero is indicated for medication dispensing for general use and not for patients with any specific disease or condition. Any reference to specific conditions are for informational purposes only and are not indications for use of the device.