Are pill organizers really safe?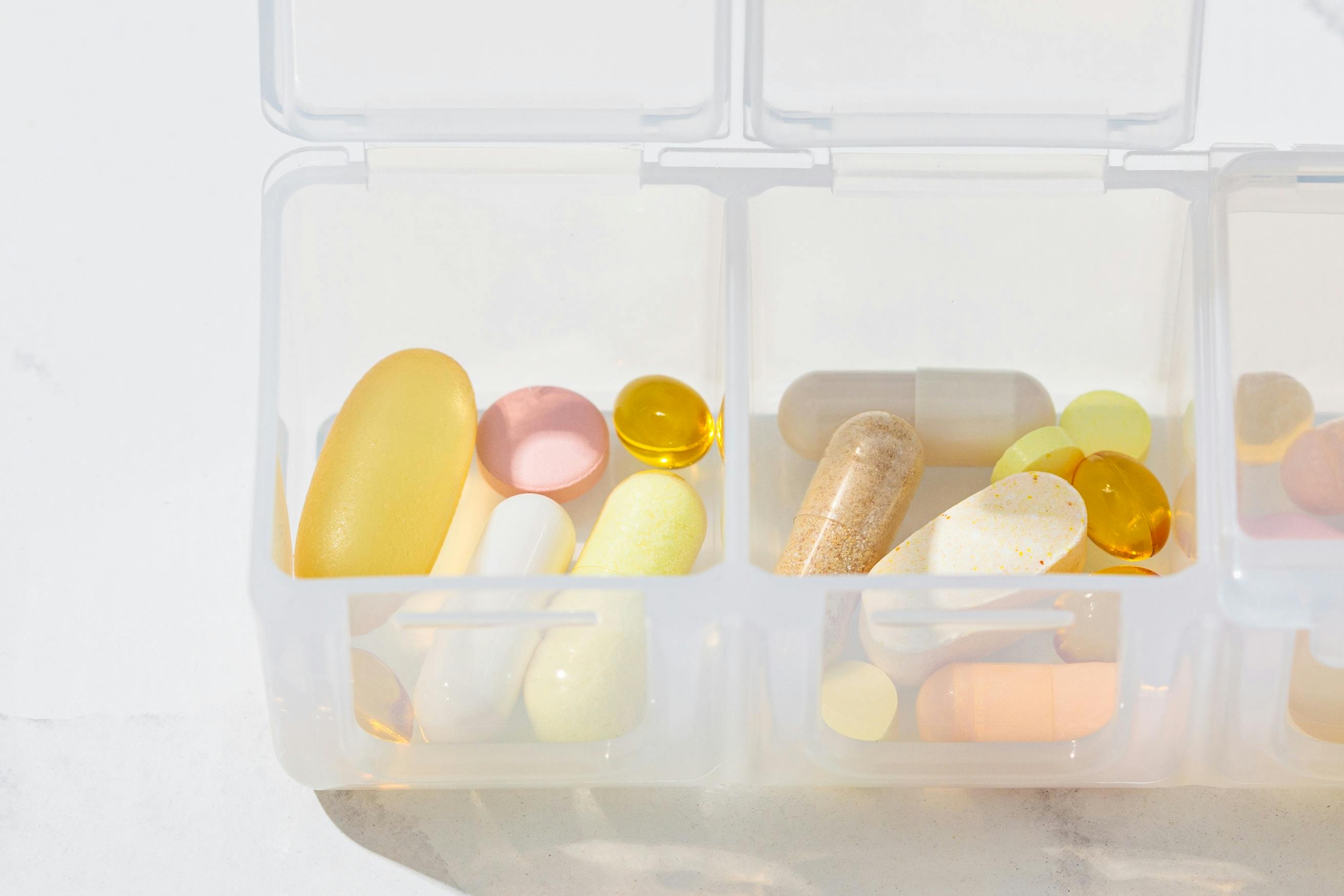 If you or your loved one takes several medications a day, keeping them organized can be a demanding task. No matter how hard you try, it can be easy to forget a dose, take it at the wrong time, or take the wrong medication altogether.
Pill organizers are a popular way to minimize medication errors. But can you really trust them with your health?
Read on to learn about different types of pill organizers, their common pitfalls, and what you can do to improve your medication management.
What are pill organizers?
Pill organizers are containers with one or more compartments that people use to store medications in pill or capsule form.1 You can easily find them online or at any drug store.2
Pill organizers come in different shapes (bottles, boxes, cases, etc.) and have different compartment sizes to accommodate different types of regimens.1
The main advantages of using pill organizers are:
They can make staying on top of medications easier

They help you follow the medication schedule prescribed by your doctor

They help you prevent missed doses and other medication mishaps

3
Common types of pill organizers 
Weekly and monthly pill organizers
In their most basic form, pill organizers are plastic boxes that can hold up to a week or a month's worth of medication. 
Weekly pill organizers contain seven compartments, with markings for each day of the week.3 Monthly pill organizers are larger and use various colors and symbols to identify the week, day, and time of day (morning, afternoon, and night).4
You may find variations of these models, such as larger organizers to accommodate other pills like certain vitamins and supplements. There are also models that open more easily for people with movement limitations.4
Pill organizers with a reminder alarm
Some weekly or monthly pill organizers come with an alarm system that tells you when it's time to take your meds. Usually, the alarm will beep or light up the organizer's screen until you take your dose.4
Locking pill organizers
Locking pill organizers come with a lock or PIN that you use to access and dispense medications.4 These are particularly useful if you're worried about others getting into your medications. 
Common pill organizer challenges and safety considerations
Studies show that only 53% to 68% of older adults take their medications correctly while using organizers. The most common mistake is taking medicine from the wrong compartment. This is dangerous as it can compromise the entire week.6
Despite their widespread use, there are no recommendations for or against the use of pill organizers. And according to some experts and scientific studies, they may not even be the best option for everyone.5
For example, older adults or people with motor or cognitive impairments may have trouble opening pill organizers and removing the meds they need to take.5 When this happens, they sometimes try to flip the pill organizer onto their other hand, causing pills to fall out or get mixed up, especially when the organizer only has only one lid covering all of the compartments.6
Another common issue with the pill organizer is that the same compartment stores multiple pills. If you need to skip or switch out one of your meds, these simple tasks can become challenging if all you see is a bunch of white pills.5 Also, weekly pill organizers may not be the best choice for those who need to separate the medications to be taken before and after meal times.6
What's more, filling up a pill organizer is time-consuming and requires some understanding of how to organize and handle a weekly schedule. Although pill organizers with alarms help with medication adherence, some report that the alarm is often triggered at the wrong time, the electronic display is small and difficult to see, and the buttons are small and hard to press.6
Finally, in one study observing people who used pill organizers, the ink that marked the days of the week on each compartment wore off after two weeks of use, leaving room for even more medication errors.6
Goodbye pill organizer, hello Hero!
Did you know there's a better way to manage your meds? 
Hero is an all-inclusive service on a mission to take the hassle out of taking meds. A Hero subscription comes with an award-winning smart automatic pill dispenser, which holds, sorts and dispenses up to a 90-day supply of 10 different meds according to schedule.
Setting up Hero is easy; simply add your medication list to the Hero app and add your meds to the dispenser's easy-to-load containers. When it's time for a dose, the Hero smart dispenser lights up and makes a sound; you'll just push one button to dispense your dose! You'll also receive pill time reminders and missed-dose alerts in the app, plus receive personalized medication adherence reports to see if you're on track. This makes it much easier to take the right meds at the right time!
The final verdict on pill organizers
Pill organizers are suitable for those who take a lot of medication and need to keep them in order, but they are not always the best option. An automatic smart dispenser – like the one included in a Hero subscription – makes medication handling easier and can help you better stay on top of your meds. 
Sources
1. Borja-Oliveira CR de. Pill organizers and pill cutters: risks and limitations. Revista de Saúde Pública. 2013;47:123–7.
2. Medline Plus. Keeping your medicines organized. https://medlineplus.gov/ency/patientinstructions/000600.htm. 2020.
3. Huang H-Y, Maguire MG, Miller III ER, Appel LJ. Impact of Pill Organizers and Blister Packs on Adherence to Pill Taking in Two Vitamin Supplementation Trials. American Journal of Epidemiology [Internet]. 2000 Oct 15;152(8):780–7. Available from: https://doi.org/10.1093/aje/152.8.780
4. Forbes Health. How To Choose The Best Pill Organizer For You. https://www.forbes.com/health/healthy-aging/best-pill-organizer/. 2021.
5. Dowden A. Do pill organisers improve medication adherence? https://wchh.onlinelibrary.wiley.com/doi/10.1002/psb.1865. 2020.
6. e Souza FRD, da Silva Santana C. A descriptive study about the use of pillboxes by older adults. Health N Hav. 2013;2013.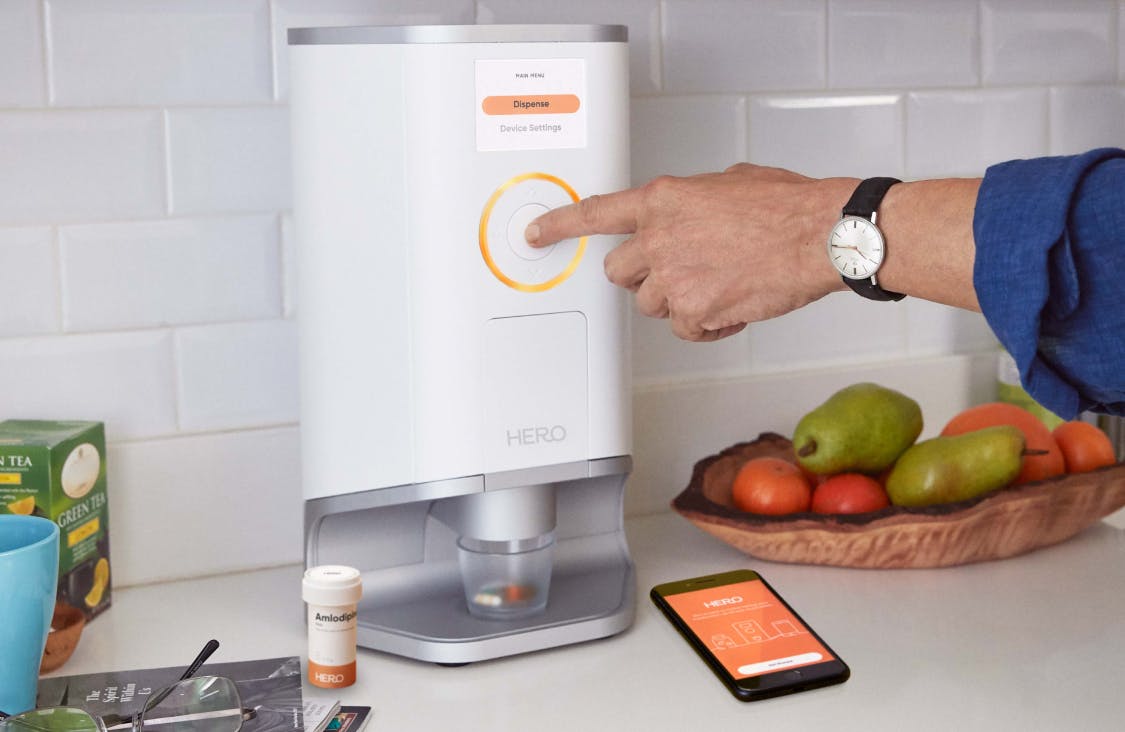 Take the hassle out of taking meds today!
From sorting your meds at the push of a button to delivering refills to you, Hero makes meds one less thing to worry about.
+
$

99.99
one-time initiation fee
90-day risk-free trial, money-back guaranteed
* When choosing 24-month plan
The contents of the above article are for informational and educational purposes only. The article is not intended to be a substitute for professional medical advice, diagnosis, or treatment. Always seek the advice of your physician or other qualified clinician with any questions you may have regarding a medical condition or its treatment and do not disregard professional medical advice or delay seeking it because of information published by us.