Four creative steps to help assemble an effective care team
---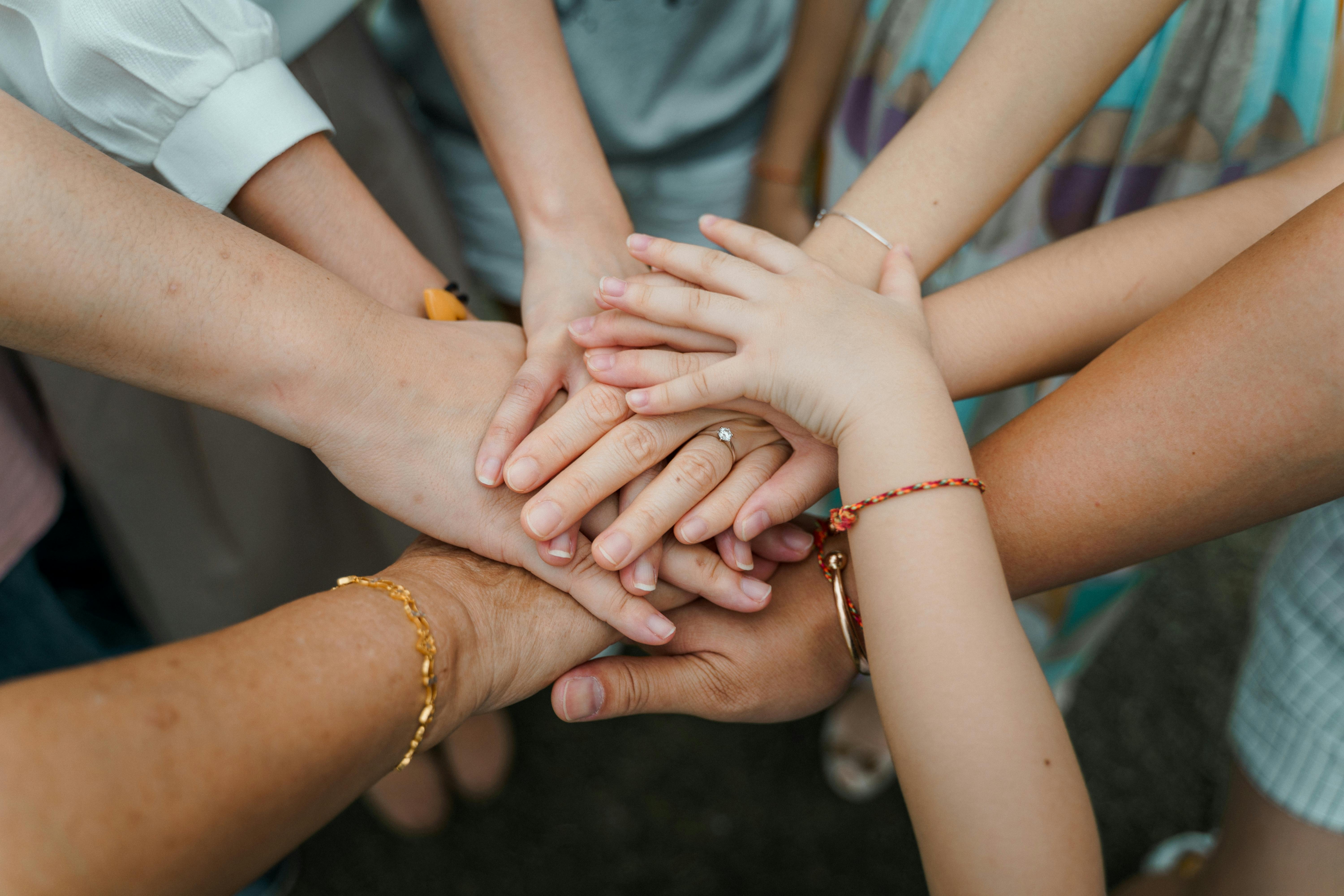 One of the first realizations I had as a primary family caregiver was that I couldn't be the sole person my mom relied upon for care. I was burning out and knew nothing would change if I didn't seek help. Assembling a care team for my mom took intention and creativity.
A care team consists of anyone or anything you partner with to address caregiving-related responsibilities to support you in this role.
Think of caregiving like a bicycle wheel. You may be the hub as the primary caregiver, but you won't be moving forward without the attached spokes.
Below are four creative steps to assemble your effective care team.
Step 1: Assess the skill set among your family
My hunch is that you already had a full plate of responsibilities when caregiving called upon you. The natural place everyone first looks for more help is their family members. Family support is undoubtedly a good starting point. 
Create a list of all your caregiving-related responsibilities. Then, indicate which family member possesses the necessary skills and interests for each task. 
Perhaps your uncle is a whiz with smart TVs and computers and would be willing to be your care recipient's tech support contact 

You admire how your sister consistently pays her bills on time and is good with money; she may be willing to take on the financial responsibilities 

Since your cousin regularly uses grocery delivery services, chances are she would be open to adding a separate order for the care recipient
If you live with a partner and children, consider what responsibilities they may be able to pick up, too. Proactively talk about the day-to-day duties of running a household and identify who will be their primary owner, freeing up your headspace for more pressing matters. These tasks may include laundry, car maintenance, vacation planning, pet care, housekeeping, grocery shopping, family finances, and holiday decorating.
Avoid dismissing your long-distance family members from being a part of your care team. We've got 12 tips on how these individuals can effectively support you and your care recipient from a distance.
While family members often play a significant role in a care team, they aren't the only pool of people to consider.
Step 2: Reach beyond family 
Outside of your family, you will find individuals in your community who want to help you succeed in your caregiving journey.
Your neighbors and your care recipient's neighbors can play a role in your care team. Perhaps these individuals would be willing to help collect mail, bring trash cans to and from the curbside, deliver a meal, or mow the lawn. 
When I was at the height of caregiving, my children were in middle school and high school. They each had demanding classes, and both played travel sports. I found my friends made great homework helpers and gift buyers. One even made the requested homemade cake pops for my son's birthday! The other parents on the team were ecstatic to help arrange mutually beneficial carpools for practices and games.
If you work outside of the home, consider sharing your situation with your employer and asking them for a flexible work schedule or an assignment requiring less travel or deadline pressure. As a working caregiver, you may also have access to an Employee Assistance Program which offers telehealth and counseling services for you and your loved one. Many large companies have employee resource groups (ERGs). These are voluntary, employee-led groups of individuals who join together based on shared interests, like caregiving.
If you are a part of a local organization, ask what resources they have to help family caregivers. For example, your faith community may have a caregiving ministry or offer Stephen Ministers.
Because every human being has an abundance of demands and limited time, we also need solutions that help streamline the caregiving responsibilities. Technology can help.
Step 3: Research your technology options
Identify the areas that are causing you the most stress in your caregiving role. Some examples may be transportation, sharing updates, medication management, physical companionship, and supply ordering. Each of these areas offers technical solutions.
For example, perhaps your care recipient lives alone and struggles to adhere to their medication regimen. An initial solution you may have tried was to set reminders on your phone to call and remind them to take their medications. While this manual practice may have worked initially, over time, the system likely broke down. Hero offers a better solution to help keep your loved one safe and provide you peace of mind. Their medication management service includes a smart device that organizes and dispenses up to a 90-day supply of 10 different pills, an app that tracks adherence and sends dosage and refill reminders, refill & delivery, and 24/7 human support if you ever have questions or feedback, as well as visual and audible reminders and caregiver notifications. Learn more in this Hero product review. 
Here are more ideas on how technology can be a part of your caregiving team.
Step 4: Enlist professional support
Lastly, look to individuals in your community who offer professional support and services. 
To help you get the necessary documents in place, seek counsel from respected attorneys and financial planners. These individuals are well-networked and can connect you with additional community resources.
Ask your primary care doctor or your care recipient's doctor for recommendations on local counselors, hospice care, and reputable home health companies. One common mistake I see family caregivers make is waiting until a crisis before hiring these hands-on helpers. My recommendation is to start the assessment and paperwork processes right away. You will appreciate having the time to test a few different agencies, counselors, and aides out without the last-minute pressure.
Caregiving requires a team effort. There are so many layers to caregiving and life that expecting one person to carry the burden alone will have serious consequences. Caregiver burnout will impact your health and happiness and the quality of care for your loved one. 
When you first start to ask others for specific help, it may feel uncomfortable — a similar feeling to when you were first learning to ride a bike. Keep practicing. Flex your asking-for-help muscles, and your whole caregiving ecosystem will strengthen. There will likely always be a few bumps in the road, but you can confidently move forward with your care team in place.
About the author
Elizabeth B. Miller is a family caregiver, certified caregiving consultant, and founder of Happy Healthy Caregiver. Elizabeth helps family caregivers integrate caregiving and self-care with their busy lives through her speaking, consulting, and online resources. She is the host of the Happy Healthy Caregiver podcast on the Whole Care Network, author of "Just for You: a Daily Self-Care Journal," administrator of the Self-Care Support for Family Caregivers FB Group, Caregiver Ambassador for No Barriers USA, and facilitator of an Atlanta caregiver support group, the Atlanta Daughterhood Circle.
Complex med schedule? We solved it.
Hero's smart dispenser reminds you to take your meds and dispenses the right dose, at the right time.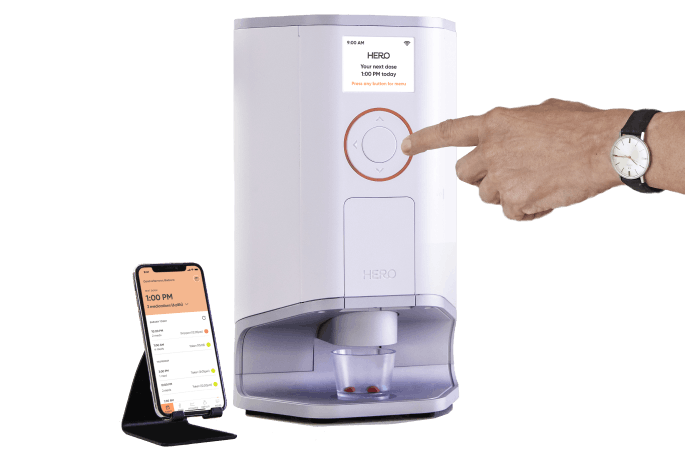 The contents of the above article are for informational and educational purposes only. The article is not intended to be a substitute for professional medical advice, diagnosis, or treatment. Always seek the advice of your physician or other qualified clinician with any questions you may have regarding a medical condition or its treatment and do not disregard professional medical advice or delay seeking it because of information published by us. Hero is indicated for medication dispensing for general use and not for patients with any specific disease or condition. Any reference to specific conditions are for informational purposes only and are not indications for use of the device.