How technology can be a part of your caregiving team
---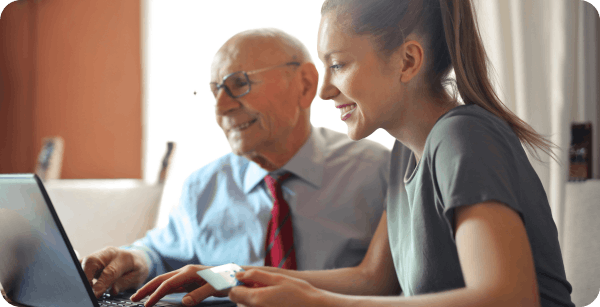 About the author: Elizabeth B. Miller is a family caregiver, Certified Caregiving Consultant, and founder of Happy Healthy Caregiver.
For caregiving to be a sustainable journey, multiple people must often share the care for a loved one. Depending on your care recipient's condition, your care team may consist of family members, friends, neighbors, doctors, professional caregivers, hospice staff, and community volunteers.
While technology requires proper setup and use, the right tech tools can play a prominent role in lightening caregiving responsibilities by saving you time, reducing stress, improving communication, and even providing companionship for you and your loved one.
Below are some creative ways to invite technology to be a part of your care team:
Technology to save time & reduce stress
Time is a caregiver's most precious commodity, and when breaks are too far and few between, one's stress levels can feel overwhelming. When embraced, the following products and services may help minimize the stress related to these everyday tasks and worries:
Meal planning and preparation
Eating is a necessity of life –– and a huge daily commitment! We can spend hours meal planning, grocery shopping, cooking, and feeding others.
Fortunately, technology can streamline these everyday tasks. Most grocery stores and big-box chain stores offer online grocery shopping services; the first few orders may require some time to learn the system, but eventually, grocery shopping can happen in just a few clicks. With online shopping, you can even place an order in your pajamas at 10 pm and schedule your pick-up while driving home from an appointment or errand.
As a long-time family caregiver, I have also tried several meal delivery services over the years. Some were local businesses offering pre-cooked meals which just needed reheating. Others, like Blue Apron or Hello Fresh, arrived on the scheduled day with just the required ingredients for the upcoming dinners. Of course, there are restaurant delivery services like DoorDash and UberEats to provide an impromptu break from cooking. Concierge service companies like Hank can even interview family caregivers and establish recurring delivery tasks to address their needs.
Care recipient safety
Another often overwhelming caregiving responsibility is sorting, dispensing, and refilling your care recipient's medication. In some cases, our loved ones struggle to remember if they took their pills, and we do not always remember to remind them. This can become a major problem when mismanaged meds cause a caregiving crisis, such as a hospitalization.
I remember how important medication management was to mom's care. She took insulin doses four times a day for diabetes, plus over a dozen other medications to manage her heart disease, COPD, and depression. I would often think, "there has to be a system to help keep track and manage her regimen." And today, there is! Hero is a medication management system that can relieve this pressure and provide automatic pill dispensing,visual and audible reminders, caregiver notifications, and adherence tracking. To learn more, check out this Hero product review.
Beyond med management, caregivers often worry about their care recipient being in harm's way when they cannot be with them. Thankfully, wearable devices can allow our loved ones to feel safer and more independent. The LifeStation alert system can be used by care recipients if they fall or are in any situation where they need help, whether they are at home or on the go. The Handsfree Health WellBe Watch also functions as an emergency alert device, while providing heart rate monitoring, a pedometer to track your steps, and a built-in GPS to share your exact location.
Financial assistance
For some, money is another significant source of stress. Many caregivers must manage their loved one's property and finances in addition to their own! In such cases, setting up automatic payments through each bill provider can save time and reduce worry. To get a holistic picture of your care recipient's finances, an option like Carefull may also help. This service watches your loved ones' credit card and bank account activity, and notifies you of potential issues, fraud, or late bills.
Health appointments
When I used to take my mom to her doctor's office, I would lose at least a half-day of work. This time away added up, since I also had appointments for myself, my kids, and my dog. The work also piled up, and usually, the rest of the week became more stressful.
Before 2020, telemedicine or telehealth (appointments by phone or video call) was not typical. Since the COVID-19 pandemic, however, telehealth use has skyrocketed. And while telehealth doesn't work well for every need, it is a viable option for a wellness check-up, follow-up visit, or mental health appointment.
Technology to improve communication
When our plates are overflowing with work, caregiving, and household responsibilities, something has to give. While it can feel easy to isolate ourselves from others, we all need to interact with people to feel happy and healthy. Communication is essential to exchange information, express wants and needs, and develop relationships. For overwhelmed caregivers, technology can help bridge this communication gap.
Coordinating caregiving responsibilities among your care team is one area that requires collaboration and constant communication. Group texts can be acceptable for quick notes, but critical updates and instructions are more likely to get lost in the shuffle. Consider using an app created to help family caregivers such as Ianacare, Carely, Lotsa Helping Hands, or CircleOf. These apps help family caregivers request specific help, coordinate care, receive meals, share updates, and discover helpful content.
Beyond coordinating with the care team, caregivers may also have trouble remembering small to-do tasks requested by their care recipient, especially if they come up late at night or while actively doing another task. One way to quickly capture these thoughts before they flee is to use your smart speaker or smartphone device. For example, when I was putting my mom's compression socks on and saw she was in dire need of a nail trim, I would simply say, 'Ok Siri... remind me tomorrow at 9 am to call mom's podiatrist'. Setting up the reminder allowed me to ease my racing thoughts and know that the notification would appear when I was ready to execute the task and when the doctor's office was open to receive my call.
Technology to provide companionship
Oftentimes, our care recipients rely on us to connect them to the outside world. Thinking of creative ways to stimulate them and keep their brains healthy can feel overwhelming. Luckily, there are tech options to help provide education and companionship for our loved ones.
If you care for a loved one with cognitive issues, Clearday at Home can assess the level of care needed and support their mental and physical health with engaging activities. This companionship can allow you to focus on other tasks at hand or take a moment for self-care.
Podcasts about caregiving can also be a great source of comfort and provide you with tips and resources to streamline your responsibilities.
At times, all it takes is a simple online search to discover support groups in your area or virtual meet-ups. There are also online directories that aggregate events and resources, such as the Dementia Map.
When it comes to my caregiving journey, my mom never went anywhere without her iPad. This lightweight device was her lifeline to the outside world, particularly when she was bedridden for two years. To pass the time, she watched the news, FaceTimed with family, enjoyed animal videos on YouTube, read Kindle books, and played games.
--------
We all can use more help in our busy lives. Whether you are looking to reduce stress, save time, or find companionship, consider inviting technology to be a part of your care team to help reduce your caregiving load.
Complex med schedule? We solved it.
Hero's smart dispenser reminds you to take your meds and dispenses the right dose, at the right time.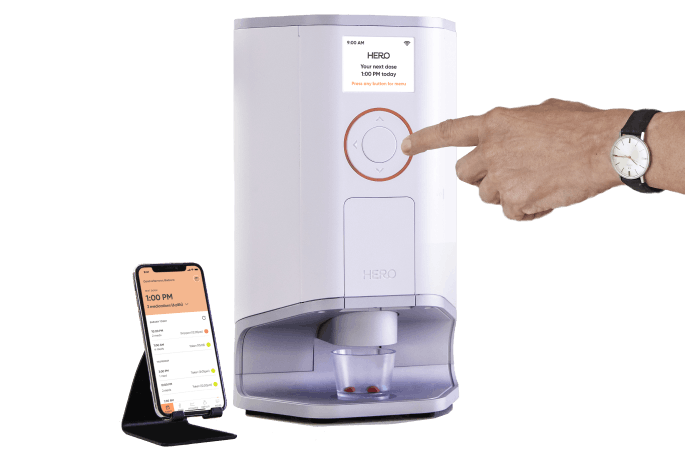 The contents of the above article are for informational and educational purposes only. The article is not intended to be a substitute for professional medical advice, diagnosis, or treatment. Always seek the advice of your physician or other qualified clinician with any questions you may have regarding a medical condition or its treatment and do not disregard professional medical advice or delay seeking it because of information published by us. Hero is indicated for medication dispensing for general use and not for patients with any specific disease or condition. Any reference to specific conditions are for informational purposes only and are not indications for use of the device.