Caregiving for a parent with dementia: what you should know
---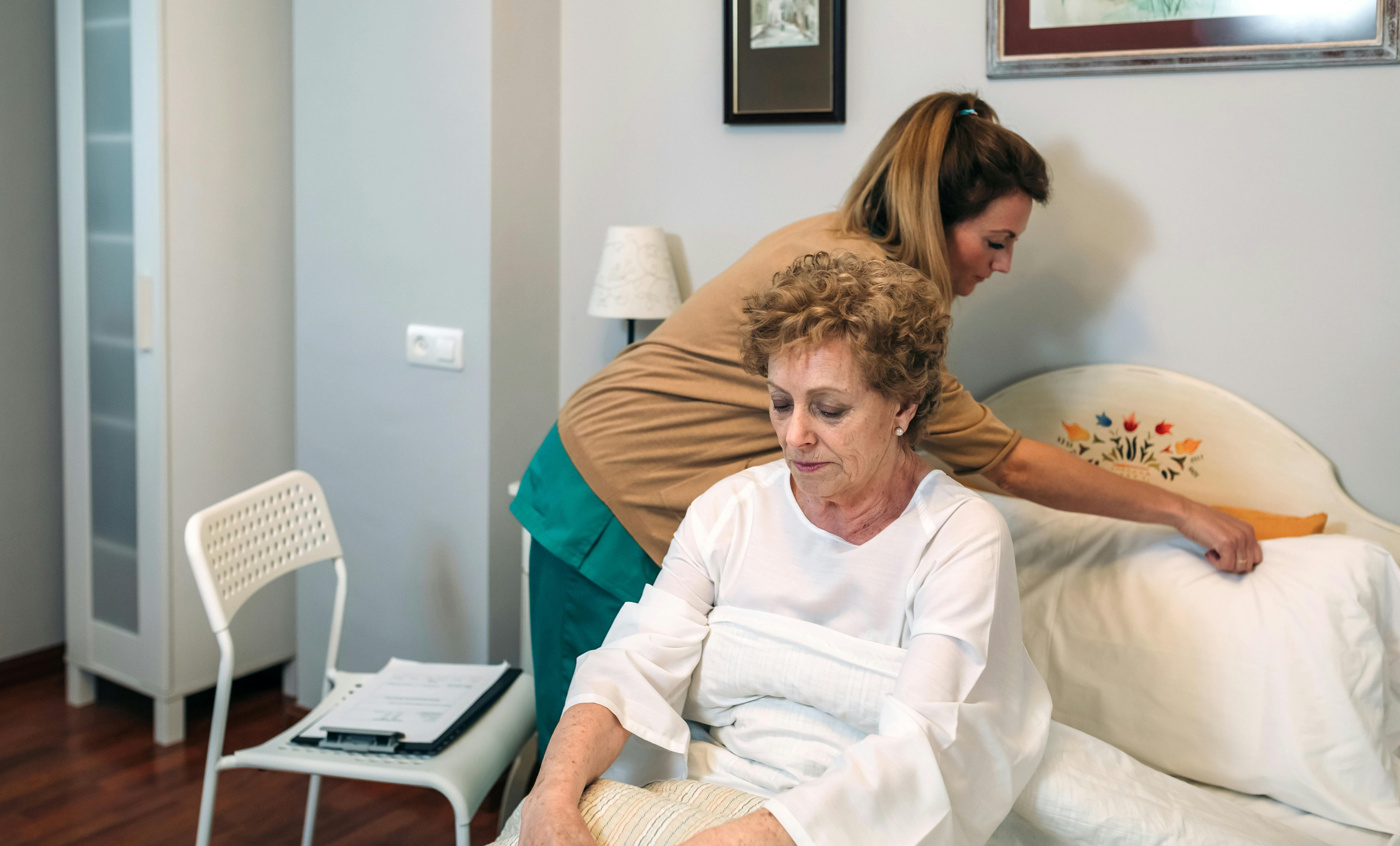 Caring for someone with dementia can be demanding. But while the disease can be unpredictable, understanding its challenges and learning strategies to overcome them can help you care for your loved one with confidence.
What to expect when caring for a parent with dementia
People with dementia suffer from compromised brain function that worsens over time. They often struggle to remember things, think clearly and communicate. They may also exhibit changes in mood and personality.2
Caring for a parent with dementia requires preparation, as the disease can come with a variety of challenges such as dealing with your loved one's mood swings, memory loss, and behavior changes.3
Recommendations for caring for relatives with dementia
Knowledge is everything
Collect all the information you can about your loved one's condition. You can talk with their doctor, consult with friends who've experienced similar things in their families, or find reliable sources online, such as the World Health Organization (WHO) website and the Centers for Disease Control and Prevention (CDC). 
The more you learn, the more you'll know what to expect as their dementia progresses. Do this as early as possible – before caring becomes too tiring and you have less time to spare.1
Be as patient as possible
Patience and kindness are essential when caring for people with dementia. Try not to take things personally.1,2
Communication is key
Knowing how to communicate with dementia patients is essential to maintain your relationship with your loved one, as well as deal with the difficult behaviors that they may develop.2 This includes: 
Speaking clearly, using simple words and phrases. 

Speaking slowly and in a reassuring tone. 

Using yes or no questions when possible. 

Repeating yourself as many times as necessary to get your message across.

2
It's not only about verbal communication – your attitude and body language can also make a world of difference. Make sure that your posture and facial expressions should be in line with what you're saying. Always make eye contact and avoid showing frustration through your gestures (e.g. rapidly tapping your fingers or fidgeting).
Don't do it all yourself
When possible, involve others in your loved one's care. When other people offer help, accept it. After all, caring for a person with dementia is not always a walk in the park.1
Make a list of tasks people can do to help you, such as cooking a meal, picking up medication, or even spending time with your loved one while you rest.4
Understand that you can't change someone with dementia
Although easier said than done, try to understand that the person you're caring for has a brain disorder. Trying to control or change their behavior will be a lost cause, and will make life more difficult for both of you.2
Remember to take care of yourself
To care for others, you need to take care of yourself first. Try to work out regularly, eat healthily, and keep yourself socially active – this will help you avoid physical and emotional burnout.1 When you feel your best, you'll often be able to make better decisions for your loved one.1
Join a support group
Know that you're not alone! Many other people are going through the same things with their loved ones and are eager to share their experiences with you. If you don't know of any support groups in your area, visit the Family Care Navigator and start exploring groups and services that may help you feel supported.2
Managing their meds? Here's an extra tip 
Whether caring for a loved one with dementia or another condition, one of the most time-consuming aspects of caregiving is medication management. With so many pills to stay on top of, it's not uncommon to make a medication error or administer a dose at the wrong time. 
Hero is here to take the hassle out of medication management, leaving more time for you to focus on your other responsibilities, including self-care. Hero's award-winning smart pill dispenser can store, sort, and dispense up to a 90-day supply of 10 different meds at the push of a button. It comes with a medication management app that allows you to add your loved one's medications list, receive pill time reminders and missed-dose alerts, and track their medication adherence.
Sources
1. Hovland, C. A., & Mallett, C. A. (2021). Family caregivers for older persons with dementia offer recommendations to current caregivers: A qualitative investigation. Journal of Research in Nursing, 26(8), 796-806.
2. Family Caregiver Alliance. Caregiver's Guide to Understanding Dementia Behaviors. https://www.caregiver.org/resource/caregivers-guide-understanding-dementia-behaviors/
3. Garcia‐Ptacek, S., Dahlrup, B., Edlund, A. K., Wijk, H., & Eriksdotter, M. (2019). The caregiving phenomenon and caregiver participation in dementia. Scandinavian journal of caring sciences, 33(2), 255-265.
4. Family Caregiver Alliance. Ten Real-Life Strategies for Dementia Caregiving. https://www.caregiver.org/resource/ten-real-life-strategies-dementia-caregiving/
Complex med schedule? We solved it.
Hero's smart dispenser reminds you to take your meds and dispenses the right dose, at the right time.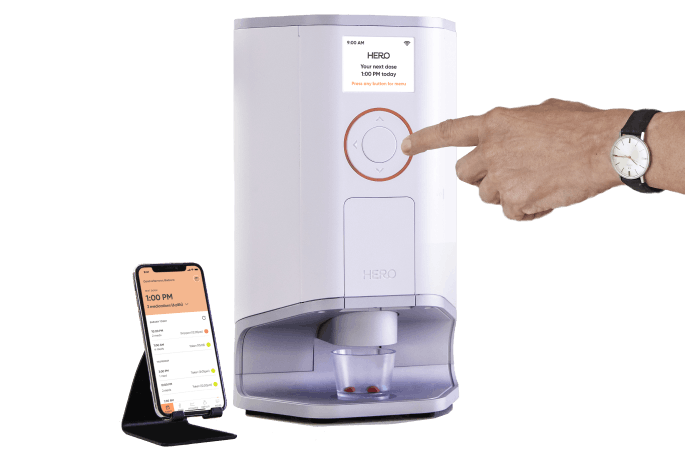 The contents of the above article are for informational and educational purposes only. The article is not intended to be a substitute for professional medical advice, diagnosis, or treatment. Always seek the advice of your physician or other qualified clinician with any questions you may have regarding a medical condition or its treatment and do not disregard professional medical advice or delay seeking it because of information published by us. Hero is indicated for medication dispensing for general use and not for patients with any specific disease or condition. Any reference to specific conditions are for informational purposes only and are not indications for use of the device.