Medication dispensing errors and prevention: how smart automation can help 
---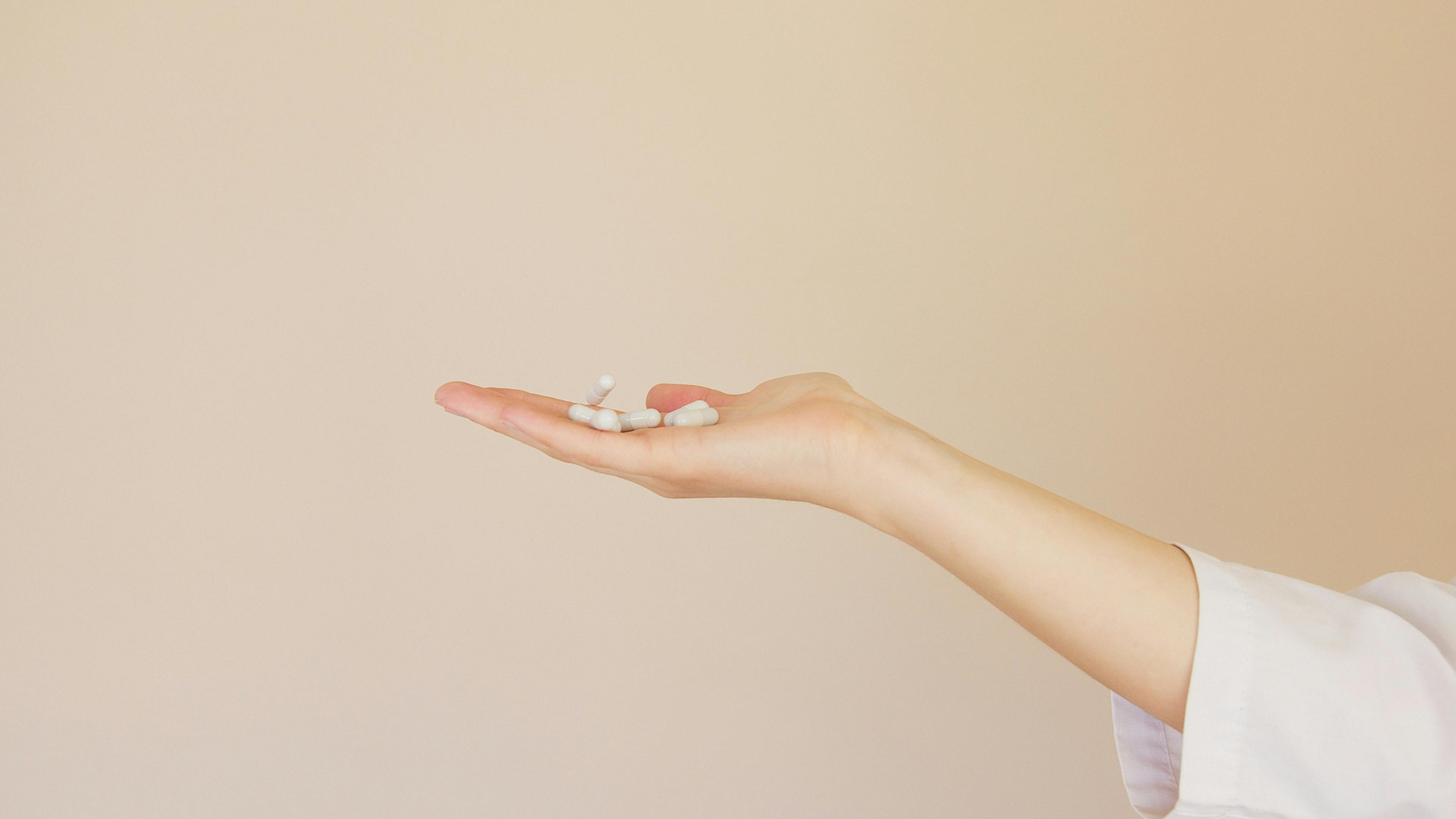 Medication errors claim thousands of lives and affect over seven million people across the United States each year. About one-third of these errors occur when medications are dispensed to patients or loved ones.
Read on to learn how automating the medication dispensing process can help minimize the risk of medication errors, offering relief for overburdened caregivers and healthcare professionals.
What are the most common medication dispensing errors?
Incorrect medication or dose
Medication errors can occur when patients are administered the wrong type of medication or an incorrect dose of the correct medication (an overdose or an underdose). Such errors can have severe outcomes; in some instances, it can even be fatal.1 
These consequences can extend beyond the patient – a few years ago, RaDonda, a nurse in Tennessee, administered the wrong medication to a 72-year-old patient who ultimately suffered brain damage. RaDonda was charged with reckless homicide and felony abuse of an impaired adult, and subsequently convicted of negligent homicide.10 
Incorrect timing 
When meds are not taken at the right time, they may be less effective. Some medications work best when taken with food, while others may need to be taken on an empty stomach. Research shows that certain blood pressure medications are most effective when taken at bedtime as older individuals may experience high blood pressure while asleep, facing higher risks of heart attacks and stroke than younger patients.11 Given this, it's crucial to administer medications at the right times in order to optimize a patient's health outcomes. 
Why do medication dispensing errors happen?
Patient errors
According to the World Health Organization, 50% of patients do not take their meds as prescribed, leading to countless avoidable deaths and hospitalizations.12,13 Taking the right meds at the right time can be challenging for people managing more than one chronic condition, especially when multiple physicians and different pharmacies are involved. Patients battling more than one chronic illness may also experience memory issues, vision impairment, or other problems that make it all the more difficult to take their meds as prescribed.1,4 
Caregiver errors
A caregiver is anyone who takes care of a person with an illness, disability, or special needs. Healthcare professionals with caregiving responsibilities, like nurses, are often pulled in many directions at work. Similarly, caregivers who are family members or friends face distractions and high levels of stress as they attempt to balance work and caring for their loved ones. Distractions have been shown to increase the potential for errors when administering medications to patients or loved ones, including giving someone their meds at the wrong time, skipping a dose, or dispensing the wrong dose.6,7
Pharmacist errors
Pharmacists can indirectly contribute to medication dispensing errors by failing to carefully review prescriptions before administering them. A pharmacy's prescription management software may even fail to flag inappropriate dosages or meds, further contributing to potential pharmacy-related medication dispensing errors.5,8
Payer errors
While payers are not directly responsible for medication dispensing errors, they can encourage providers and pharmacies to minimize medication errors. For example, they may enforce the fact that relying solely on self-reporting from patients on medication adherence may be outdated and inaccurate.9 They can also help subsidize medication dispensers and remote monitoring devices to help track patient compliance and help reduce errors. 
Medication dispensing errors & prevention: how smart automatic dispensers can help 
Automating the medication dispensing process can help deliver the right meds to the right patient at the right time. 
Consider Hero, a medication management service that makes it simple to take the right meds as prescribed for people managing multiple medications. Hero includes a smart dispenser that stores up to a 90-day supply of 10 different meds, which reduces the need for frequent refills and helps lower the number of manual errors. The connected app allows you to set your dispensing schedule, so the dispenser can let you know when it's time for a dose and dispense the meds you need at the push of a button. 
Hero automatically tracks what pills were taken and when, so patients can share accurate adherence data with their providers and pharmacies. This type of system can also help busy caregivers keep track of dosage times, and can even notify them if their loved one missed a dose or took a medication late. 
What's more, Hero takes care of refills with its complementary prescription refill and delivery service. This way, medications are automatically refilled and delivered to patients' doorsteps every month, benefiting everyone involved. 
Smart medication solutions like Hero can help prevent common medication dispensing errors, improve patient safety, and help patients get the right medication when they need it. 
Sources
1. Tariq, R. A., Vashisht, R., Sinha, A., & Scherbak, Y. (2018). Medication dispensing errors and prevention. Retrieved from: https://europepmc.org/article/NBK/nbk519065
2. Wittich, C. M., Burkle, C. M., & Lanier, W. L. (2014). Medication errors: an overview for clinicians. Mayo Clinic Proceedings. Mayo Clinic, 89(8), 1116–1125. https://doi.org/10.1016/j.mayocp.2014.05.007 
3. Whittaker, C. F., Miklich, M. A., Patel, R. S., & Fink, J. C. (2018). Medication safety principles and practice in CKD. Clinical Journal of the American Society of Nephrology: CJASN, 13(11), 1738–1746. https://doi.org/10.2215/CJN.00580118 
4. Medication errors. (n.d.). Amcp.Org. Retrieved April 27, 2022, from https://www.amcp.org/about/managed-care-pharmacy-101/concepts-managed-care-pharmacy/medication-errors 
5. Wantuck, J. (2019, November 1). Three groups that should consider moving medication management online. Forbes. Retrieved from: https://www.forbes.com/sites/forbestechcouncil/2019/11/01/three-groups-that-should-consider-moving-medication-management-online/?msclkid=7876cf14b57611ec9ec2356870e70c79&sh=5b77c675178f
6. Cloete, L. (2015). Reducing medication errors in nursing practice. Cancer Nursing Practice, 14(1). Retrieved from: https://www.researchgate.net/profile/Linda-Cloete/publication/270966132_Reducing_medication_errors_in_nursing_practice/links/56ea225e08ae25ede8310132/Reducing-medication-errors-in-nursing-practice.pdf 
7. Contributor, N. T. (2010, July 5). Harm from omitted and delayed drugs. Nursing Times. Retrieved from: https://www.nursingtimes.net/archive/harm-from-omitted-and-delayed-drugs-05-07-2010/ 
8. Miller, B. (2020, February 1). Medication errors and minimizing pharmacy dispensing errors. Healthcare Consultants Pharmacy Staffing | Connecting Pharmacies and Pharmacists in Alabama, Florida, Georgia, North/South Carolina and Texas. Retrieved from: https://pharmacy-staffing.com/medication-errors/ 
9. Piña, I. L., Di Palo, K. E., Brown, M. T., Choudhry, N. K., Cvengros, J., Whalen, D., Whitsel, L. P., & Johnson, J. (2021). Medication adherence: Importance, issues and policy: A policy statement from the American Heart Association. Progress in Cardiovascular Diseases, 64, 111–120. https://doi.org/10.1016/j.pcad.2020.08.003 10. Kelman, B. (2022, March 25). Former nurse found guilty in accidental injection death of 75-year-old patient. NPR. https://www.npr.org/sections/health-shots/2022/03/25/1088902487/former-nurse-found-guilty-in-accidental-injection-death-of-75-year-old-patient 
11. Hermida, R. C., Crespo, J. J., Domínguez-Sardiña, M., Otero, A., Moyá, A., Ríos, M. T., Sineiro, E., Castiñeira, M. C., Callejas, P. A., Pousa, L., Salgado, J. L., Durán, C., Sánchez, J. J., Fernández, J. R., Mojón, A., Ayala, D. E., & Hygia Project Investigators. (2020). Bedtime hypertension treatment improves cardiovascular risk reduction: the Hygia Chronotherapy Trial. European Heart Journal, 41(48), 4565–4576. https://doi.org/10.1093/eurheartj/ehz754
12. Sabaté E, ed. Adherence to Long-Term Therapies: Evidence for Action. Geneva, Switzerland: World Health Organization; 2003. https://apps.who.int/iris/bitstream/handle/10665/42682/9241545992.pdf 
13. Osterberg, L., & Blaschke, T. (2005). Adherence to medication. The New England Journal of Medicine, 353(5), 487–497. https://doi.org/10.1056/NEJMra050100 
Complex med schedule? We solved it.
Hero's smart dispenser reminds you to take your meds and dispenses the right dose, at the right time.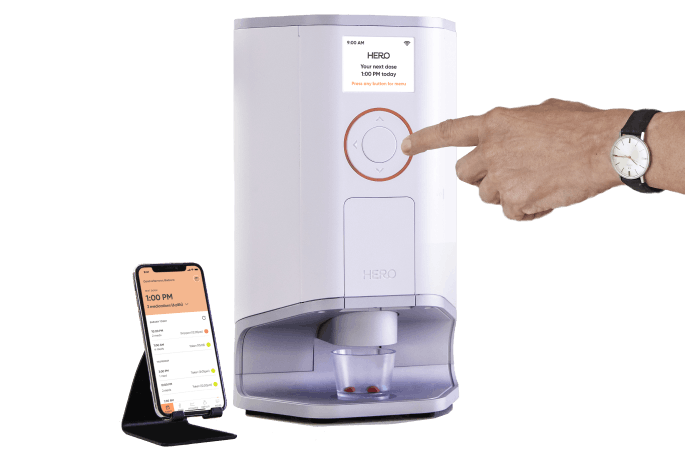 The contents of the above article are for informational and educational purposes only. The article is not intended to be a substitute for professional medical advice, diagnosis, or treatment. Always seek the advice of your physician or other qualified clinician with any questions you may have regarding a medical condition or its treatment and do not disregard professional medical advice or delay seeking it because of information published by us. Hero is indicated for medication dispensing for general use and not for patients with any specific disease or condition. Any reference to specific conditions are for informational purposes only and are not indications for use of the device.