What's the Best Way to Store Pills? An Honest Comparison
---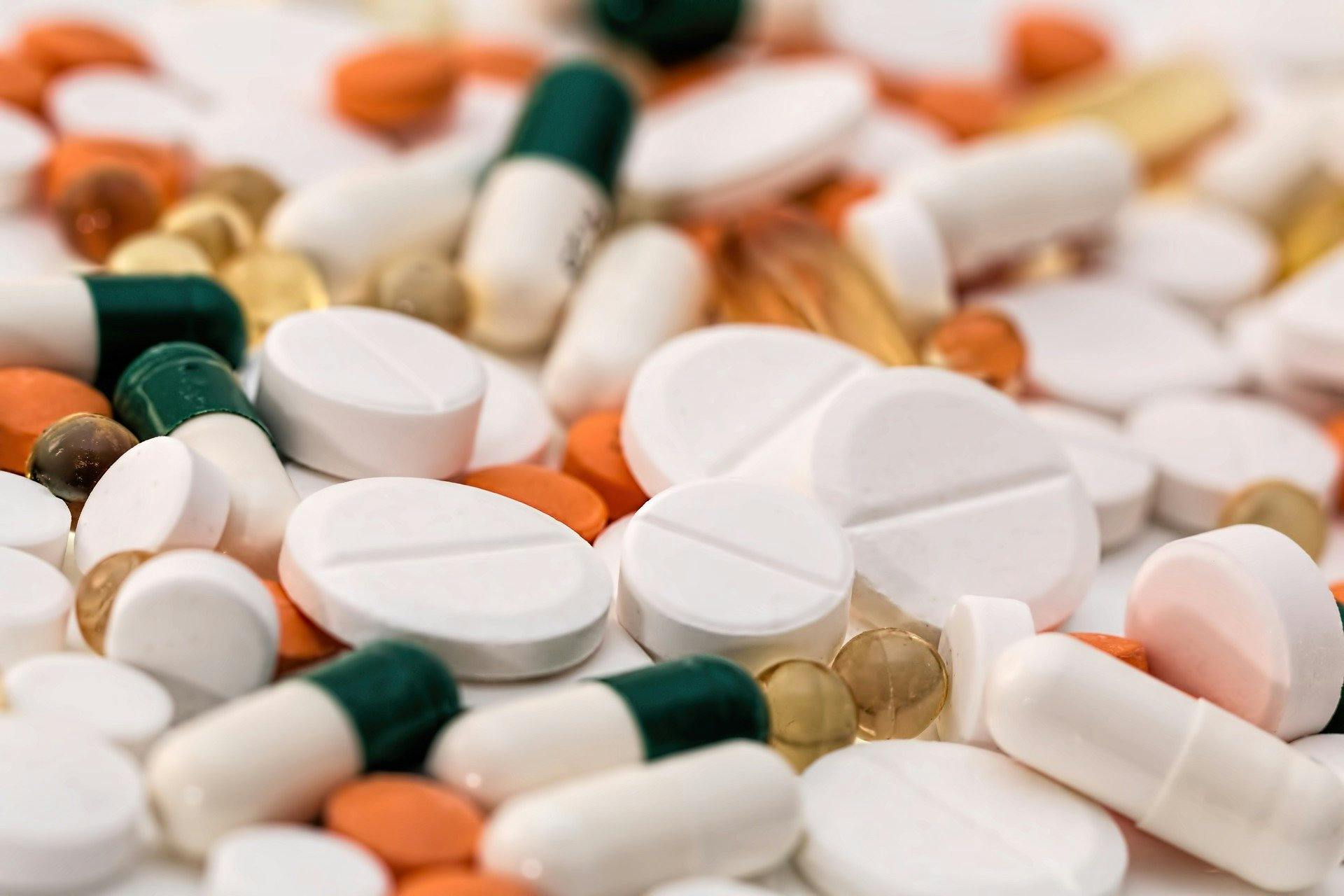 Organizing your prescriptions and supplements is key to good medication management, especially when you take a lot of daily pills (also known as polypharmacy). We all know that medicine cabinets aren't really meant to store medicines, since meds shouldn't be stored in hot or humid locations like bathrooms.
So what are better storage solutions, and how do they stack up?
Start By Assessing Your Needs
How you decide to store pills really comes down to your needs. Do you take your medications like clockwork every day, or do you need regular reminders? Do you take prescriptions exactly how the doctor told you to, or do you have a hard time remembering how much of which pills to take with breakfast? Do you spend a lot of time traveling, or are you a homebody?
Whatever your needs and your lifestyle, there's a pill storage solution for you. Just leave the medicine cabinet for cotton swabs and toothpaste.
A Note About Security
If you take powerful prescriptions like opioids or muscle relaxers, or other pills that can be toxic to children in your home, you'll need to look for an option that provides an extra layer of security. A select number of products in each category offer varying levels of security, from child-proof locking lids to PIN codes and locks requiring keys.
Just Need Better Organization?
If better organization is all you're after, keep everything in their original bottles and packaging, and maybe supplement your organizing system with a practical storage solution. Alternatively, you can opt for a pill box or weekly or monthly pill organizer, which have other benefits we'll get into later.
The key here is making it easy to find what you need when you need it. Start by storing them all together in a central location, like a kitchen drawer or a hall closet. Next, decide on a system.
Maybe everyone in your household has a shelf, a section of drawer or a little basket dedicated to their specific pills. Consider sectioning by type, so your various sections could be:
Over-the-counter (OTC) pills anyone can take, like allergy meds, vitamins and pain relievers

Prescription medications — sorting by family member makes it easier to remember what belongs to whom

Serious meds like muscle relaxers, opioids or even nighttime OTCs that are meant to make you fall asleep
Consider simple storage solutions to make the separation more visually striking or aesthetically pleasing. You might choose small baskets, cubes or mini-shelving that can live in a cabinet or closet. If you're feeling extra tidy, use a label maker to label each section by medication type, or by person. Drawer dividers, like the ones for spices or socks, can also be great for separating meds neatly. No matter which option you choose, keep any labels prominently displayed so you can see medication names when you're scanning the drawer.
Travel A Lot?
Pill boxes are a simple way to sort a small amount of medication for daily use, and basically a necessity for people who travel a lot. A pill box might be a single container to carry a variety of meds with you anywhere — a box, canister or wallet-style — or have multiple compartments to sort by medicine, by day or by time of day.
When comparing pill boxes, take your pill regimen into consideration, as well as the best way for you to remember your meds. For instance, if you take one pill 3 times a day, 2 pills twice a day and 5 vitamins and supplements only once a day, you'll need to look for a pill box that can accommodate morning, noon and night dosing times. Color-coding may help you remember, or you may need reminders like a chime or an app notification.
Finally, if you do need added security, there are many pill boxes on the market that lock with a combination or child-proof lock.
Need Reminders?
If you have trouble remembering to take meds, reminder apps or a pill dispenser are great choices. Apps like Medisafe not only provide pill reminders, they connect you with caregivers, provide adherence information for doctors, alert you to potential drug interactions and offer coupons and drugstore discounts. With chimes and voice reminders, blinking lights, text alerts and more, automatic pill dispensers let you know it's time for a dose.
Pill dispensers are also a top choice for folks who have problems taking incorrect dosages — whether taking too much, too little or at the wrong time. By turning over the responsibility to sort and dispense the correct medications at pill times to an automatic pill dispenser, there's a lot less room for dosage error. According to studies, removing this risk may eliminate up to 125,000 unnecessary U.S. deaths per year.
Low-Tech Options
Sometimes, dealing with tech is too much of a hassle. In this scenario, consider pill dispensers from e-Pill (which also makes Accutab), GMS and VitaWorks, which get high marks for their ease of use and intuitive designs. They may look like regular pill boxes, but they offer audio and light reminders. They also rotate to sort your medications, so you can simply tip the pills into a cup or your hand to take them. Accutab can even be mounted to the bottom of a kitchen cabinet, making it easy to dispense pills directly into your hands. Whether you spend $40 or $400, most low-tech auto-dispensers also come with a key so you can know that medications are safely stored inside.
Choosing a low-tech dispenser does have its drawbacks. Most all of them have limits on the number of times per day they'll dispense medications. So if you take pills, say, every 2 hours, they can't accommodate your schedule. Low-tech dispensers also require refilling, and the hand-sorting that requires, about once a month, which can be time-consuming. Finally, if you require more reminders than an alarm, only the pricier models come with companion apps or the ability to receive text reminders on your phone.
High-Tech Options
Smart pill dispensers connect to the internet to assist with medication sorting, maintaining your pill schedule and tracking pill supplies so you know when to order refills. Most importantly, they offer the best reminders to take your medications. Depending on the dispenser, you may receive automated phone calls, texts, emails or alerts through a companion app.
Automatic pill dispensers like Hero, MedMinder, MedaCube and Pria not only offer alerts based on your medication schedule, but also track your adherence and provide reports to share with doctors. They even allow you to invite a loved one to the app or website dashboard to help make sure you're on track and have a wealth of informational resources. And as with low-tech options, smart pill dispensers often include a key for added security or allow for you to program a PIN code into them to keep meds safe.
Prices vary widely for these smart dispensers:
MedMinder costs $49.99 per month

Hero costs $99.99 up front (though you can usually find a $50 off code), and memberships start at $29.99 per month

Pria costs $299 up front, and you get your first 30 days of membership for free, then $9.99 per month after that

MedaCube is a one-time cost of between $1,199 and $1,499; if you choose to connect it through a cellular network instead of WiFi, that adds on a $30 monthly fee
There are other major differences between these four dispensers. MedMinder is the least tech-savvy among the group; besides sending alerts and dispensing your meds, its features are limited to a medical alert function and the ability to personalize the display screen with family photos. Only Hero provides a lifetime warranty on the device and 24/7 live customer support, in case of any issues. Hero's device and app are both simple to use, and the app provides connection with a loved one, reports on your track record so you can share it with your doctor and monitors for drug interactions to help keep you safe. Pria features a cute face in its interactive screen, which allows for two-way video chatting with a loved one. The companion app lets you set up a "care circle" to help keep you on track. Pria also has the added security of facial recognition or a PIN code required to dispense meds. MedaCube improves medication adherence from 49% to 97%, but doesn't include a companion app; like MedMinder, it simply alerts you and dispenses your pills according to schedule.
It Comes Down To You
Ultimately, storing and dispensing medications should be as easy as possible and choosing what's best for you really depends on your needs, your lifestyle and your preferences. Hopefully we've made it a little easier for you to consider your options and choose what's right for you.
Complex med schedule? We solved it.
Hero's smart dispenser reminds you to take your meds and dispenses the right dose, at the right time.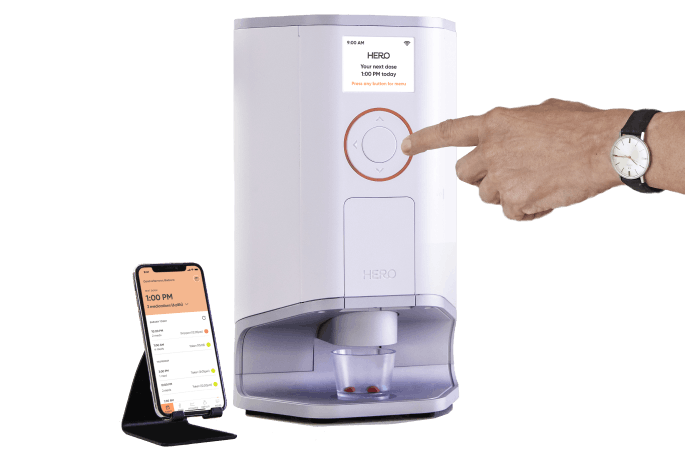 The contents of the above article are for informational and educational purposes only. The article is not intended to be a substitute for professional medical advice, diagnosis, or treatment. Always seek the advice of your physician or other qualified clinician with any questions you may have regarding a medical condition or its treatment and do not disregard professional medical advice or delay seeking it because of information published by us. Hero is indicated for medication dispensing for general use and not for patients with any specific disease or condition. Any reference to specific conditions are for informational purposes only and are not indications for use of the device.