Caregiving for a parent with Alzheimer's: what you should know
---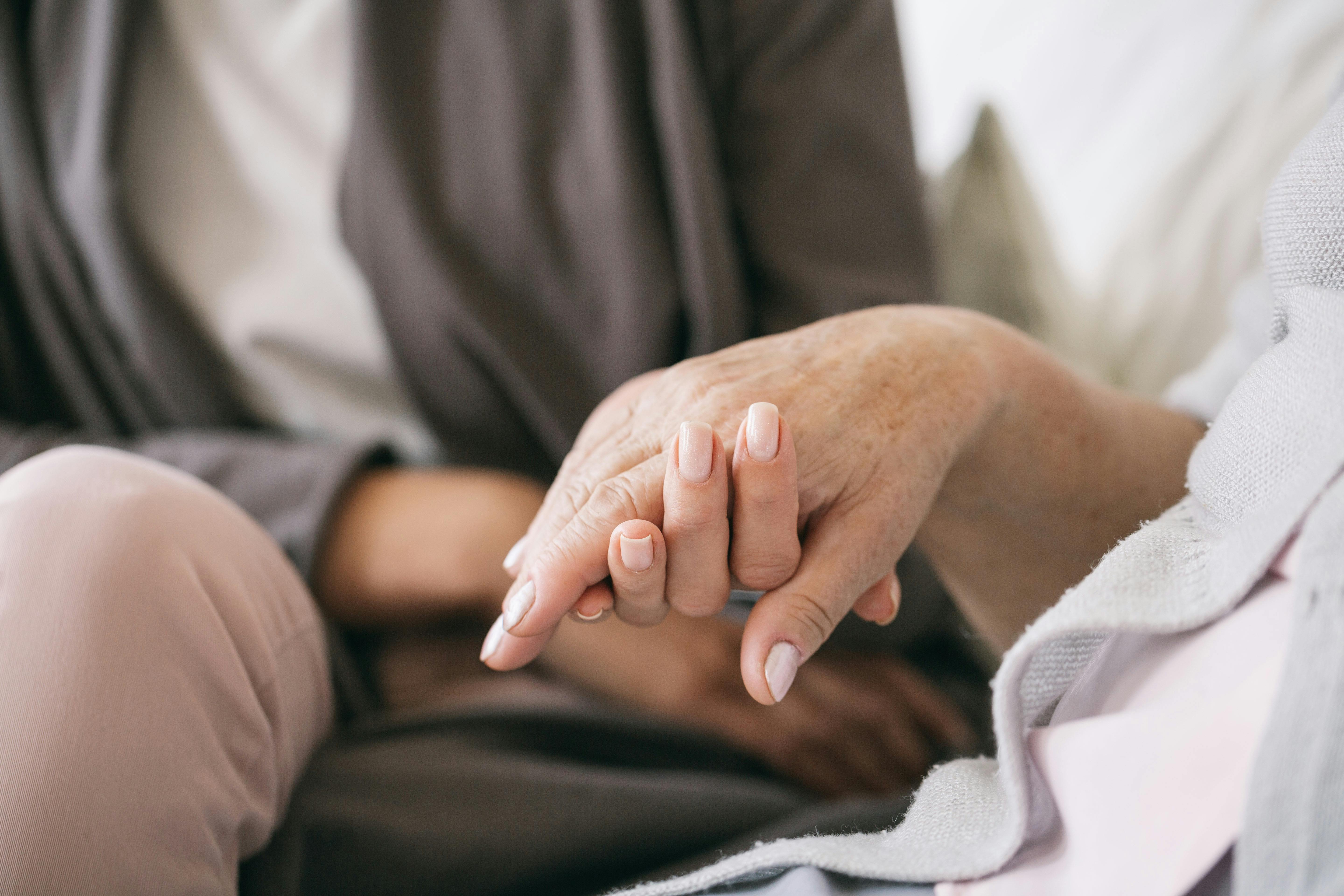 Caring for a parent with Alzheimer's can be a long, stressful, and emotional journey. With no available cure for this debilitating disease, your care becomes all-the-more important in maintaining your loved one's quality of life.
If you're embarking on your caregiving journey, read on to learn how to provide the best possible care for your loved one.
What to expect when caring for a loved one with Alzheimer's
More than 16 million people in the US care for a person with some form of dementia, including Alzheimer's.1,2
As the disease takes an extreme toll on patients' cognitive, physical, and functional abilities, caregivers often become responsible for making decisions on their behalf, including diagnosis, treatment, and end-of-life palliative care.3 This process can be emotionally challenging. As we transition to provide caregiving strategies for a loved one with Alzheimer's, remember to never neglect your own health and well-being. 
Strategies for caring for people with Alzheimer's
1. Learn as much as possible about the condition
Alzheimer's is a complex disease. Learning more about it can help you understand the decisions and challenges you'll face as a primary caregiver, so you can best anticipate the next steps in your caregiving journey.3
2. Establish a routine
Caring for a parent with Alzheimer's requires a well-defined routine. Planning your day helps you focus on your caring responsibilities, so you spend less time figuring out what to do. Make a schedule of all essential tasks, like baths, doctors' appointments, medication dosage times, and meal times. But be flexible – notice your loved one's behavior and adjust your planned activities if needed.4
As you plan your day, try to schedule breaks in order to avoid caregiver burnout. If your other loved ones are around to help, try to involve them in simple tasks – a care team can make all the difference when caring for an Alzheimer's patient!1,4
3. Be flexible and patient
People with Alzheimer's become increasingly dependent on their caregivers over time. Be flexible and adapt your routine to their changing reality. As daily living becomes trickier for your loved one, try to stay calm. Take a few deep breaths or meditate before doing or saying anything out of anger or frustration.1,4
4. Take measures to slow symptom progression
Although Alzheimer's has no cure, some lifestyles can prove to be helpful in slowing the disease's progression. Exercising, eating well, getting enough sleep, and staying socially active can help decelerate the disease and improve your loved one's quality of life.1
5. Ask for help
To take care of others, you first need to take care of yourself.1 You don't have to do everything alone; you have a whole life of your own after all!
Don't hesitate to reach out to other family members, friends, and organizations who can help along your caregiving journey. 
Consider joining support groups so you can learn from other people's experiences. Connecting with others going through the same fears and concerns can also help reduce the stress, anxiety, and social isolation you may be feeling.1
6. Communicate clearly
Your loved one will respond differently, depending on your tone of voice, body language, and facial expressions. Stay calm, make eye contact, and maintain a relaxed, open posture.1 Speak slowly and clearly, and try to stick to "yes" or "no" questions. Try to also reduce distractions, such as TV or music, while speaking with your loved one.1
7. Don't always follow reason
An Alzheimer's patient will often forget important life events, such as the death of a relative. If they ask about it, say that person is not here at the moment, rather than saying that the person died several years ago. This will cause unnecessary suffering, as they'll grieve all over again.1
8. Be aware of your own needs
It's easy to neglect yourself when you're too focused on your loved one's needs. However, you need physical and emotional support so you don't overwhelm yourself. If necessary, seek professional help and look out for symptoms of stress and depression.1
If you feel you are in dire need of support, check out these support lines for Alzheimer's caregivers:
Tip: how make your loved one's med management a breeze 
An Alzheimer's diagnosis often comes with several different meds to help control the disease and its symptoms. If you're caring for an Alzheimer's patient, you'll typically find yourself responsible for ensuring that they take the right pill at the right time.6 But we're all human, and med mistakes can happen – especially when we're preoccupied with all the other tasks involved in the caregiving journey. Hero takes the hassle out of medication management with an all-inclusive service that allows you to focus on other responsibilities and self-care.
Hero's automatic pill dispenser holds, sorts, and dispenses up to a 90-day supply of 10 different medications. It includes a medication management app that allows you to add a medication list, receive pill-time reminders and missed-dose alerts, and track your loved one's adherence. When it's time for a dose, the smart dispenser will play a sound to let you know it's time for a dose – just push one button to have your loved one's meds dispensed as prescribed! And if that wasn't enough, Hero can deliver your refills to your door at no extra cost, so you can say goodbye to those long pharmacy lines. 
Sources
1. Help Guide. Alzheimer's and Dementia Care: Help for Family Caregivers. https://www.helpguide.org/articles/alzheimers-dementia-aging/tips-for-alzheimers-caregivers.htm
2. Center of Disease Control and Prevention. Caregiving for a Person with Alzheimer's Disease or a Related Dementia. https://www.cdc.gov/aging/caregiving/alzheimer.htm
3. Lang, S. F., & Fowers, B. J. (2019). An expanded theory of Alzheimer's caregiving. American Psychologist, 74(2), 194.
4. Mayo Clinic. Alzheimer's and dementia care: Tips for daily tasks. https://www.mayoclinic.org/healthy-lifestyle/caregivers/in-depth/alzheimers-caregiver/art-20047577
5. Truglio-Londrigan, M., & Slyer, J. T. (2019). Caregiver decisions along the Alzheimer's disease trajectory. Geriatric Nursing, 40(3), 257-263.
6. National Institute on Aging. Managing Medicines for a Person With Alzheimer's. https://www.nia.nih.gov/health/managing-medicines-person-alzheimers.
Complex med schedule? We solved it.
Hero's smart dispenser reminds you to take your meds and dispenses the right dose, at the right time.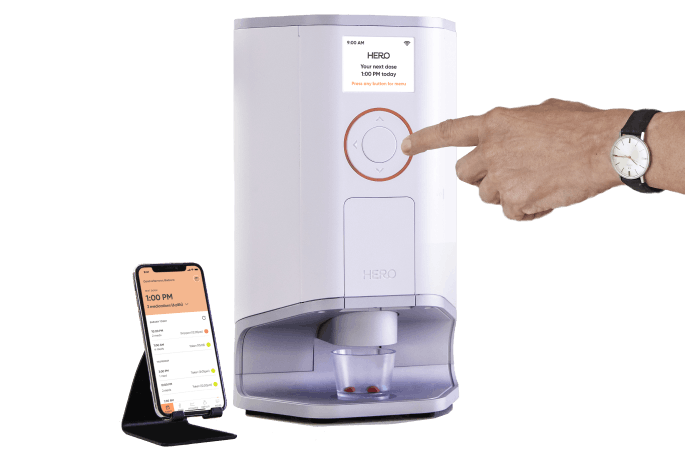 The contents of the above article are for informational and educational purposes only. The article is not intended to be a substitute for professional medical advice, diagnosis, or treatment. Always seek the advice of your physician or other qualified clinician with any questions you may have regarding a medical condition or its treatment and do not disregard professional medical advice or delay seeking it because of information published by us. Hero is indicated for medication dispensing for general use and not for patients with any specific disease or condition. Any reference to specific conditions are for informational purposes only and are not indications for use of the device.