Caregiving for a parent with cancer: what you should know
---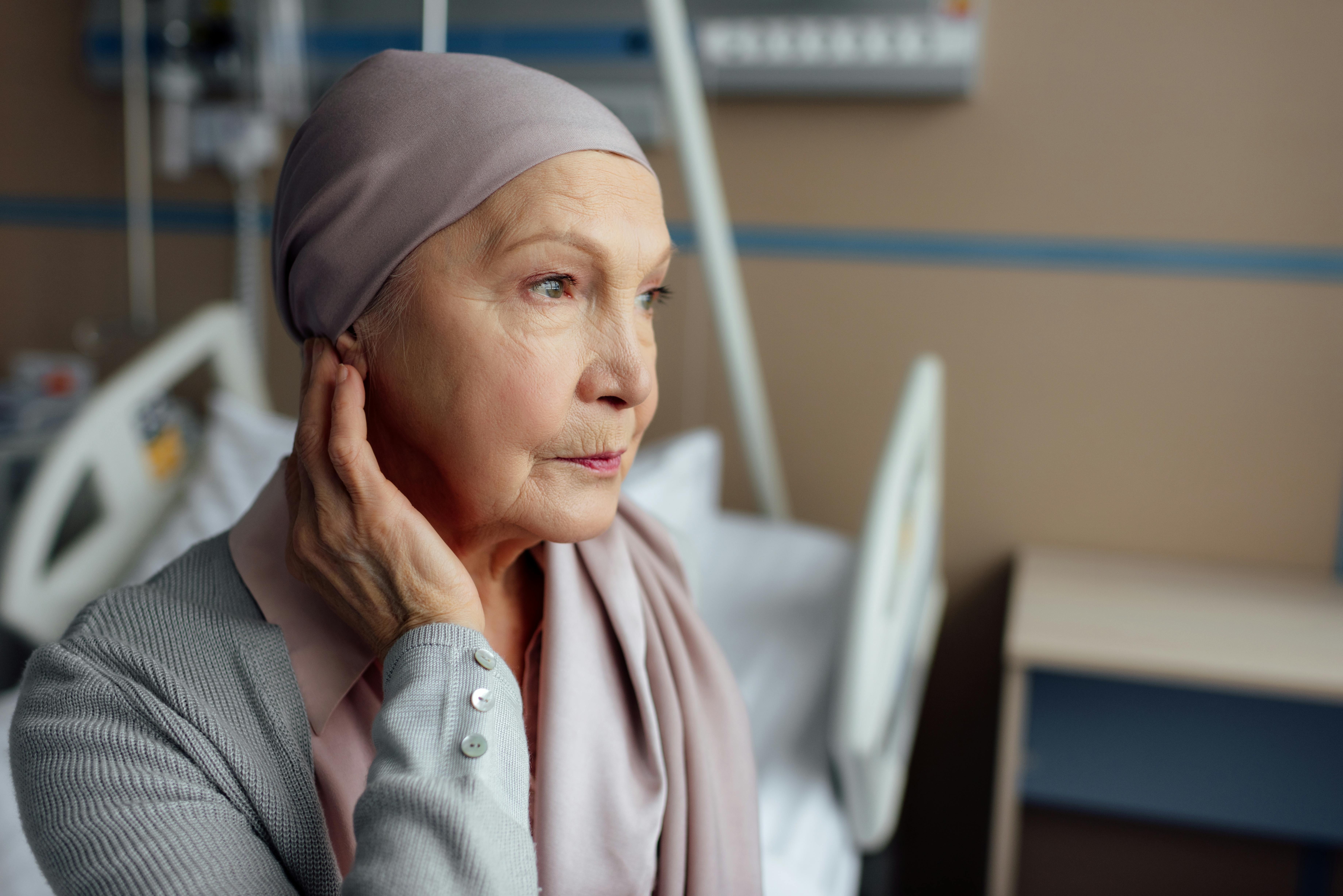 Undergoing cancer treatment is not easy – it's physically and emotionally exhausting, and often requires the assistance of a caregiver as the disease progresses. For the caregiver, providing care – while not always an easy task – can be a rewarding experience full of love and a newfound level of respect for your loved one.
Read on to uncover important strategies to consider during your caregiving experience. 
Tips for caring for a parent with cancer
First, take care of yourself
When someone you love has cancer, the expectation of an uncertain future, financial worries, and changes in your routine can induce fear, hopelessness, guilt, confusion, doubt, anger, and helplessness.2-5
As their caregiver, it's easy to become depressed.2 Remember to seek support from others, exercise, eat a healthy diet, and keep investing time in activities you enjoy. After all, taking care of your health makes you a better caregiver.2-5
Don't hesitate to see a healthcare professional if you feel your own health is taking a toll.
Remember that you're not alone
The National Alliance for Caregiving estimated that over 2.8 million people care for someone with cancer in the United States.6
Caring for a person with cancer is physically and mentally exhausting. Don't think you have to go through this alone. Consider involving others in this process, such as family, friends, or friends, and even a professional nurse or caregiver.2,3
Planning and communication are essential
Everyone involved in their care should be working in harmony. This includes doctors, nurses, and family members. Sharing your concerns and challenges with all parties can help you get the support you need and plan your next steps.4
Don't forget to include the patient in every part of the process. Ask your loved ones how they wish to be treated, and be sure to respect their every decision.4
Don't forget to keep a list of important contacts and make copies of the legal documents and essential financial information needed to access health care.4
Join a cancer support group
There are plenty of support groups for cancer patients and caregivers that meet in person, over the phone, or online. Talking to people going through similar challenges can help you remember that you are not alone and provide you with strategies to provide better care for yourself and your loved one.5 If you don't know where to start, consider browsing through The Cancer Survivors Network website. 
Establish a connection with your loved one
Caregiving is an excellent opportunity to strengthen your relationship with your loved one. If possible, take some time to share special moments together. You may go for a walk, watch a movie, or simply talk. This will help you move forward with positivity and hope.5
Learn more about cancer 
Knowledge is one of your greatest allies. The National Cancer Institute and the American Cancer Society are trusted sources of information providing the latest research and practices in cancer care.3
For example, understanding the side effects of their meds can help you provide better care by knowing what signs to look for and what to do accordingly.3 If you have any questions about their meds, don't hesitate to speak to their healthcare provider.
Pro tip: how to stay on top of their medication management 
Cancer patients often take several meds a day, and keeping track of their medication schedule is not an easy task. Skipping doses or taking meds at the wrong time can be dangerous and severely affect their treatment outcomes.
Hero takes med management off your plate, so you can focus on your other caregiving duties. A Hero subscription includes an award-winning smart dispenser, which holds, sorts and dispenses up to a 90-day supply of up to 10 meds. It comes with a medication management app that allows you to add your medication list, receive pill-time reminders and missed-dose alerts, and track which pills your loved one took and when.
By taking the hassle out of medication management, Hero gives you more time to care for yourself and your loved ones. 
Final thoughts on cancer caregiving
Caring for a parent with cancer can be both frustrating and rewarding. So, remember, you don't have to do this alone. Get all the support you need to navigate your caregiving journey. 
Sources
1. Sung, H., Ferlay, J., Siegel, R. L., Laversanne, M., Soerjomataram, I., Jemal, A., & Bray, F. (2021). Global cancer statistics 2020: GLOBOCAN estimates of incidence and mortality worldwide for 36 cancers in 185 countries. CA: a cancer journal for clinicians, 71(3), 209-249.
2. American Cancer Society. If You're About to Become a Cancer Caregiver. https://www.cancer.org/treatment/caregivers/if-youre-about-to-become-a-cancer-caregiver.html
3. AARP. 5 Steps to Navigate the Cancer Caregiving Journey https://www.aarp.org/caregiving/health/info-2019/cancer-care.html
4. ASCO. Young Adults Caring for a Parent With Cancer. https://www.cancer.net/coping-with-cancer/caring-loved-one/young-adults-caring-parent-with-cancer
5. National Cancer Institute. Support for Caregivers of Cancer Patients. https://www.cancer.gov/about-cancer/coping/caregiver-support
6. Thomas, T. H., Campbell, G. B., Lee, Y. J., Roberge, M. C., Kent, E. E., Steel, J. L., ... & Donovan, H. S. (2021). Priorities to improve cancer caregiving: report of a caregiver stakeholder workshop. Supportive Care in Cancer, 29(5), 2423-2434.
Complex med schedule? We solved it.
Hero's smart dispenser reminds you to take your meds and dispenses the right dose, at the right time.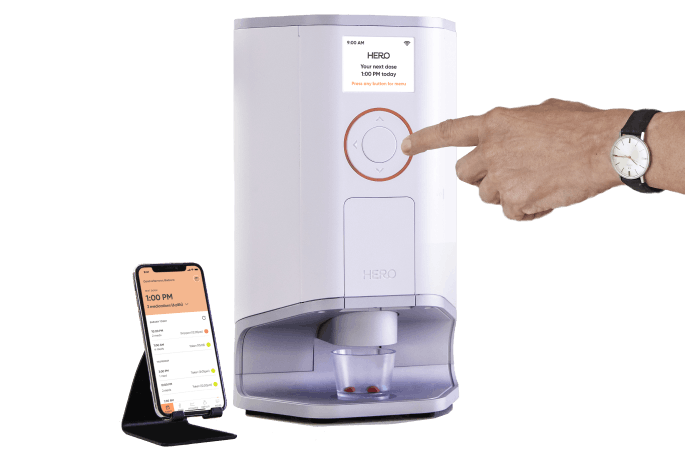 The contents of the above article are for informational and educational purposes only. The article is not intended to be a substitute for professional medical advice, diagnosis, or treatment. Always seek the advice of your physician or other qualified clinician with any questions you may have regarding a medical condition or its treatment and do not disregard professional medical advice or delay seeking it because of information published by us. Hero is indicated for medication dispensing for general use and not for patients with any specific disease or condition. Any reference to specific conditions are for informational purposes only and are not indications for use of the device.