Medication adherence tools: best options for providers, payers, and pharmacies
---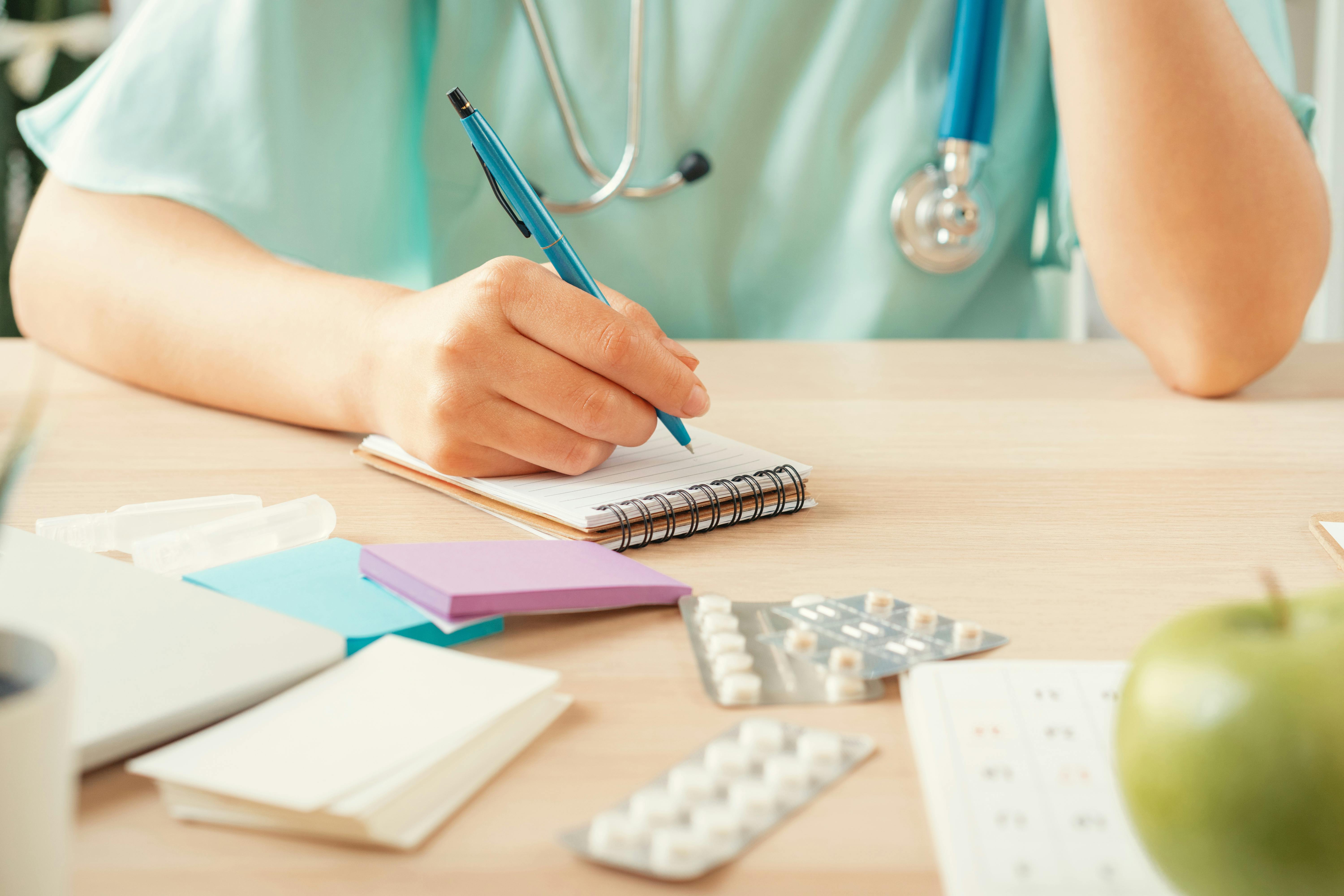 Did you know that one in five patients don't fill their prescriptions as directed? And among those who do, half of them don't take their medications as prescribed?
Medication nonadherence can have life-threatening consequences, and costs our healthcare system $100 billion in avoidable hospitalizations. It's no wonder why patient adherence is a high priority for providers, insurance payers, and pharmacies. 
But there's a problem: measuring medication adherence is no small feat. Healthcare data is highly fragmented, despite the use of electronic health records (EHRs). Patients, providers, and payers have limited visibility into how well a patient adheres to their prescriptions after they leave a hospital or a pharmacy. 
Luckily, there's a new generation of medication adherence tools that, when combined with patient education and support, can help: 
improve adherence rates

3

build provider-patient relationships

4

reduce healthcare costs

3

reduce dosage errors and avoidable hospitalizations

3
Read on to discover the different types of medication adherence tools, so you can choose the right system for your needs. 
Types of medication adherence tools
Printable medication management charts 
The simplest tool is a chart to help patients manage medications. These are commonly used by staff in long-term care facilities, who can print out different calendars based on each resident's needs. 
Charts require little training to use, can help store information over time, and are easy to modify according to a patient's regimen change. As a medication adherence tool, however, a chart is not effective, as they do very little except act as a quick visual reminder. 
Staff responsible for administering medications still need to keep track of prescriptions, sort pills, and more. What's more, patients, providers, and payers receive little insight into whether refills are being picked up, sorted, and taken correctly. 
No-tech pill boxes 
Another simple medication adherence tool is the classic plastic pill box. Offering different compartments to hold a week or a month's worth of pills, pill boxes are travel-friendly and useful to sort and organize medications, especially if a patient only has to manage a few different prescriptions.5
For patients with polypharmacy needs (i.e. taking multiple medications), a pill box may not be the best tool for medication adherence. Since pill boxes can only store a few pills at a time, they often require re-filling. Those battling several chronic illnesses, memory issues, or certain physical impairments may find it difficult to sort their pills into individual compartments and remember to take them. What's more, organizing medication manually increases the likelihood of medication mismanagement, from dosage errors to exposing pills to inappropriate amounts of moisture or light.6,7 Pill boxes also do not offer continuous, real-time monitoring to track if patients are taking their meds on time. 
Pill boxes with alarms 
Some pill boxes now have alarms to remind patients to take their pills.8 This can provide some relief for busy patients and caregivers who may worry about forgetting a dose.6,9
However, the alarm will eventually turn off if it is ignored for long enough, so these pill boxes do not guarantee perfect medication adherence.10 And, as with all the other tools so far, pill boxes with alarms do not provide a feedback loop for payers and providers to monitor patients' adherence.
Mobile apps as medication adherence tools
Mobile phone applications have been proven to be somewhat effective in improving medication adherence.3 Depending on the app, patients, caregivers, and even healthcare providers can get timely reminders to take medication as prescribed. By tracking what pills were taken, apps can give physicians a clear picture of whether their patients take their meds as prescribed. This helps payers, providers, and pharmacies better engage with patients during medical appointments. 
Still, standalone apps for medication adherence largely rely on patient self-reporting, which may not always be accurate.13 What's more, apps do not eliminate the need to sort pills, remember refills, and many of the other challenges that come with the other tools we've discussed thus far.
While apps can be effective, they provide even better insight into medication adherence when paired medication dispensers.11
Automatic pill dispensers 
Automatic pill dispensers can be pre-loaded with medications and configured to give patients the right dose at the right time, reducing the risk of manual errors. Depending on the device, they can drop the pills into an easy-to-grab cup and notify patients and caregivers if a dose was missed or taken late.16 
For older adults, automatic medication dispensers can be a gamechanger. At the press of a button, they can get the meds they need when they need them.17 Plus, some automatic dispensers can store much larger quantities of medications than a typical pill box, reducing the frequency of refilling and saving time in the long-run. Advanced medication adherence tools like Hero, for instance, can hold up to 90-day supply of 10 different medications, and can handle refills through its complimentary prescription refill and delivery service. 
When automatic medication dispensers are paired with a connected app, medication adherence can be better monitored by patients, caregivers, providers, and more. In fact, services like Hero are now being used by providers as part of CMS's new Remote Therapeutic Monitoring (RTM) program for adults with Medicare. 
The next generation of auto-dispensers, like Hero, are providing a full suite of services to optimize medication adherence. Hero takes the hassle out of taking meds with an award-winning smart dispenser, medication management app, automatic refills with free delivery, and 24/7 live support.
Final thoughts on medication adherence tools
Choosing the right tools can greatly improve patients' medication adherence – an important step in optimizing health outcomes and circumventing avoidable healthcare costs. We hope this blog will help you determine your options and find what works best for you or your patient base! 
Sources
1. Neiman, A. B., Ruppar, T., Ho, M., Garber, L., Weidle, P. J., Hong, Y., George, M. G., & Thorpe, P. G. (2017). CDC grand rounds: Improving medication adherence for chronic disease management — innovations and opportunities. MMWR. Morbidity and Mortality Weekly Report, 66(45), 1248–1251. https://doi.org/10.15585/mmwr.mm6645a2 
2. Wantuck, J. (2019, November 1). Three groups that should consider moving medication management online. Forbes. Retrieved from: https://www.forbes.com/sites/forbestechcouncil/2019/11/01/three-groups-that-should-consider-moving-medication-management-online/?msclkid=7876cf14b57611ec9ec2356870e70c79&sh=5b77c675178f 
3. Ahmad, A., Chiu, V., & Arain, M. A. (2020). Users' perceptions of an in-home electronic medication dispensing system: a qualitative study. Medical Devices (Auckland, NZ), 13, 31. https://www.ncbi.nlm.nih.gov/pmc/articles/PMC7023880/ 
4. wp-user-global. (2021, April 23). Using tools to assess patient adherence. Acare HCP Global. https://acarepro.abbott.com/en/using-tools-to-assess-patient-adherence/ 
5. Basaraba, S. (2020, March 21). Pillboxes and Medication Safety. Verywell Health. Retrieved from: https://www.verywellhealth.com/pillboxes-and-drug-safety-2224150 
6. Basaraba, S. (2020, March 21). Pillboxes and Medication Safety. Verywell Health. Retrieved from: https://www.verywellhealth.com/pillboxes-and-drug-safety-2224150 
7. Pollard, A. (2021, October 28). Here are the best pill organizers to keep track of all your medications. Verywell Health. Retrieved from: https://www.verywellhealth.com/best-pill-organizers-4158598 
8. Top 10 best pillbox with alarms of 2022 – review and buying guide. (n.d.). Aidsquilt.Org. Retrieved from: https://www.aidsquilt.org/best-pill-box-with-alarms/?msclkid=acf03f58b58311ec8a2102ec37762abd 
9. Alexan, A. I., Osan, A. R., & Oniga, S. (2013). Advanced Medication Dispenser. Carpathian Journal of Electronic and Computer Engineering, 6(2), 26. https://citeseerx.ist.psu.edu/viewdoc/download?doi=10.1.1.429.847&rep=rep1&type=pdf 
10. Pollard, A. (2022, March 28). The Best Pill Organizers to Keep Track of All Your Medications. Verywell Health. Retrieved from: https://www.verywellhealth.com/best-pill-organizers-4158598 
11. Ahmad, A., Chiu, V., & Arain, M. A. (2020). Users' perceptions of an in-home electronic medication dispensing system: a qualitative study. Medical Devices (Auckland, NZ), 13, 31. https://www.ncbi.nlm.nih.gov/pmc/articles/PMC7023880/ 
12. Satish, S., Harshitha, J., & AR, S. (2021). Interventions to Enhance Medication Adherence in Hypertensive Patients: A Systematic Review. International journal of Research and Review, 454-463. https://www.researchgate.net/profile/Satish-S/publication/353175131_Interventions_to_Enhance_Medication_Adherence_in_Hypertensive_Patients_A_Systematic_Review/links/60ebe3eb1c28af345861d3c3/Interventions-to-Enhance-Medication-Adherence-in-Hypertensive-Patients-A-Systematic-Review.pdf 
13. Aggarwal, B., Pender, A., Mosca, L., & Mochari-Greenberger, H. (2015). Factors associated with medication adherence among heart failure patients and their caregivers. Journal of nursing education and practice, 5(3), 22. https://www.ncbi.nlm.nih.gov/pmc/articles/PMC4307014/ 
14. Logullo, J. (2020, October 26). 3 best automatic pill dispensers in 2022: Reviews and ultimate buying guide. Terry Cralle. Retrieved from: https://www.terrycralle.com/best-automatic-pill-dispensers/ 
15. Faisal, S., Ivo, J., & Patel, T. (2021). A review of features and characteristics of smart medication adherence products. Canadian Pharmacists Journal/Revue des Pharmaciens du Canada, 154(5), 312-323. https://journals.sagepub.com/doi/pdf/10.1177/17151635211034198 
16. Cello, R., Conley, M., Cooley, T., De la Torre, C., Dorn, M., Ferer, D. S., ... & Volpe, G. (2022). ASHP Guidelines on the Safe Use of Automated Dispensing Cabinets. American Journal of Health-System Pharmacy, 79(1), e71-e82. https://academic.oup.com/ajhp/article-abstract/79/1/e71/6359045?redirectedFrom=fulltext 
17. Comparison: Automated medication dispensers. (n.d.). The Senior List. Retrieved from: https://www.theseniorlist.com/medication/dispensers/?msclkid=e0b8b2eab0e311eca9100fd267a9f646 
18. How does Hero Refill & Delivery work? (n.d.). Herohealth.Com. Retrieved from: https://support.herohealth.com/en/articles/8020042-how-to-refill-medication-video-tutorial
19. Piña, I. L., Di Palo, K. E., Brown, M. T., Choudhry, N. K., Cvengros, J., Whalen, D., ... & Johnson, J. (2021). Medication adherence: importance, issues and policy: a policy statement from the American Heart Association. Progress in cardiovascular diseases, 64, 111-120. https://scholar.harvard.edu/files/nkc/files/2021_a_policy_statement_from_the_american_heart_association_prog_cardiovasc_dis.pdf 
Complex med schedule? We solved it.
Hero's smart dispenser reminds you to take your meds and dispenses the right dose, at the right time.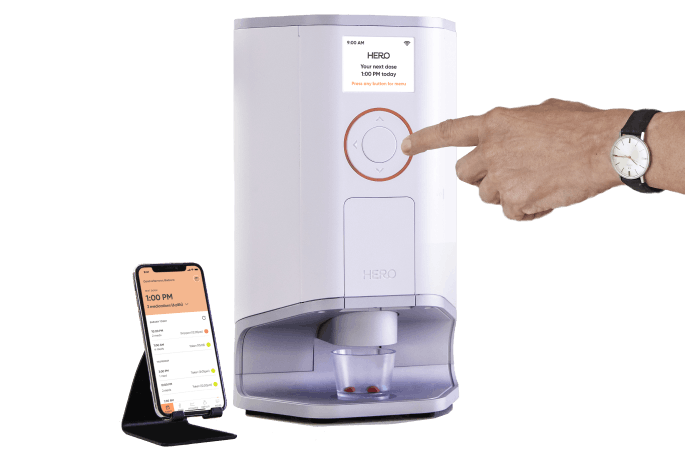 The contents of the above article are for informational and educational purposes only. The article is not intended to be a substitute for professional medical advice, diagnosis, or treatment. Always seek the advice of your physician or other qualified clinician with any questions you may have regarding a medical condition or its treatment and do not disregard professional medical advice or delay seeking it because of information published by us. Hero is indicated for medication dispensing for general use and not for patients with any specific disease or condition. Any reference to specific conditions are for informational purposes only and are not indications for use of the device.